Do you know that the UV rays from the Sun is the number one threat to your skin? Malaysia is a tropical country with a warm and humid climate, which makes sunscreen a crucial skincare product for anyone living or visiting the country. With the increase in skin cancer cases and awareness about the harmful effects of UV rays, more and more people are turning to sunscreen as a means of protection. Most people blame aging for the visible wear and tear of their skin but the actual culprit is the ball of fire hanging in the sky. That is the reason why it is absolutely crucial for everyone to wear sunscreen every day, even when staying indoors as UV rays can pass through the glass windows of your home. This is especially important when living in a country that remains hot and humid all year round like Malaysia. In this article, we will explore some of the best sunscreen in Malaysia that offers excellent sun protection while also giving your skin a flawless and natural-looking finish.
---
Kyut Sunscreen Stick
It's important to reapply sunscreen throughout the day to ensure maximum protection from sun rays. Luckily, with this cute sunscreen stick from the first ever Malaysian SPF skincare brand that focuses on sun protection, reapplying sunscreen is now as easy as ABC! The Kyut Sunscreen stick, as its name suggests, is in stick form which allows for quick and easy application. This sunscreen malaysia not only contains SPF 50 PA++++, it is also infused with natural ingredients that are beneficial for your skin such as jojoba oil, sunflower seed oil and rosehip oil.
For more information:
Bluebell Daily Defence Moisturiser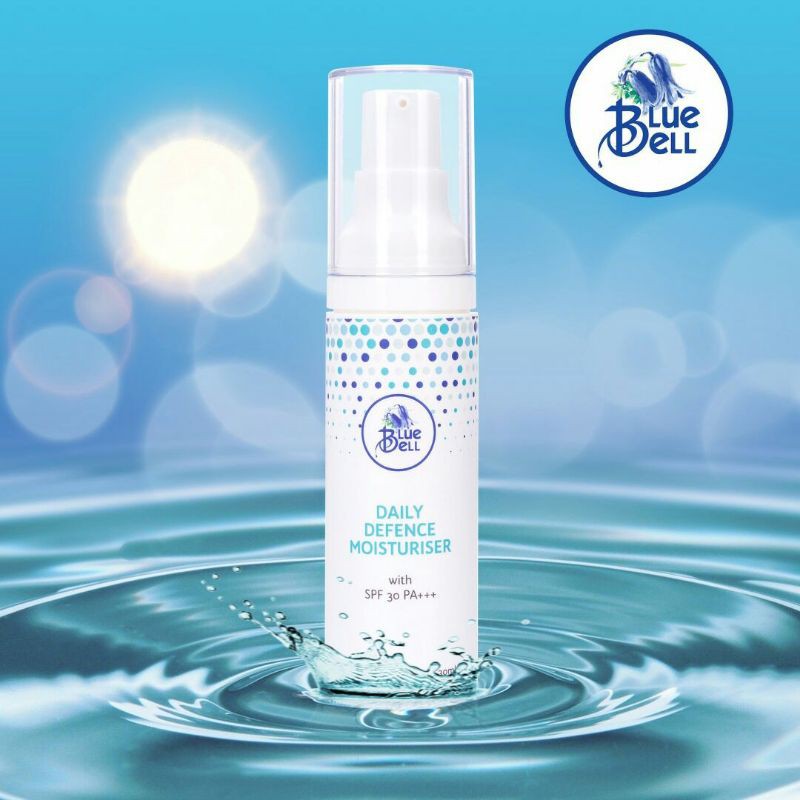 If you have dry skin and are concerned that applying sunscreen will dry your skin out further, worry not! Bluebell's Daily Defence Moisturizer is specially formulated to not only protect your skin from UV rays but also to help your skin remain as moisturized and supple as possible. This sunscreen for dry skin malaysia contains Glycerin and Glycolic acid which help to retain moisture and prevent skin from feeling dry and tight all day. Plus point, this sunscreen has protection of SPF30 PA+++ which is perfect for those who suffer from dry skin.
For more information:
Cuura Glow Defense (Tone-Up Sunscreen)
Dewy skin is all the rage nowadays for its youthfulness. An unfortunate side effect of wearing mattifying sunscreen is that it does not leave room for your skin to show off its natural, healthy glow. Cuura solves this problem by coming up with their Glow Defense Tone-Up Sunscreen. With SPF 50+ PA ++++ that provides optimum UVA, UVB and UVR protection, your skin will remain well protected from the Sun. As a bonus, this best sunscreen for face malaysia leaves your face with a dewy and glowy finish.
For more information:
Claire Organics Sunscreen Face/Body Cream
Taking care of your face skin is definitely a priority. However, the skin on other parts of our bodies should be protected against UV rays as well. Due to this, Claire Organics created an all natural sunscreen for great overall protection – not just for the face but also for the body. The star ingredient for this sunscreen is shea butter which naturally rich in vitamins A, E and F that supplies the skin with critical fatty acids and the nutrients necessary for healthy and young skin. Another key ingredient is zinc oxide, which offers a wider and enhanced spectrum of protection, making it an even more appealing option.
For more information:
Velvet Vanity Never Forget Sunscreen SPF50+ PA++++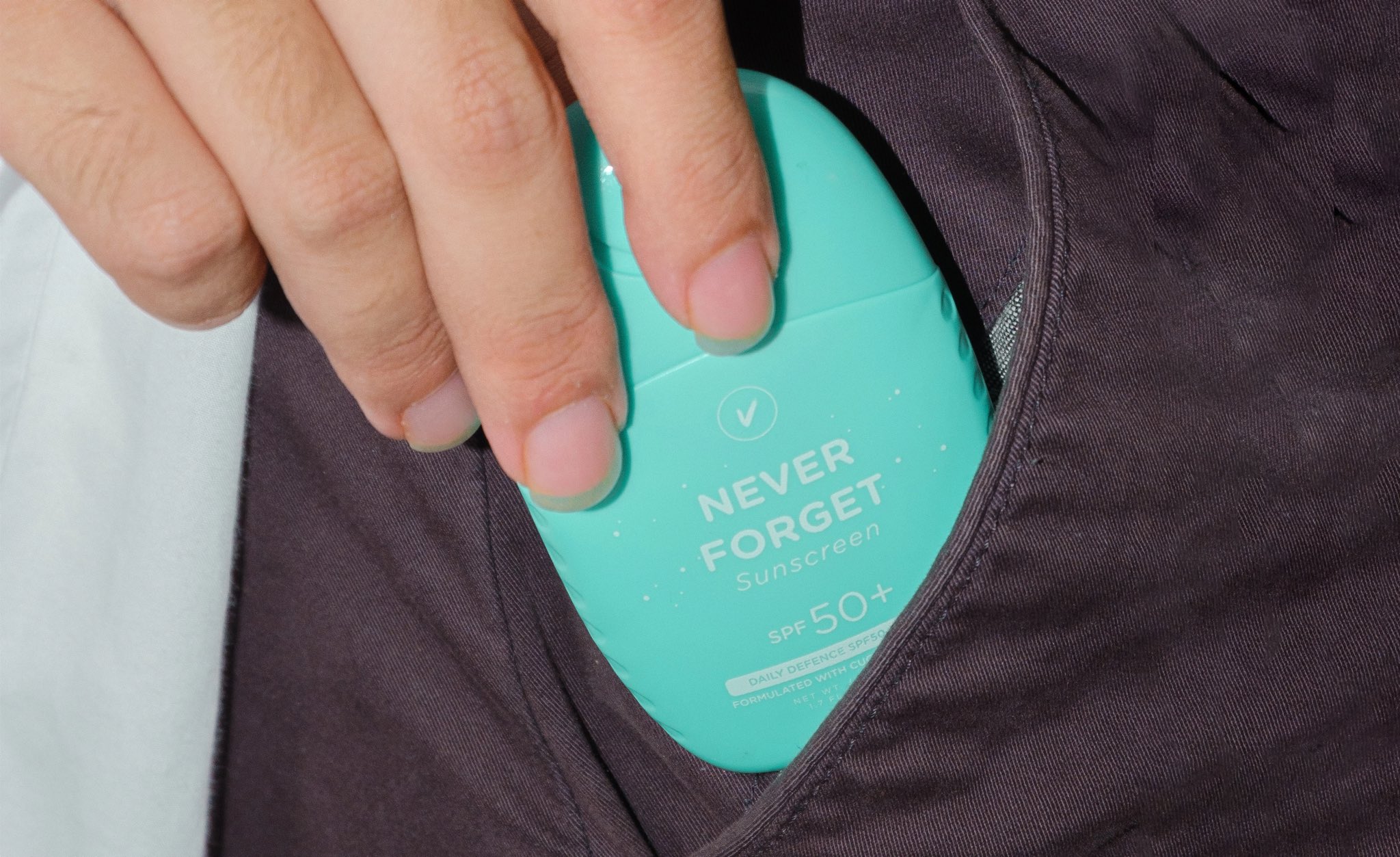 As the name suggests, you will Never Forget to apply this best sunscreen for face in malaysia by Velvet Vanity due to its convenient pocket-sized which makes it perfect for slipping into your pocket or bag. Free of parabens, cruelty and fragrance, this vegan sunscreen is infused with cucumber extract for hydration. With SPF50+ PA++++, this Velvet Vanity product provides an effective layer of sun protection while keeping the skin feeling light and comfortable. This sunscreen boasts the benefits of both physical and chemical sunscreens, as it contains a mineral filter for physical protection.
For more information:
Chuck's Very Important Sunscreen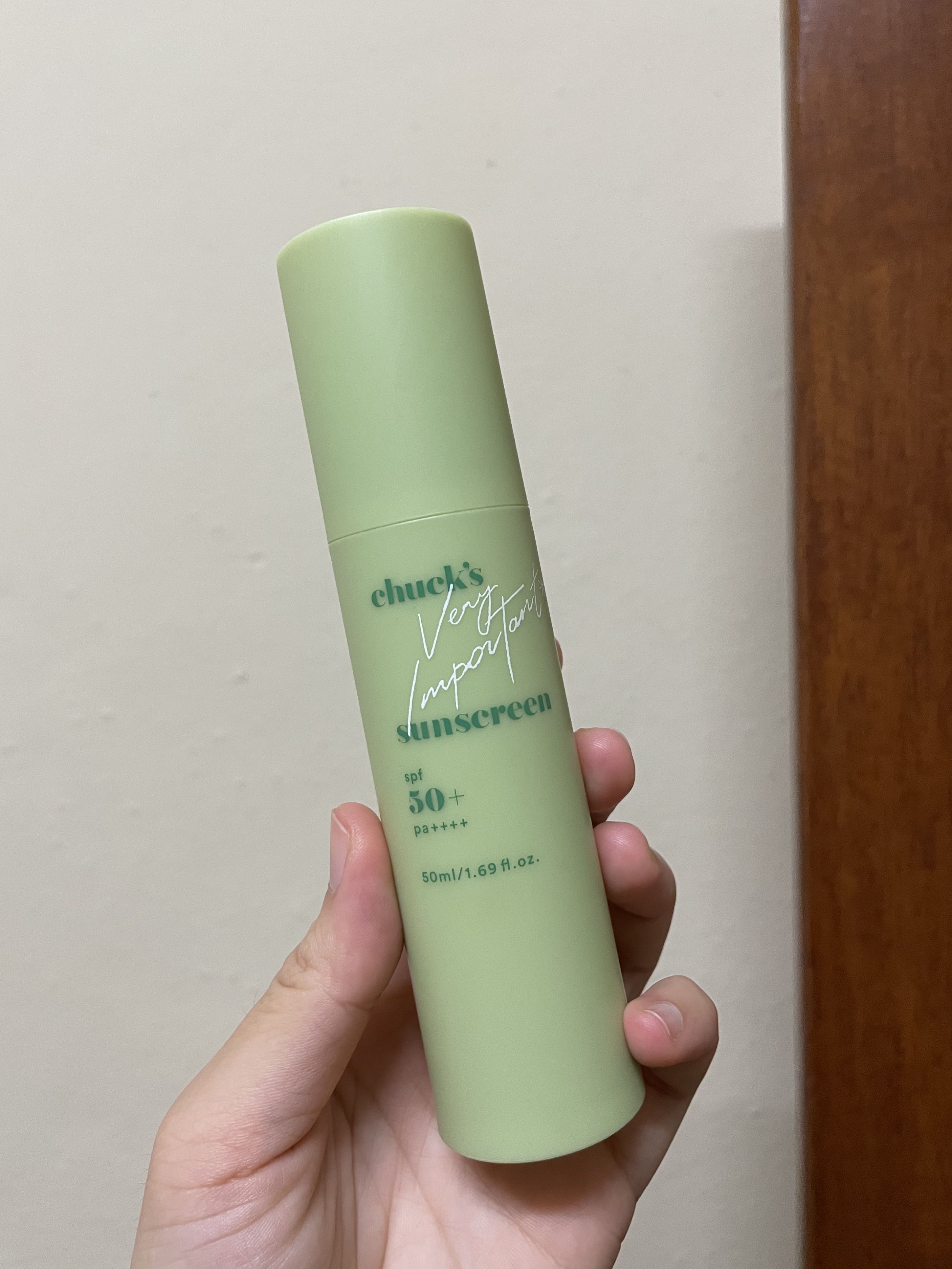 One of the best sunscreen in Malaysia, Chuck's, famous for its lightweight and water-resistant formula, not only protects your skin from dangerous UVA and UVB radiation, but it also cures your skin from within. It contains eucalyptus oil, gardenia florida fruit extract and also the greatest concentration of Kale extract possible (6.7%) which helps to repair damaged skin cells and protect your skin throughout the day. With this Very Important sunscreen on, you can have as much fun in the sun as you desire!
For more information:
Kayman Beauty Suntella UV Milk SPF50+ PA++++
If you have sensitive skin, Kayman Beauty has a sunscreen for sensitive skin malaysia! Their Suntella UV Milk boasts a high level of UV ray protection with SPF50+ PA++++. This Suntella also contains niacinamide and ceramide which helps to soothe your irritated skin. Moreover, these two ingredients can help to protect the skin from the harmful effects of the sun, which can help to prevent premature aging and maintain healthy skin. It also applies like a second skin, making it ideal to use under your makeup.
For more information:
Alluskin Barrier Suns Shield
This lightweight and fast-absorbing formula contain a unique blend of antioxidants, the Vitamin C and E, that help to shield your skin from damaging UV rays and environmental stressors. This sunscreen malaysia also contains a special barrier, Ceramide and Niacinamide, that lock in moisture and prevents dehydration, leaving your skin feeling hydrated and refreshed. This Sun Shield is non-greasy and non-comedogenic, making it suitable for all skin types, including sensitive skin. With regular use, this product can help to improve the overall health and appearance of your skin, while also providing reliable sun protection throughout the day.
For more information:
CLEF Skin Perfecting Tinted Physical Sunscreen
Unlike chemical sunscreens that can be harsh on sensitive skin, this SPF30 physical sunscreen malaysia is gentle and non-irritating. The tinted formula blends seamlessly into your skin, providing a semi-matte finish that minimizes the appearance of blemishes, redness, and other imperfections. The product is also enriched with nourishing ingredients like Gooseberry Extract and Bifida Ferment Lysate, which help to hydrate and soothe your skin while providing antioxidant protection. Overall, this sunscreen is an excellent choice for anyone looking to protect their skin from harmful UV rays while also toning up and brightening their skin.
For more information:
WAWA Face Sunscreen SPF50+
This non-greasy formula sunscreen contains a high SPF of 50+, which effectively shields the skin from UVA and UVB rays. The sunscreen is also enriched with nourishing ingredients such as pearl powder and olive oil. Pearl powder contains several antioxidants, including conchiolin, which can help to protect the skin from free radical damage caused by UV rays and environmental stressors, while olive oil has anti-inflammatory properties that can help to soothe and calm irritated skin, reducing redness and discomfort caused by sun exposure.
For more information:
---
What is sunscreen and what's in it?
Sunscreen, sometimes known as sunblock, is a photoprotective topical skin lotion that helps prevent sunburn and, more critically, skin cancer. Sunscreens are available as lotions, sprays, gels, foams, sticks, powders and other topical forms. The sunscreen is applied and rubbed into the skin as protection against harmful UV rays.
Sunscreens include the active chemicals titanium dioxide or zinc oxide which shields the skin from the sun's rays. Because of its effectiveness as a UV filtering component, titanium dioxide is frequently used as a major ingredient in sunscreen. Sunscreens also contain light-absorbing carbon-containing compounds such as oxybenzone, octinoxate, octisalate, and avobenzone.
What is SPF and how much do I need?
SPF is an acronym for Sun Protection Factor. SPF measures the amount of solar energy or UV radiation needed to cause sunburn on covered skin, such as skin that has been treated with sunscreen, in comparison to the amount of solar energy required to cause sunburn on skin that has not been protected by sunscreen. In other words, SPF is a measure of how much UVB light a sunscreen can filter out.
Sunburn protection rises as the SPF value increases so sunscreen with SPF50+ provides more sunburn protection than SPF30+. Fair-skinned people are more likely to absorb solar energy than their dark-skinned counterparts. Because more sunscreen results in less solar energy absorption, the amount of sunscreen applied has an effect on the amount of solar radiation absorbed. Therefore, it is important to apply as much sunscreen as possible without going overboard.
Do I need sunscreen?
Everyone needs to apply sunscreen every day, no matter their gender, race or age. This comprises both people who tan easily and those who don't. It's important to remember that whether your skin burns easily or not, sun exposure still damages your skin over your lifetime. By not wearing sunscreen regularly, you are increasing your chances of developing skin cancer and other skin related diseases.
The only exception to the rule of wearing sunscreen every day are babies under the age of six months as their skin is extremely sensitive. To combat this, it's important to keep newborns out of the sun; shade structures and sun-protective clothes are the best ways to protect them.
How do I choose sunscreen for my skin?
Know your skin type: If you have oily skin, it's important to select a sunscreen that is non-greasy and water-based to avoid making your skin even oilier. On the other hand, if you have dry skin, be sure to go for sunscreen that has moisturising ingredients. Choosing a sunscreen that does not blend well with your skin type can result in acne breakouts.
Broad spectrum: Choose a sunscreen that is labeled with "broad spectrum" protection. This label indicates that the sunscreen protects against both UVA and UVB rays which serves as better and more complete protection for your skin.
SPF amount: Pick a sunscreen with the best amount of SPF that suits your daily activities. For example, if you are a person who is often outdoors, select a sunscreen with SPF50 instead of SPF30 because you require more protection against the Sun than someone with an office job. When choosing the best sunscreen for your skin, it is always important to also take your lifestyle into account.
What is the difference between chemical and physical sunscreens?
Physical sunscreen, also known as mineral sunscreen, is a type of sunscreen that is directly applied to the skin and works by reflecting the sun's rays. The main components of physical sunblocks are typically titanium dioxide and zinc oxide minerals. These sunscreens offer broad-spectrum protection by reflecting UV light away from the skin. In addition to protecting against UVB rays that cause sunburns, they also help to prevent UVA-induced skin damage, such as hyperpigmentation and wrinkles. Mineral sunscreens can also be effective in preventing damage caused by UVA rays that penetrate through windows, which can lead to pigmentation and collagen breakdown.
Chemical sunscreen is a type of sunscreen that works by absorbing UV radiation, rather than reflecting it like physical or mineral sunscreens. It seeps into the skin, absorbing UV photons, converting them to heat, and then releasing them from the body. In other words, chemical sunscreens do not adhere to the skin or filter UV radiation. Instead, they include active chemicals that absorb UV rays before they can be absorbed by your skin. Chemical sunscreens contain active chemicals such as avobenzone, octinoxate, and oxybenzone are typically easier to apply and have a thinner consistency than physical sunscreens, which can make them more comfortable to wear.
---
Frequently Asked Questions (FAQs)
Do I have to apply sunscreen every day?
Yes, you have to apply sunscreen every day. The sun has a huge negative effect on your skin. Applying sunscreen is one of the best strategies to protect the appearance and health of your skin at any age. Sunscreen, when used routinely, can help prevent sunburn, skin cancer and premature aging.
What happens to skin if it gets too much sun?
When skin is exposed to too much Sun, the risk of sunburn increases. Repeated sunburns over a long period of time may also raise your chance of acquiring skin cancer. Moreover, prolonged sun exposure without sunscreen can induce accelerated aging, resulting in wrinkles, fine lines and even skin discoloration.
How much sunscreen do I have to apply?
According to experts, the recommended amount of sunscreen applied is around one ounce over your entire body, or enough to fill one shot glass. For the face, experts recommend applying .04 ounces of sunscreen or just enough to fill the bottom of a shot glass.
Do I have to put sunscreen on my body?
Yes, you have to put sunscreen on your body. After all, you can get sunburn on any part of your body plus skin cancer can strike anywhere. Be sure not to miss your toes and feet, underarms, back of the neck, ears, eyelids and inner upper arms as these are the most usually overlooked places.
Should I apply sunscreen indoors?
Yes, you should still apply sunscreen even when indoors. This is because the sun rays are able to penetrate through windows and damage your skin. Additionally, sun rays can still shine through on gloomy days such as when it's chilly and pouring. Regardless of where you are or what the weather is like, it's in your best interest to never skip sunscreen.
Does everyone need to use sunscreen?
Yes, everyone needs to use sunscreen. Whether they are women, men, children or old people, everyone should take the steps to protect their skin from sun damage. The only exception to the rule would be babies as their skin is too sensitive for regular sunscreen use.
Which step in my skincare routine should I apply sunscreen?
Sunscreen should be the last step in your skincare routine. Apply sunscreen after cleansing, toning and moisturizing your skin. Sunscreen should be the last step as it needs to sit on top of your skin in order to block UV rays. You can apply makeup after sunscreen.
Does sunscreen cause acne?
Some sunscreen can cause acne by clogging your pores. Some sunscreens can also include chemicals that might irritate your skin, increase your risk of acne outbreaks. This is why it's important to read the ingredients label on sunscreens and select one that is best suited for your skin.
What is PA+++ in sunscreen?
PA is the rating of the Sun protection, mainly UVA, provided by the sunscreen. PA+ indicates that your sunscreen or cosmetic gives some UVA protection, PA++ indicates moderate protection and PA+++ provides the most protection of the three.
Do tanned people or dark skinned people still have to apply sunscreen?
Yes, tanned people and dark skinned people still have to apply sunscreen. Regardless of the shade of your skin, sunburn and skin cancer can happen to everyone, even to people with dark skin. They might not develop sunburn as easily but that does not mean their skin is completely immune from sun damage. Therefore, applying sunscreen is always necessary. 
Can I mix sunscreen with moisturizer?
No, you cannot mix sunscreen with moisturizer. According to dermatologists, mixing sunscreen with other product is not recommended as there can be ingredients in each product that are not compatible with each other. If this occured, your sunscreen would not be as effective in protecting your skin from UV damage.
What is the difference between UVA and UVB rays in sunscreen?
UVA rays have a longer wavelength and can penetrate deep into the skin, causing long-term damage such as premature aging, wrinkles, and skin cancer, while UVB rays have a shorter wavelength and primarily affect the top layer of the skin, causing sunburns and contributing to skin cancer. UVA rays is more harmful as it can penetrate through clouds and windows, making it important to protect your skin even on cloudy or indoor days.
Will sunscreen stop my skin from absorbing Vitamin D?
No, sunscreen will not stop your skin from absorbing Vitamin D. Daily sunscreen usage has never been linked to Vitamin D deficiency in studies. In fact, individuals who apply sunscreen on a daily basis can actually help keep their Vitamin D levels stable.
What will happen if I don't apply sunscreen?
The worst possible outcome of not wearing sunscreen is developing skin cancer. When regularly exposed to the harmful UV rays from the Sun without SPF, sunburns and premature aging can also occur. Researchers found that UV exposure is responsible for around 80 percent of visible signs of aging on the face.
How do I apply sunscreen?
The steps in applying sunscreen are similar to applying body lotion which is by rubbing it into your skin until fully absorbed. Be sure to rub sunscreen on any exposed skin. Remember to pay attention to your neck, face, ears and the tops of your feet and legs.