If you're looking for a place to satisfy your meat cravings in Kuala Lumpur, you've come to the right place. 
Have you had a craving for properly cooked, juicy meats in the past few days? Then you're going to love this list of Korean BBQ Halal Restaurants 2022. Make preparations for a big feast with your friends and family at these restaurants in the city, which will include everything from the lovely sizzling sounds of meat and the aroma of sweet-savoury seasoning to an array of delicious side dishes Korean BBQ Buffet Halal.
I'm sure you've drooled at the sight of a wonderful Korean barbecue on your K-Drama at midnight while watching it. Take a moment to envision the sound of meat sizzling on the grill, ready to be dipped in soybean paste and devoured by you!
Korean BBQ is very popular among Muslims, which is why we've compiled a list of Korean halal restaurant barbeque restaurants just for you! So go ahead and visit one of these Halal Korean barbeque restaurants and envision your favourite 'Oppa' preparing your fav Korean meals and Korean buffet.
1. Seoul Garden
Listed as the best Korean food in Malaysia, Seoul Garden has been a renowned Halal-certified Korean brand in Malaysia and Singapore for the past 37 years, boasting a 2-in-1 unique smokeless grill technology, exclusive Korean-Asian marinades, and a wide variety of side dishes to choose from! We guarantee that your eating experience at Seoul Garden will be both delicious and enjoyable!! Seoul Garden has 35 locations in Malaysia, so stop by one that's convenient for you soon! 
Address: Lot LG 2.126, Sunway Pyramid Mall, Jalan PJS 11/15, Bandar Sunway, 46150 Petaling Jaya, Selangor
Website: https://www.seoulgarden.com.my/
Facebook: https://www.facebook.com/SeoulGardenMalaysia
2. SeoulNami Korean BBQ
South Korean BBQ, inspired by the famous Chuncheon Chicken, combines the juiciest and most tender chicken sliced with our mixture of the best tasting Korean marinades to bring you Korean BBQ in its purest form, cooked over high heat charcoal for a tantalising smokey scent and a delectable caramelised crust to bring you Halal Korean BBQ in its purest form.
Watch your meats shimmer in the marinade, sizzle, and caramelise right before your very eyes while you inhale the delicious fragrance. Fire ramyeon and their 3 king noodles are among the many varieties of noodles available.
Address: F-215 The Gardens Mall, Lingkaran Syed Putra, Mid Valley City, 59200 Kuala Lumpur
Website: https://www.seoulnami.com/
Facebook: https://www.facebook.com/seoulnamikoreanbbq/
3. Han Modern Korean Grill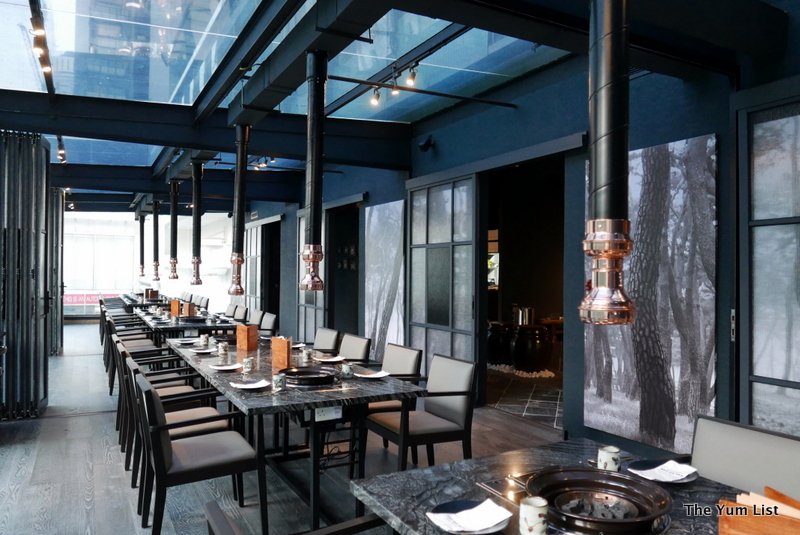 Han Modern Korean Grill is the place to go if you're looking for an elegant Korean barbecue experience. This sleek and sophisticated restaurant is furnished with imported black Italian marble tables and a backdrop of black and white photographic landscapes of trees, giving it an air of elegance and refinement.
You will be fed meats that have been properly sliced and sourced from Australia, Japan, and the United States, as well as refillable side dishes. You could never go clueless when it comes to the flavours of top-quality meat!
Address: First Floor, Menara Hap Seng, 1, Jalan P. Ramlee, Kuala Lumpur, 50250 Kuala Lumpur, Federal Territory of Kuala Lumpur
Website: https://www.instagram.com/
Facebook: https://www.facebook.com/hanmalaysia/
4. Gangnam Station
Gangnam Station began as a little Korean Halal restaurant in Shah Alam, but has since extended to the 19 USJ City Mall, where it has expanded its menu to include Korean stick BBQ. Their sundubu jjigae, tteokbokki rice cake, bulgogi, and dakgogi bokkeum kyochon halal are all must-tries, as are their cheap package dinners, which are ideal for large groups and families (spicy stir-fried chicken). This spot gives you the same vibe as the kfry halal restaurants.
Address: G45, Block 6, Laman Seri Business Park, Persiaran Sukan, Seksyen 13, 40150 Shah Alam, Malaysia
Facebook: https://www.facebook.com/gangnamstation/
5. Kung Jung Korean Restaurant
We have arrived at the Kung Jung Korean Restaurant, one of the best halal Korean restaurants in KL, where traditional Korean barbeque may be enjoyed. Chopsticks and grilling tongs in hand, get ready to watch the meat sizzle away on the grill, which has been heated with hot charcoal barbeque from the table below.
In addition to grilled marinated sirloin, marinated spare ribs and more, they also provide a variety of meat options. You will be provided with complimentary side dishes to accompany the meat! If that isn't enough for you, order some hearty bibimbap or kimchi jjigae to satisfy your hunger!
Address: Lot No 3.1 Level 3 PNB Perdana, Jln Binjai, Kuala Lumpur, 50450 Kuala Lumpur
Facebook: https://www.facebook.com/kungjungkorean/
6. Sweetree Restaurant
Besides serving halal-certified Korean cuisine, Sweetree also operates a cultural centre, where they host bazaars, courses, and private parties. You can relax in a comfortable setting or even hold an event there! Sweetree, in addition to serving traditional Korean dishes such as samgyetang and kimchi jjigae at reasonable prices, also serves other dishes such as Malaysian kampung fried rice, Italian pasta, and even Vietnamese beef noodles making it a restaurant that will appeal to people of all ages and culinary preferences. Don't forget to try their halal Korean food, Bingsu and fresh Korean banana milk for a delicious treat before you went out.
Address: No 13 L-1 & 2, Jln. Ampang Putra, Taman Putra Sulaiman, Ampang.
Facebook: https://www.facebook.com/swtree.sweetree/
---
Frequently Asked Questions (FAQs)
What is the history of Korean BBQ?
The history of Korean BBQ can be traced back to the Goguryeo era (37B.C – 668 A.D) when the nomadic Maek tribe created "maekjeok" which translates to meat skewers roasted over a fire. As time goes by, it changed to a new term – "bulgogi" which directly translates to "fire meat" from Hangul.
Other than meat, what is the menu served at Korean BBQ Halal restaurants?
Korean BBQ Halal restaurants usually have a wide range of menu items. For instance, kimchi jjigae, a spicy kimchi stew that is typically meant to be eaten with white rice together with the meat you grilled with. Furthermore, there is also gyeran-jjim, which is a fluffy steamed egg dish meant to be eaten to tone down the spiciness level of your grilled meat!
What is "ssam" wrap that people usually eat at Korean BBQ Halal restaurants?
"Ssam" is translated to "wrapped" and is referred to as a dish in Korean cuisine where a leafy vegetable such as perilla leaf or lettuce wrap a piece of grilled meat. You can also add gochujang sauce, kimchi, garlic or pepper to your wrap. The power is in your hand!
Is Korean BBQ Halal restaurant a good place for a date?
Of course! Especially if you and your partner are already feeling comfortable with each other, you can have a date at a Korean BBQ Halal restaurant. You can impress them by flexing your meat grilling skills and also feed them a "ssam" wrap to show how much you love them.
What is the right way to eat at Korean BBQ Halal restaurants?
In Korean culture, the right way to eat Korean BBQ is to eat it all in one bite, even if the wrap that you made is overfilled with meat, vegetables and kimchi. According to them, this is to give your tongue the proper experience of tasting all the flavours at once. Therefore, if you have a small mouth and are unable to eat large wraps, you can make your wrap smaller.
How long should I cook my meat at Korean BBQ Halal restaurants?
First, grill the meat for about two to three minutes on each side by using tongs to flip them. Remember to use tongs and not your chopstick to avoid cross-contamination! Then, once the meat is grilled on both sides, use the kitchen scissor provided to cut the meat into three sections. Cook the meat for another minute and then you can enjoy it.
How do I make sure my meat does not get stuck on the grill at Korean BBQ Halal restaurants?
Since you are eating at the restaurant, make sure the staff pre-heat the BBQ plate properly – not too hot and not too warm. Then, if they put oil on the plate, you won't have to be worried if your meat gets stuck on the plate. However, if they don't do these steps, let them know because there is a chance they forgot to do it.
What is the sauce at Korean BBQ Halal restaurants made of?
Korean BBQ sauce is made out of soy sauce, ginger, garlic and rice vinegar. You will get the taste of tanginess, acidity, umami, saltiness and also a hint of sweetness right away. It is the perfect companion to eat together with juicy grilled meat.
How long do people usually spend at Korean BBQ Halal restaurants?
Since people usually go to Korean BBQ Halal restaurants together with their family, friends or partners, do expect to spend 2 hours or more there. This is because you will spend a lot of time talking while also waiting for the meat to be grilled together!
Can I ask for a refill for "banchan" (side dish) at Korean BBQ Halal restaurants?
Typically, "banchan" is available for a refill at most Korean BBQ Halal restaurants. However, do expect that there are places that don't offer free "banchan" refills. Make sure to ask the staff beforehand to avoid extra charges on your bill!
Can I ask help from the Korean BBQ Halal restaurant staff to grill my meat?
Yes, definitely! The unique part of the Korean BBQ Halal restaurant experience is the staff will usually cook for you so you can focus on your conversation with your companion. The only reason they won't help you is if you look experienced to grill the meat on your own. If you don't, just ask them for help but make sure to do it nicely!
Can I do a take-out at Korean BBQ Halal restaurants?
For certain menu items like kimchi jjigae, gyeran-jim, tteokbeokki and others are definitely available for take-out. However, it might not be the same for grilled meat because they serve you raw meat and you are meant to grill it at the place.
If I don't want to go to Korean BBQ Halal restaurants, can I have it at home?
Of course, you can. Just get yourself a BBQ plate (electric or charcoal) and some meat and you're good to go! There are also tons of marinade recipes for Korean BBQ, just hit Google and choose the one that sounds the most delicious to you.
What's the best meat to have at Korean BBQ Halal restaurants?
Koreans recommend to order bulgogi (beef), galbi (boneless short ribs), chadolbagi (thin-sliced beef brisket) when you are eating at Korean BBQ Halal restaurants. This is to give you the ultimate experience of Korean BBQ!
Is eating at Korean BBQ Halal restaurants considered healthy?
Yes, this is because Korean BBQ uses low-calorie condiments such as soy sauce to marinade the meat. This is to add flavour to the meat without using other unhealthy condiments. Furthermore, it uses less oil compared to other country's BBQ styles.