Origin of Bubble Tea
Bubble tea a.k.a. "Boba tea" or "Black pearl tea" is a tea-based drink that originated in Taiwan in the 1980s. A Taiwanese classic, this beloved milk tea is made up of tea, milk and 'bubbles' – which are made of tapioca to fruit jelly that are turned into little balls that you will find in your drink.
What is so special about Bubble Tea?
What is special about bubble teas is that it offers a unique taste that no other beverages can offer the same type of taste. For example, drinks like fruit juice or iced coffee have the same common texture, with boba tea, there are many variations of that drink along with the combination of the black pearl that is in the boba drink. To give more examples, besides the standard boba tea flavour, the variety of boba tea flavours that are available out there such as matcha flavour, milo powder toppings, avocado boba and many more. The choices of boba drinks are massive compared to other drinks.
The Boba Crave in Malaysia
The Bubble tea cravings in Malaysia is massive as there are places that have dedicated places for bubble tea shops such as SS15 in Petaling Jaya, Selangor and Jalan Hutton Lane in Penang.
The Top 5 Boba Tea shops in Penang that you should try!
Chatto Malaysia
Chatto is a Malaysian brand that was founded in Peninsular Malaysia in 2017. Located in Lebuh Carnarvon, Chatto has a variety of desserts such as Boba tea – with a variety of tea drinks, snacks such as waffle taiyaki and even a lunch option if one wishes to have lunch at Chatto. 
At Chatto, you have everything that you are looking for to have a cosy tea session with your friends and families.
Website: https://www.chatto.com.my/
Address: 143, Lebuh Carnarvon, George Town, 10100 George Town, Pulau Pinang
Phone: 012-867 0037
Tiger Sugar (Jalan Hutton Lane)
One of the best bubble tea you can get in Malaysia, next on the list is Tiger Sugar at Jalan Hutton Lane. The reason for this recommendation is that Jalan Hutton Lane is a nice place with great nightlife with fabulous views to take those awesome OOTD pictures for your Instagram. With that, Tiger Sugar is recommended not only for the drinks but also for the aesthetic vintage-looking boba tea outlet in Penang.
Website: http://welcome.tigersugar.com.my/about.html
Address: Lot 166 & 168, Jalan Hutton, 10050 George Town, Pulau Pinang
Wow! Tea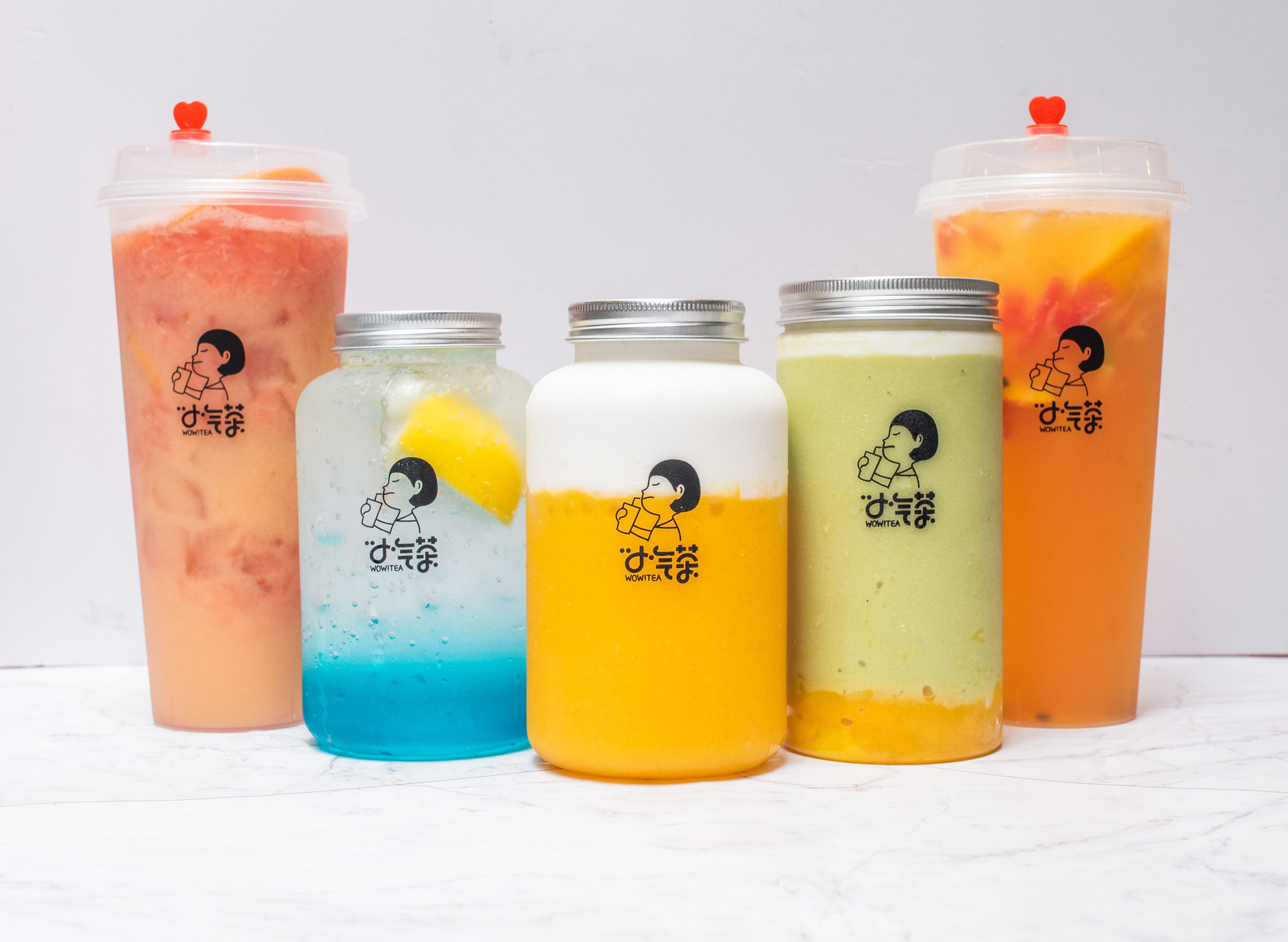 Wow! Tea is one of the most unique bubble tea brands that you can get in Malaysia. Besides your milk tea boba series. Wow! Tea has a variety of unique drinks available in their outlet with the likes of Yakult series, fruit cheese series (highly recommended), sparking series (where sparkling soda is used), and many more.
It is not often that you will find bubble tea brands in Malaysia that have as much variety as Wow! Tea. To find out more about Wow! Tea, head over to their website at the link pasted below.
Website: https://www.facebook.com/wowteamy/
Address: 172, Jalan Hutton, George Town, 10050 George Town, Pulau Pinang

Phone: 010-977 2099
Mew Cha
A Penang brand, Mew Cha currently has 2 outlets in Penang. One is at Gurney Paragon, Level 4, and another outlet is located at Summerskye, Bayan Lepas.
Mew Cha aims to bring the authentic taste of Japanese-inspired premium fruit tea with all-natural, premium ingredients.
There are many choices of drinks to choose from at Mew Cha such as Yuzu Creamew, Buzz Cha, Buzz Yo Series, Shaken Cha, Boba Series, Pure Cha, Cha Latte. To find out more about Mew Cha, head over to their Facebook page now!
Website: https://www.facebook.com/mewcha.my/
Address: Gurney Dr, 10250 George Town, Penang
Chawanjia (茶丸家)
Chawanjia is a bubble tea brand that originated in Taiwan. Chawanjia's aim is to produce the highest quality boba tea in terms of the preparation process and cumulative improvements of its pearl milk tea products
With so many delicious drinks on Chawanjia's menu, it is so hard to find which one is the best to drink. Chawanjia's Rainbow Signature Pearl Milk Tea looks delicious, it is a must-try if you happen to be at Chawanjia outlet in Penang.
Website: https://www.chawanjia.com.my/en/
Address: 138-1-1 Anson Cube, Jalan Anson, 10400 George Town, Pulau Pinang
Phone: 04-210 1512
The boba crave does not seem like it will go away anytime soon. As bubble tea brands constantly produce new types of boba drinks to the table, boba teas will be here for as long as new varieties are produced.
Which bubble tea outlet from the list will be your next destination of bubble tea outlets to try?