Many of us are overburdened with responsibilities in life and neglect to care for our own needs. This is especially true for people who are heavily burdened with caring duties. Self-care to relax at home is a vital part of stress management, even if it's difficult to prioritize when you have so much else to accomplish.
Physical and emotional weariness reduces our ability to cope with life's challenges. Or, to put it another way, when we are at our healthiest physically and emotionally, we are more resilient and better equipped to bear the stresses of life. Pampering yourself with a diy home spa like a massage, a hot bath, or some other indulgence makes you feel better on the inside as well as the outside. There are numerous advantages to making time for your own well-being, and here are home spa guides that you could DIY at home.
1. Bath Soaks
The Benefits of Making Your Own Bath Salts:
Cheap-Have you seen how much bath salts have risen in price recently? OMG, such a waste of time. You'll save a lot of money by making them yourself instead of buying them. In this recipe, only natural ingredients are used, and no colorings are used. All you need is the Himalayan sea salt's built-in pink color. Baths can be made more relaxing by adding Epsom salts or sea salts and baking soda, which contains magnesium. Aesthetic – Use your handmade bath salts to make a functional and lovely decoration for your bathtub. Suitable for giving as a gift –Making a thoughtful, time-consuming gift for someone is a wonderful way to show you care about them.
Below you'll find the complete recipe and steps, which you may save and print for later use:
3 cups Epsom salt, 1.5 cups coarse sea salt, and 1/2 cup baking soda are often mixed with 15-20 drops of essential oils. For each hot bath, use about half a cup of the mixture, which should be kept cool and dry.
When baking soda is stored in glass jars and exposed to high humidity or high altitudes, it can produce excessively high air pressure. On very rare occasions when humidity (or other environmental elements such as elevation) interact and activate baking soda, air pressure builds in an airtight container. Rather than risking exploding bath salts, poke a few holes in the lid before storing them in an airtight container made of glass. To avoid a buildup of air pressure, place these in a plastic bag or container that isn't airtight.
2. Foot Bath
There's a lovely foot soak right outside your front door, so you don't have to leave. You already have the natural ingredients you'll need to prepare a custom foot soak in your residence for a home spa in Malaysia. After a long day of standing or walking about for business or pleasure, you may crave a relaxing, simple home spa guide. You can get a wide range of foot stress relievers for free by using everyday household items.
Almond oil can be available in a wide variety of massage oils, including those you already own. Cooks frequently use olive oil in their recipes. Both of these ingredients lubricate, soften, and soothe the skin as home spa tips while being added to the footbath. Unless your feet are extremely dry, only use a few drops of oil.
Honeycomb
There's a good chance the ancient remedy of honey is hidden away in a cupboard somewhere. The antioxidants and humectant properties of tea tree oil make it an excellent choice for foot baths. To make a foot soak, combine honey with foamy liquid soap and a dash of vanilla and almond oil.
Salt
Baking soda and Epsom salts are likely to be found in the baking cupboard, while baking powder is in the medicinal cabinet. Add salt to taste, whether it's kosher, sea, or coarse, to the foot soak. Salts are believed to alleviate tension in the muscles and improve blood flow.
Herbs
Make a foot soak with lavender, mint, and marjoram. Herbs like sage and rosemary are also popular in foot spa treatments. If you have any of these plants on hand, you may use their oils in the foot spa, or you can simply knot a bunch of sprigs together and drop them in. While adding flavor and aroma to the water, the herbs also soothe and rejuvenate the body and mind. Place the bundles in the foot bowl and fill it halfway with boiling water. Soak your feet when the water has cooled down a bit.
Lavender and other fragrant essential oils
Essential oils can be added to your foot soak if you so want. These exist in the homes of certain people. If you don't have any of these ingredients, don't worry. You can still make a foot soak. However, you may make the soak even more relaxing by using oils like rosewood, bergamot, or sandalwood. Consider using lemongrass, tea tree, or orange oil for a revitalizing foot soak.
3. Face Masks
While the days of summer are drawing to a close, the blotchiness and dryness that you've acquired from being out in the sun may not. There are dozens of simple DIY options for home spas in Malaysia that are considerably easier on our busy schedules—and wallets—than a costly salon facial. Avocado, honey, oats, and even chocolate are all healthy foods that are probably available in your kitchen cupboards. Here's an example;
The Chocolate Anti-Aging Mask
2 tablespoons of coffee
3 heaping tablespoons of oatmeal
4 tablespoons heavy whipping cream
honey, about a quarter-cup
When consumed, dark chocolate may do wonders for our moods as well as our antioxidant levels. When used topically, its anti-aging qualities aid the body's own collagen production. When you combine avocado with honey, coconut cream, and coconut oil, you get a silky, creamy mask that goes on smoothly. Apply a thin amount, let it sit for 10 minutes, and then gently wash it off with warm water. It's also deliciously fragrant, so be sure to save some cocoa nibs for snacking afterward.
4. Hair Masks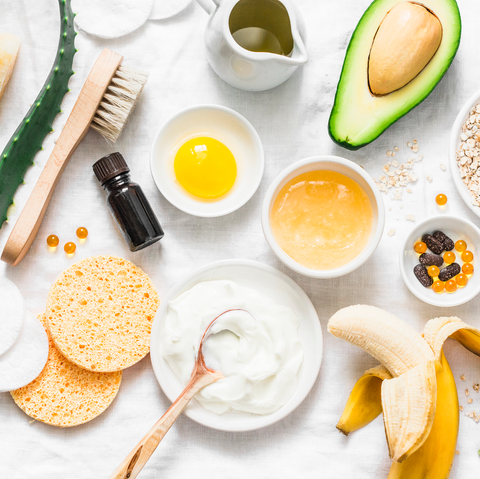 It seems like everyone has a go-to hair mask for repairing damage, increasing shine, or simply adding hydration during diy home spa. But, let's face it, most are prohibitively pricey to utilise on a regular basis. Fortunately, you can whip up your own homemade mask when you're running low on supplies. Here's where home spa tips come in handy – Cuticles damaged by colouring, hot tools, salt water, or chlorine can be soothed and repaired with homemade hair masks. They can also be tailored to your particular hair type, whether it's fine, wavy, dry, frizzy, or greasy.
Breakfast on Sundays just got a whole lot more versatile. The high vitamin content of egg yolks may help strengthen hair and make it more resistant to damage. Vitamins A and E, biotin, and folate have all been linked to hair development and health, and putting egg yolk on the scalp can provide these nutrients directly to the roots of your hair.
To begin, shampoo and towel-dry your hair thoroughly. Apply the mask with your fingers, coating the top of your scalp and the ends of your hair with the egg yolk mixture. Rinse with cold water after one hour of wearing it (hot water may cause the egg to curdle).
5. Aromatherapy
Inhalation of essential oils is the most frequent method of using them, both for the wonderful aroma and for the medicinal benefits. These oils can be applied to the skin undiluted or diluted with a carrier oil and used in diffusers and humidifiers. The medical and therapeutic qualities of essential oils are numerous and diverse. Because of their antifungal, antibacterial, and antiviral characteristics, they're a great addition to your medical cabinet. There is evidence to support the use of these herbs for promoting restful sleep, relieving headaches, and reducing discomfort. To top it all off, essential oils can help with everything from skin ailments to the common cold to healthy digestion.
Aromatherapy may appear difficult at first, but if you have everything you need to execute this do-it-yourself project, it's really not. It'll take you no time at all to make lovely homemade candles at home using soy wax flakes and a new wick.
This lesson goes into great detail and offers some great advice on how to make candles, such as how to include dried herbs like lavender into a lavender scented votive to enhance the fragrance. And, if you're not satisfied with the scent, experiment with different containers and colours.
Vintage jars and glasses, metal containers, or even adorable small dip bowls like these are all good options if you don't mind using something other than plastic. To add a splash of colour, melt some wax flakes and then cut off pieces of crayons to add to the mixture. A little goes a long way—for a pale pink shade, use about 1/8 inch of a red crayon per 16 fluid ounces of wax.