This year, we are leaving all negativity behind us and just focusing on building on being positive for ourselves. I'm sure that most of you include exercising, working out or doing sports in your resolution.
There are a lot of benefits to exercising. It does not only help to improve your physical well-being but also your mental health. Exercising can help to stimulate the production of endorphins in our brain, which is the natural painkiller. It can reduce our stress and anxiety level and gives us a sense of pleasure. Furthermore, experts suggest that exercising can help to improve your memory and sharpen your thinking skills.
Okay, before you subscribe to that gym membership, you need to prepare your outfit first! Some might say it's not important to get sportswear to go exercising and you can just wear whatever you have in your wardrobe to the gym. But, there are reasons why sportswear was invented, such as to protect yourself from injuries, to improve your performance during workouts and also to boost your confidence when wearing them!
Now that I've convinced you to get sportswear attire, I will guide you to find the best sports brand in Malaysia for you!
Panaz
Image Source: Panaz
This Malaysia activewear got its name from "Panas" from Bahasa Melayu which means "hot" and they are famous for using heat technology in their sportswear. They use a special type of fabric in their products to boost our body heat and produce more sweat which consequently will help us to burn more calories when working out. This will stimulate your body to burn more calories and help you to lose weight easier. They have a wide range of sportswear – pants, tops, belts, armbands and bras.
Further information about Panaz:
Website | Instagram | Facebook
Camellia Activewear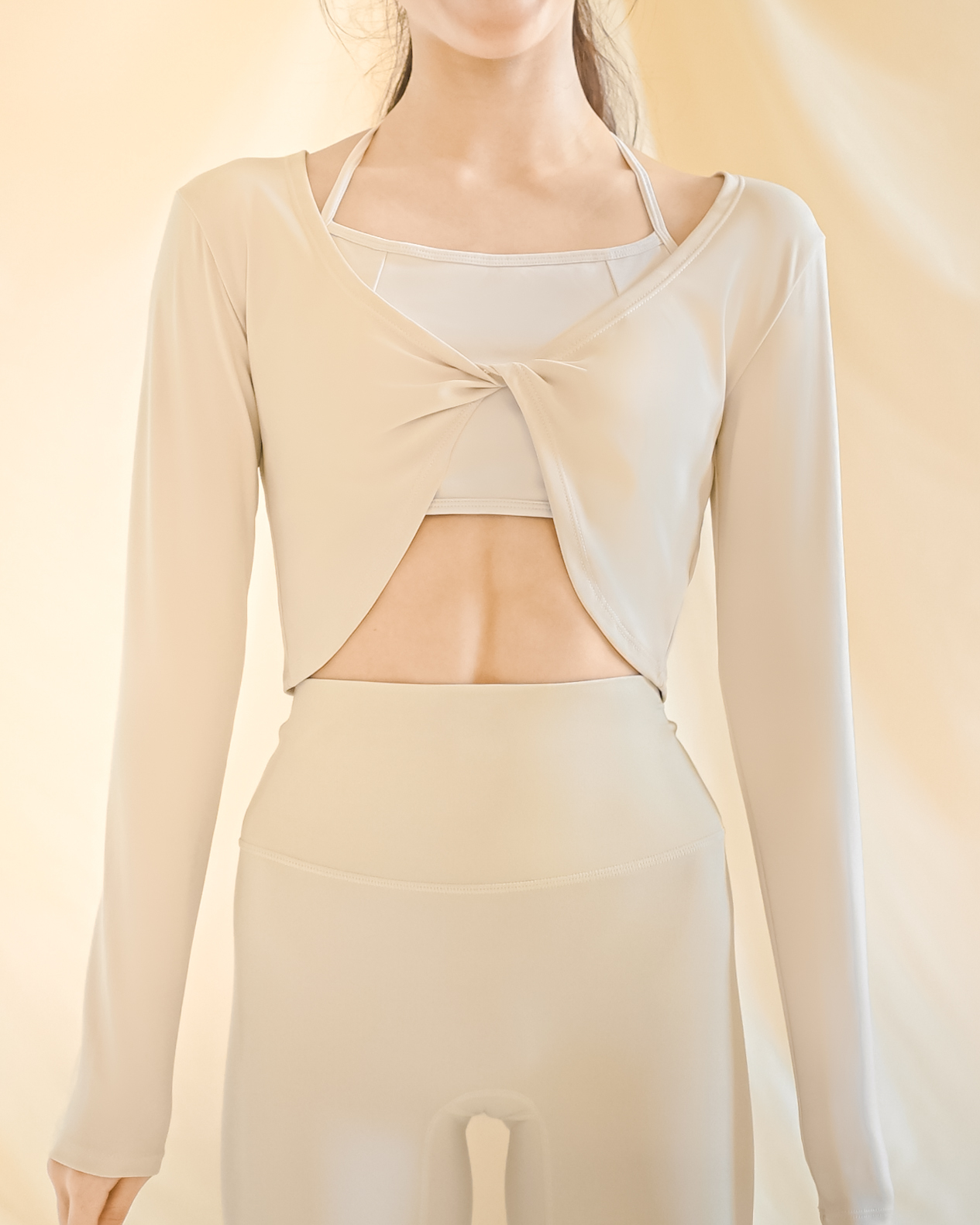 Image Source: Camellia Activewear
If you are looking for Malaysia sportswear with feminine designs and colours, you should check out Camellia Activewear. Most sportswear typically has a masculine design because we are still used to the stereotypes of exercising as a manly activity. Therefore, Camellia breaks this stereotype by creating sportswear with girly design that has frilly and ruffled sleeves. Furthermore, they also have a wide variation of soft pastel colours to make you look cute while working out. They offer a wide range of sportswear – outerwear, sports bra, set wear, tennis skirt, leggings, shorts and even yoga mats!
Further information about Camellia Activewear:
Website | Instagram | Facebook
Nashata
Image Source: Nashata
This Malaysia sportswear brand claims itself to be the world's no. 1 modest activewear for women. Their name "Nashata" originates from an Arabic word that means active. If you're looking for sportswear for muslimah, you should check out this brand because they sell various innovative sportswear to assist muslimah's lifestyles. Furthermore, they use fabric that is not only suitable for working out but also environmentally friendly. Their products range from hijabs, tops, bottoms, swimwear, full-body suits and even a range for children's wear!
Further information about Nashata:
Website | Instagram | Facebook
Hwoofit
Image Source: Hwoofit
Do you know one of the most annoying things about women's clothing? It's the lack of pockets! Why does menswear always have a lot of deep pockets that they can literally put a kitten inside of them but all we get is either fake pockets or miniature-size pockets? Designers all over the world should start adding pockets in our clothes so that we can travel light and there's no need for us to bring our purses or bags everywhere.
Well, the good news is this Malaysian sports brand offers sports leggings with pockets so you can bring only the necessities when you go out to exercise. Their leggings come in different designs and colours so you can choose whichever you prefer. They also sell other sportswear – sport bras, tops, headbands and others!
Further information about Hwoofit:
Website | Instagram | Facebook
Raqtive
Image Source: Raqtive
If you are looking for gym clothes Malaysia that are Muslimah-friendly, you should check Raqtive out! They sell sports hijab that will give you the ultimate comfort when you are working out as it comes with breathable material that won't make your head overheat! Therefore, we won't get exhausted easily and it can reduce the risk of us getting heat stroke in our country's hot weather. Furthermore, they also sell long sleeve sportswear, bottoms, headscarves and caps on their website!
Further information about Raqtive:
Website | Instagram | Facebook
OWN
Image Source: OWN
The next Malaysian sports brand that you should check out is OWN! Why should you check them out? Well, have you ever noticed that most sportswear came with a plain design? If you're someone who's into fashion, you must feel that it's boring to wear plain clothes when doing exercise. So, in order to boost your motivation, get your next sportswear from this brand! Their products are available in a variety of patterns with mesh panel tops, gradient patterns and vibrant colours. After wearing their clothes, you'll feel even more motivated to work out!
Further information about OWN:
Website | Facebook | Instagram
HERMS
Image Source: HERMS
Sometimes, the biggest problem when buying yoga clothes Malaysia or for other sports is not because of the colour or design, it's the price. Most sportswear is always on the expensive side and this may discourage you from continuing to exercise. However, this sports brand in malaysia, HERMS, can solve your problem! Their vision is to offer great quality sportswear that is aesthetically pleasing at an affordable price! They sell a wide range of products – active tops, bottoms, swimwear, sports bras and many more!
Further information about HERMS:
Website | Facebook | Instagram
REACTIVE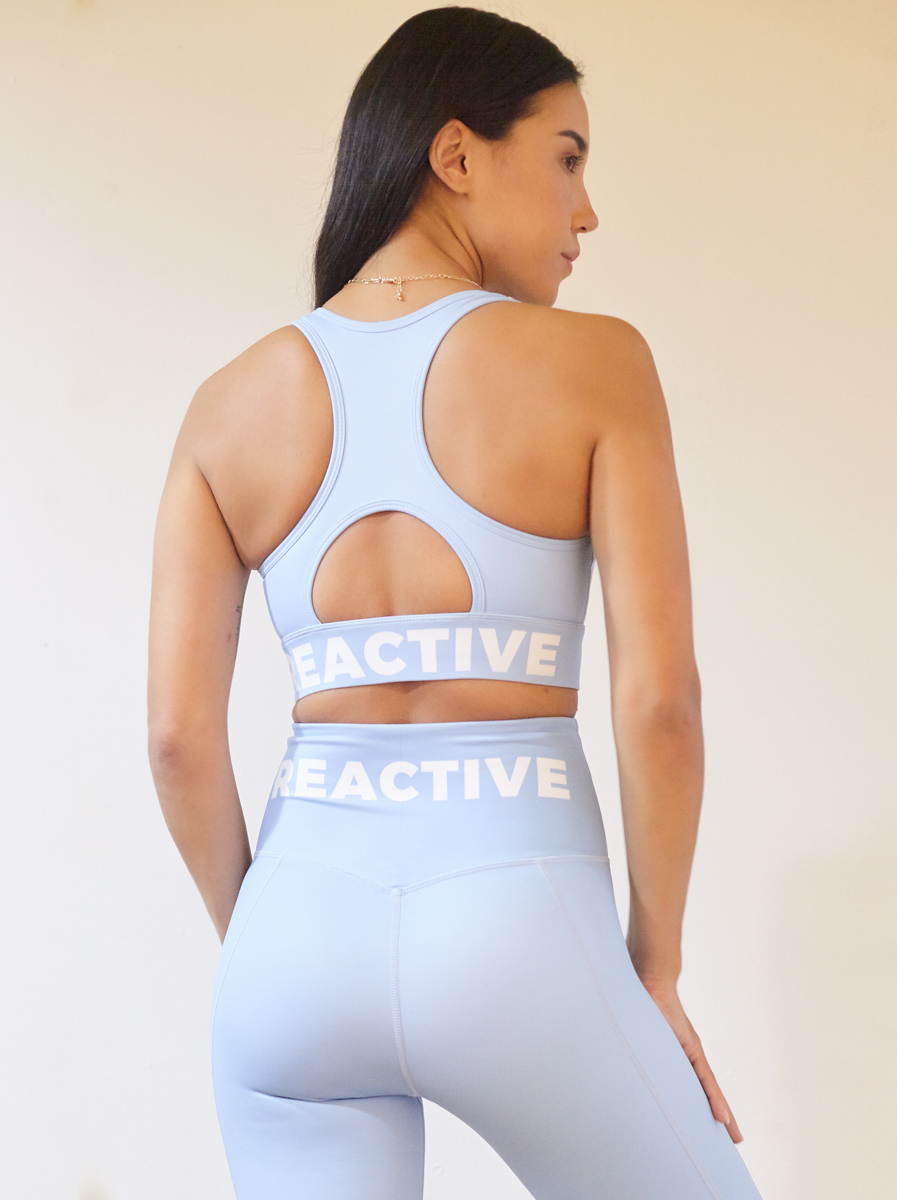 Image Source: Dressing Paula
REACTIVE is one of the sports brand in Malaysia that strives to create environmental-friendly sportswear. They got the materials for their products from a company called REPREVE, a brand that creates garments out of recycled plastic bottles. Not to be tricked by their choice of material, their products are of high quality that will give you the ultimate comfort when working out. Currently, they sell active tops, sports leggings, sports bras and even a signature set so you don't have to think about curating your workout outfit!
Further information about REACTIVE:
MKLZ Collection
Image Source: MKLZ Collection
If you're looking for a sports brand in malaysia that sells minimalist designs with monotonous colours, then MKLZ Collection is made for you! Their products mainly focused on the practicality aspect to ensure you can work out to your fullest when wearing their products. Their products are so versatile that you can wear them during a calm yoga session or even during a HIIT session.They have a wide range of products which includes sports tank tops, leggings, shorts, sports bras and many more.
Further information about MKLZ Collection:
Website | Facebook | Instagram
Banana Fighter
Image Source: Banana Fighter
This sports brand in Malaysia was founded by a fitness enthusiast with a fashion design background. Therefore, you can be assured that their sportswear is both fashionable and practical for you to perform your best when exercising. Also, they also offer athleisure clothes that you can wear during exercising and also on casual occasions. They have a wide range of products – sports bras, tank tops, active tops, bottoms and other sports accessories.
Further information about Banana Fighter:
Website | Facebook | Instagram
---
How many types of sportswear are there?
There are three main types of sportswear – gym wear, activewear and athleisure. Firstly, as the name suggests, gym wear refers to clothes that can tolerate a heavy workout. Typically, the shirts and shorts/pants are made out of quick-drying material that will absorb your sweat when you are exercising. For instance, technical t-shirts, socks, sports bras, leggings and sports sneakers.
Next, activewear is defined as more casual wear and can be worn for non-exercise purposes. The most common activewear clothing are tracksuits or jogger pants and sports sneakers. This outfit style is popular especially among teenagers because they are made out of comfortable material and some people also wear it at home.
Lastly, athleisure is a term that was recently created that means "casual, comfortable clothing designed to be suitable for both exercise and everyday wear." Not to be confused with activewear, athleisure is a mix of sportswear such as sweater hoodies and meant to be worn with casual wear like jeans or denim jackets. To put it simply, athleisure is a hybrid between sportswear and casual wear where you can be comfortable and fashionable at the same time.
What are the best materials for sportswear?
There is a wide range of materials for sportswear, which you may choose depending on your needs and preferences. The most common is cotton material as it has better odour control compared to other materials and it doesn't cling to your sweat or other bad smells. However, it doesn't absorb sweat as much as other materials so if you sweat easily, be prepared to have sweat stains on your cotton sportswear when working out.
Next is polyester, which is also a common material for sportswear. It is basically a fabric made out of plastic fibres so it is lightweight, wrinkle-free, long-lasting and breathable. Even if it's a non-absorbent material, it doesn't mean that it's not a good material. It means that your sweat won't be absorbed into the material and it will be left to dry on the outer part of the material on its own.
Another common material for sportswear is microfibre. Based on its name, you can figure that it is made out of super-fine thread fibres and this means that the threads are a hundred times finer than a human hair. It is a fully man-made material, a combination of polyester and polyamide. However, the process of creating microfibres is tedious and costs a lot, so do expect microfibre sportswear to be on the expensive side.
What are the best sportswear for me?
There are five factors that you should consider before buying the best sportswear for yourself – moisture control, thermal, chafing, stretchability and odour. The most annoying part of working out is when you are drenched in your own sweat in the middle of your session. So, make sure to choose the material that has a sweat-absorbent feature to ensure your comfort when exercising. Next is thermal, since we live in a hot and humid country, make sure to choose sportswear made out of breathable material to avoid overheating or worse – getting heat stroke while exercising.
Furthermore, you should find a material that won't give you skin chafing when you exercise. Skin chafing refers to a skin condition that occurs from the friction between your skin and clothing and may cause rashes or welts. Marathon runners usually experience this and the most common body areas that can get skin chafing are the underarms, thighs, nipple area and groin. So, get yourself sportswear that is seamless and made out of hypoallergenic material to not make you itch.
Moreover, it is important to get sportswear that is made out of stretchable material. When you exercise, you will move a lot so wearing a non-stretchable material will hinder your movement and you will experience discomfort while also risking your sportswear to rip. Wearing sportswear made out of stretchable material will give you the freedom to move as much as you want and it won't wear or tear as much as non-stretchable sportswear will.
Lastly, choose sportswear that can help you to control your body odour when working out. It is unavoidable that we sweat when we are working but wearing sportswear made out of moisture-wicking material can reduce the risk of having bad body odour while working out.
What are the health benefits of wearing sportswear?
There are numerous health benefits of wearing sportswear, hence the reason it was created in the first place. Firstly, it will give you better breathability compared to wearing non-sportswear clothes when working out. When working out, you will sweat a lot and the sweat will cling to your skin and make you feel unpleasant. Sportswear has moisture-wicking material that will help your skin to breathe and it can also help to regulate your body temperature. When your sweat dries, your body will also cool down and this lowers the risk of overheating when working out.
Next, it will give you proper support and protection while exercising. Sports bras and compression wear serve as support for your body when you move around a lot. If you're into heavy workouts, sportswear can help you to prevent muscle aches and even from damaging your tissue if you're reckless. So, wearing sportswear will keep you comfortable and safe while you exercise.
Furthermore, wearing sportswear will help improve your blood flow as compression wear stimulates blood flow to and from your limbs. This helps to deliver more oxygen all over your muscles and will lower the amount of fatigue you will get after working out.
What are the differences between sportswear and activewear?
To start, sportswear is meant to be worn for sports only. And some sportswear are exclusively meant to be worn for specific types of sports only. For instance, baseball gloves, badminton sneakers and judogi. Also, the purpose of wearing sportswear is to support and protect you when you are doing sports and not for fashion purposes. So it focuses more on comfort, practicality and thermal functions.
Meanwhile, activewear serves both practical and fashion purposes. This means that you can wear activewear on a casual occasion, not necessarily during exercising only. Activewear is designed to be stylish but also practical for sports purposes. Some examples of activewear include sports sneakers, jogger pants and biker shorts.
---
Frequently Asked Questions (FAQs)
Can I wear sportswear on a casual occasion?
Yes, you may. Since sportswear is made to be comfortable, some people wear it even on casual occasions. However, avoid wearing sportswear made for specific sports such as taekwondo's dobok, baseball helmets or boxing gloves when you're outside to avoid being stared at by everyone.
What is the technology used to produce sportswear?
First, it has a body compression feature that has been used for many years in the medical world for people with poor blood circulation issues and to prevent blood clots. It is also proven that wearing compression sportswear can reduce muscle soreness and fatigue after a workout session.

Next, it has an antimicrobial technology to eliminate the bacteria from your sweat when working out. If left on its own, the bacteria will leave a bad odour on your sportswear and no matter how many times you wash it, the bad smell will stay. 

Furthermore, some sportswear also has reflective material on it for people who love to exercise outdoors at night. This is to lower the risk of getting involved in a situation that could cause threats to their safety while exercising.

Is sportswear in Malaysia environmentally friendly?
Sports brands are one of the huge contributors of pollution as they produce synthetic materials that contribute to microfibre waste. Furthermore, they also release toxic colour dyes into the water that eventually cause water pollution.
However, as society has become more aware of being environmentally friendly and also wearing sustainable products, a lot of sportswear brands have started producing environmentally friendly products. Instead of producing clothes from fresh materials, they use recyclable materials like cotton and bamboo fibres.

How do I wash my sportswear correctly?
Before you put your sportswear into your washing machine, dry your sweat-soaked sportswear first either under the sun or ceiling fan. Then, turn your sportswear inside out because the inner part of your sportswear is soaked with sweat the most, so doing this will help you to clean it more thoroughly. Next, make sure to wash your sportswear in cold water to maintain its quality and avoid shrinkage. Lastly, use a detergent that can get rid of sweat stains and bad odour to ensure your sportswear is fresh and clean after washing it. To add on, do not use fabric softener when washing your sportswear because it will leave a coat on it that will make it harder for water and detergent to clean it thoroughly.
What are the best colours when buying sportswear?
The best colours for sportswear are typically red and blue because they can make you look stylish while also suitable for doing sports. However, it really depends on your preference and needs. If you tend to sweat a lot, it is recommended to wear dark-coloured clothing to avoid your sweat stains from being too visible.
Where can I buy sportswear in malaysia?
Sportswear is accessible to buy everywhere nowadays, just look up on Google and type out the nearest sports supplies store around you. People typically get their sportswear from Decathlon, Al-Ikhsan and Sports Direct.

Who invented sportswear?
The first known person who invented sportswear was John Redfern, a British fashion designer from the 19th century. He was inspired to invent sportswear because he saw that people need to wear different types of clothes when playing sports. 
Is it okay to get sportswear as a gift?
If the gift receiver is a sports enthusiast, then yes. They will surely appreciate receiving sportswear as a gift. However, if they are known as couch potatoes or someone who's not interested in sports, they might be offended by receiving sportswear as a gift. So, make sure to get to know them well before deciding to give them something.

Other than sportswear, what should I prepare before exercising?
You should refuel yourself with nutritious food to ensure you have a sufficient amount of energy before exercising. If you work out on an empty stomach, the chances for you to get a gastric attack are high and you're prone to get tired quickly.

Is there a difference between sportswear for men and women?
Yes, there are three main differences between men's and women's sportswear. 

Sleeves: Men's sleeves are either short or long as they need plenty of room to move around. Therefore, their sleeve is unlikely to be tight around the arm. On the other hand, women's sleeves are usually wide and shorter than men's but still comfortable on the arm.

Cutting: men's athletic top has a different cutting than women's. Theirs are usually straight cut while women's athletic tops are much narrower to avoid loose or bunching fabric. 

Measurement: men's athletic pants also have different measurements compared to women's. Adult men have wider waists than women so their pants have wider waistlines. Also, women's sports pants are designed to be fitted to highlight their body shape when wearing them. 
Why is sportswear tight?
Other than to show off your amazing silhouette, sportswear is designed to be tight on your body for health benefits. Research suggests that tighter clothing helps to relieve pressure away from muscles and to improve blood circulation. Also, it can also increase blood and lymphatic flow which will enhance your performance when working out by allowing oxygen to deliver effectively to your muscle.
How long does sportswear last?
It depends on your usage. If you're an active person, you might need to replace your sportswear sooner compared to people who only wear them occasionally. The rule of thumb is you can predict their lifespan to last from six months up to a year. However, if they are starting to feel loose, then it's time to replace them with new ones.
Should I wash my sportswear after every use?
It is suggested that you should wash your sportswear after every use to avoid bacterial growth and subsequently create a musty odour on your sportswear. So, make sure to wash them immediately after your workout session so they'll be fresh and clean the next time you wear them.

What is the most popular brand of sportswear globally?
Nike has been the world's number 1 sportswear manufacturer and distributor in the world. They are also the biggest maker of sports shoes, sportswear, sports equipment and other sports-related products. They have an estimated $200 billion USD for their market capitalization which makes them the most valuable sportswear company.
How to remove sweat stains from my sportswear?
First, mix one cup of white vinegar with two cups of warm water and let your sweat-stained sportswear soak in the solution for about 30 minutes. If the sweat stains are still there, use hydrogen peroxide on the stain directly and wait for 30 minutes before rinsing it off. Hydrogen peroxide functions similarly to bleach but it won't damage the colour of your sportswear. Lastly, you can wash your sportswear in hot water and use your laundry detergent. By then, the sweat stains will disappear and you'll look fresh and clean the next time you wear them.