Hey readers. I hope you all are in the pink of health! Have you all heard of black cards? Most of you are probably encountering black card through on-screen like in TV shows or movies. There are pretty extensive banks that offer black card Malaysia.  In this list, there are some black card recommendations for you. Read more down below: 
1. UOB
One of the most selective elites will get the opportunity to get their hands on this cards. Enjoy the opportunity of living life to its fullest with an infinite amount of spending. There are two types of black card that they offer:
Privilege Banking Visa Infinite
Visa Infinite
The age minimum that makes one eligible to apply for this is 21 years old and above. With this age, one can be the principal cardholder. In addition to that, an 18 years old can be the supplementary cardholder.
Nationality: Any
Income Needed: Annual Income of RM120,000
Speciality:
Free Annual Fee for Card Holder
For 20 days, zero interest will be charged
Easy payment plan
Points
The UOB Visa Infinite Card is chock-full of UNIRinggit points and rebates, especially when used abroad. This prestige card is ideal for anyone who enjoys traveling, shopping, and dining abroad.
When you spend UNIRinggit overseas, you earn 8x UNIRinggit, and when you dine out, you earn 5X UNIRinggit. When users utilize the UOB Visa Infinite Card to achieve the minimum purchase criteria on a quarterly basis, their UNIRinggit Points are doubled. Yes, doubled!
This black card Malaysia is ideal for travelers because your points may be converted into air miles via AirAsia Big Points, KrisFlyer Miles, and Asia Miles, which are all exclusive to Visa Infinite Cardmembers.
You can also get complimentary limousine services, quadruple your air miles redemption during your birthday month, and earn 5 UNIRinggit for every RM1 spent abroad! With UOB black cards, UNIRinggit Rewards Points are valid for up to three years, allowing you to take advantage of the benefits for longer. 
2. AFFIN World MasterCard
A shopaholic would love an AFFIN black card! If you're one of the many people who appreciate the finer lifestyle, such as shopping, golfing and dining out, you might want to consider the AFFIN Bank World MasterCard.
Income Needed: Annual Income of RM120,000
AFFIN points are called AFFIN Rewards Points. For the shopaholic who enjoys swiping their card when shopping, you'll be pleased to learn that you'll get 0.8 percent cashback on every transaction made with this credit card. Moreover, you'll receive 1X AFFIN Rewards Points for every Ringgit spent on retail items made locally. For any purchases made abroad, you will earn triple of the AFFIN points for purchases. Coach? Louis Vuitton? Swipe this black card Malaysia!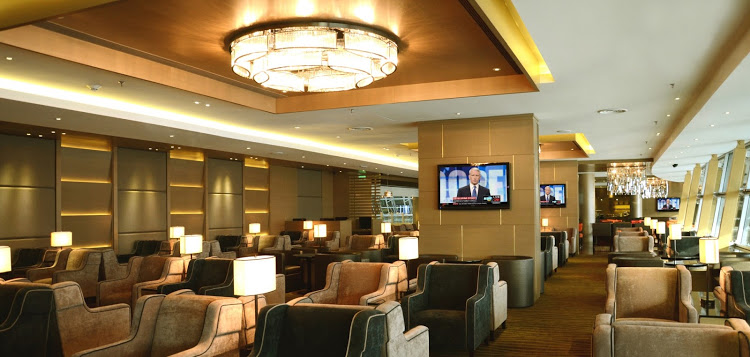 As long as you've charged RM2,000 in the last month or RM24,000 annually, you'll receive six complimentary visits to the Plaza Premium Lounge Malaysia. If you have not spent that much, you can still enjoy a 25% discount at the Malaysian version of this lounge and a 20% discount at the international location. The downside is that you have to pay the amount to be in the VIP Plaza.
Moving on, if you charge your travel ticket in full to your Affinbank World card, you will be covered by RM1 million in insurance. Additionally, they offer personal accident insurance up to RM 100,000 to cover you in the event of unforeseen circumstances such as disability, injury, or death. The first year's annual charge for both the primary and supplementary cards is waived.
3. MasterCard WorldMiles by Standard Chartered
Black cards seem so prestigious and it is. However, there are some black cards that are suited to the upper middle class. Standard Chartered requires a monthly income of RM7,500 to apply for their World MasterCard credit cards. This Standard Chartered WorldMiles World MasterCard is designed exclusively for frequent travelers and comes with incredible travel benefits.
Minimum Annual Income: RM90,000
Annual Fee: RM600 per year (Free for first year for new customers only)
As a Standard Chartered credit cardholder, you can take advantage of special 1-for-1 eating bargains at over 200 restaurants, cafes, and bars throughout Malaysia via The Entertainer (MY) App. Additionally, earn cashback rewards, receive cash, or redeem presents at other stores using the points accumulated through 360 Rewards.
Additionally, there are other weekday retail specials available! Shopping for groceries becomes even more rewarding when you use your Standard Chartered WorldMiles World MasterCard, as you can earn up to 15% cashback at participating supermarkets.
4. Citi Prestige Mastercard
This has to be the most expensive black card on this list. The upfront handling costs are expensive but the benefits that the Citi Prestige Mastercard offers are well worth the cost.
This card provides complimentary access to airport lounges up to 12 times and a complimentary limo ride home from the airport. Wow, so atas! Under Citi Bank policy, their travel insurance can cover you up to RM2 million.
Then, if you stay at any international hotel or resort, you will receive one complimentary night. Other benefits, including access to the Citi Prestige Priority Line, Citi Prestige Concierge, and invitation-only events.
You can apply for this card online, and the best part is that you can activate it immediately after approval using the temporary CV they send you. This eliminates the need to wait for your physical card to arrive before using it.
What about points? Well, for every RM spent locally, you earn one Citi Rewards point while for every RM spent internationally, you will earn two Citi Rewards points. A significant benefit is that if you spend RM240,000 or more, you will receive RM250,000 in bonus points.
Choosing The Right Black Card Malaysia For You
Choosing the right premium credit card can be tricky as each bank offers a tempting rewards package that is difficult to resist. Occasionally, the features of a premium credit card are duplicated on a lower-end credit card. The following are some critical items to consider when applying for a premium credit card:
A premium credit card has a lot to offer, from travel rewards to golf privileges to shopping points. However, if you do not make regular use of these perks, you will be charged a high annual fee for nothing. Choose the best one for your needs.
Obtaining a prominent credit card may sound appealing due to the privileges and rewards available. There are lots of black card Malaysia to be chosen from. However, you need to carefully analyze the interest rate, fees, and other hidden costs that can assist you in making prudent use of this privilege. Even though you have money, make sure to spend it in the right channel. To prevent accruing interest, make timely payments on time.