Places To Eat in SS15
When you think of SS15 what do you picture? Universities, college students wearing clothes as if they were going to clubs, or even the jam. Don't forget the Malaysian heat, the scorching 30 degrees that melts your skin and makes you sweat in places you didn't even know were possible.
Well let me mention one word that will change your mind. Wait for it … Food! Yes that's right food. Substance that you indulge in when you're mainly hungry, but food is an everyday part of life that you just can't look away from, smell from it even. Food is there for anyone, when you're happy, sad, frustrated, angry, annoyed, basically any emotion, and it's even for celebrations! At the end of the day, food is for everybody. 
In SS15 you can find scrumptious and mouth watering food at every step of the way. Look left, bubble tea, look right and it's buttermilk chicken, look straight ahead it's chilli pan mee! A wide range of food that you can't wait to stick your face in. With so many choices it can be hard to choose, so search no further, here are five restaurants you must try in SS15. 
1. Gold Chilli (Halal)
Here is a restaurant that you must just try when you're in SS15. Founded and established in 2003, Gold Chilli was an everyday normal "Malaysian" restaurant in USJ, however as the people started trying their buttermilk chicken, it was love at first taste.
It was so popular that the two founders opened their second branch just three years after being established, and guess where the second branch is located. That's right SS15. They're famous for their buttermilk chicken and it's like no other in Malaysia.
The creaminess from the buttermilk sauce coats your entire mouth that sometimes it gets hards to chew! Don't let me get started on the chicken, with it's crispy exterior of skin and the hot juices that ooze out when you take a bite (caution don't get burned).
Not only is the buttermilk chicken considered the best in Malaysia, it is affordable as well, it's almost as if it was flown down from heaven and into our mouths. With the buttermilk chicken being RM8 (small) and RM11.50 (big), it's a bargain, but wait there's more it can come in a set too. RM10.50 for the small portion and RM14.50 for the big portion.
Contact Details
Address: 5, Jalan SS 15/8b, Ss 15, 47500 Subang Jaya, Selangor
Opening Hours:
Daily 12pm to 11.30pm
Closed on Mondays
Telephone: 016-909 9873
Facebook
2. Lim's Fried Chicken (Non-Halal)
Now I know what you're wondering. Another restaurant but it's mainly fried chicken? Might as well name the post to 5 must try fried chicken in SS15. Don't be so quick to judge, as this is completely different.
The curry just poured messily over the rice may make the dish look sloppy, however if you're not afraid of the mess, then be ready for one of the best times of your life! The juicy, crunchy and flavourful fried chicken paired with the curry soaked rice is a combo to die for and a partnership that can never be broken.
Sometimes one plate of it may not be enough and you just need to order more, and I'm not joking as their signature combo being at an affordable price of RM9.80 it comes with rice drenched in curry, a whole piece of fried drumstick and a fried egg with long beans.
Contact Details
Address: 46, Jalan SS 2/24, SS 2, 47300 Petaling Jaya, Selangor
Opening Hours:
Daily 10.30am to 9pm
Closed on Mondays
Telephone: 03-7863 0266
Website
Facebook
3. Restoran Super Kitchen Chilli Pan Mee (Non-Halal)
Next on the list is pan mee! Yes, I said pan mee, a noodle and no it's not fried chicken. Chilli pan mee is one of my favourite things to eat when I'm in SS15 and it might be one of yours too.
When the bowl of pan mee comes you can smell the aroma of chilli as well as the smell of the distinct minced meat that comes with it. As the bowl lands on the table, you look down at it and see how separated each ingredient is, but that is when you pick up your chopsticks and start mixing.
The egg yolk breaks first and it makes the noodles sticky, then the chilli starts affecting the colour as it slowly turns dark and red, lastly, the smell of all the ingredients mixing together becomes a symphony that hits your nose. At a mere price of RM7.50, it is a very affordable bowl of noodles that is a must-try for all chilli pan mee lovers.
Contact Details
Address: 25, Jalan SS 15/8a, Ss 15, 47500 Subang Jaya, Selangor
Opening Hours:
Daily 9am to 10.30pm
Telephone: 017 2664143
Website
Facebook
4. Uncle Soon Fried Rice @ Restoran Foh Foh (Non-Halal)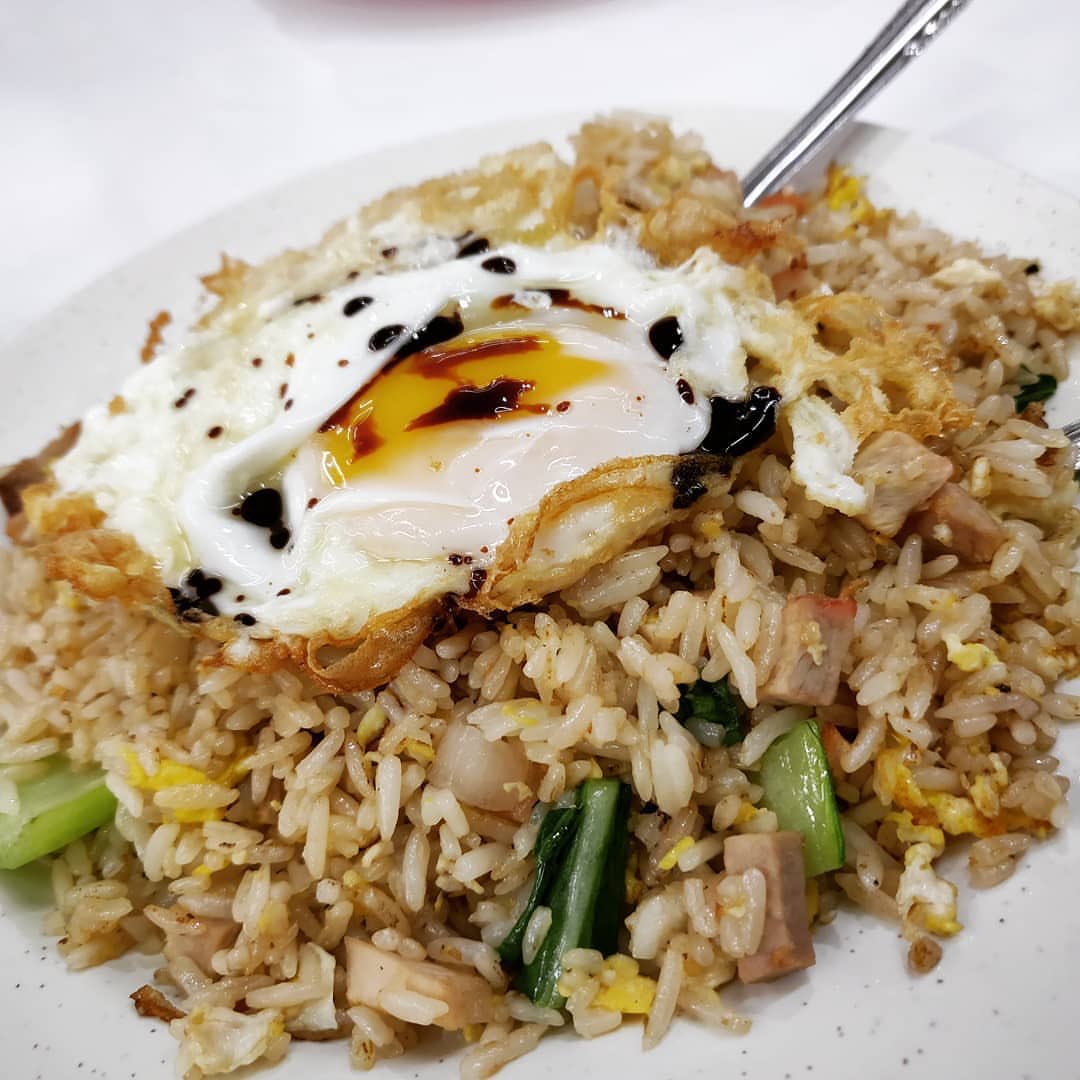 Fried… Rice! I bet you thought it was going to be chicken, but nope. It's one of Malaysia's most simplistic yet beloved foods, the iconic fried rice. However this is not any type of fried rice, it's Foh-Foh's fried rice. This legendary spot in SS15 is filled with praise every time you ask someone if they've tried their fried rice.
Let me tell you why. Firstly it's the half-cooked egg sitting on top of the rice waiting for its golden yolk to be broken. Secondly, the black sauce drizzled over the fried rice that gives the rice an extra kick to it, and lastly the rice itself.
Now the rice is special because it has a distinct smoky taste to it from the high heat of the wok and you can't get that type of taste from fried rice anywhere else in Malaysia. As you take one spoonful of Foh-Foh's fried rice, you'll be having a second spoonful in an instant. Again, at an affordable price of RM7, make sure to try it out when you're in the area.
Contact Details
Address: 95, Jalan SS 15/4b, Ss 15, 47500 Subang Jaya, Selangor
Opening Hours:
Monday to Friday: 10am to 3pm, 5pm to 8.30pm
Saturday to Sunday: 12pm to 3pm, 5pm to 8.30pm
Telephone: 010 253 7525
Facebook
5. Ooi Noodle House (Non-Halal)
Pork noodle is something that is indescribable but I will try my best to explain the taste of an intense bowl filled with flavour bombs. The bowl is filled with different textures and tastes that give the customer a unique experience when eating it.
The pork slices are chewy but at the same time, it can be bitten through quite easily, with the porky taste that glazes your tongue with an immense amount of umami.
Next comes the noodles, soft yellow mee that is springy at the same time and when you bite into the noodle it can spring back.
Lastly, the liver is the most flavourful as it has the earthy taste mixed with the meaty aroma that lingers on your tongue after chewing it. Put all these ingredients together it becomes a taste so powerful that it almost becomes elusive yet so profound. A large bowl costs RM10, a small bowl costs RM9.
Contact Details
Address: 78, Jalan SS 15/4b, Ss 15, 47500 Subang Jaya, Selangor
Opening Hours:
Daily 7.45am to 4pm
Telephone: 03-5637 3204
Facebook