Sugar Baby In Malaysia
Imagine this: you're a student short on cash. What do you do?
The obvious route would be getting a part-time job either at a restaurant or in retail, slave the hours away for a mere RM7 or RM10/hour and just for it to not count as proper experience in your resume. 
Don't you just love capitalism?
But what if there was a more lucrative way? Something that doesn't require lots of standing around, servicing customers who have zero concepts of manners and can earn you up to RM500 an hour?
I bet you're thinking Sign me up already!
But slow down, young one, it comes with a price: a cost that involves huge stigma and maybe… even… sex?
Yep you already know from this article's title itself: it's becoming a sugar baby!
Sugar babies aren't a relatively new concept, the term 'sugar baby' was first coined in the year 1926 thanks to the 'Flapper' culture back then which had younger women date much older, wealthier men to supplement their lavish partying lifestyles.
So the definition still applies to the current sugar babies of this era. A sugar baby in the 21st century is usually a younger woman or man (again no gender discrimination right here!) who receives cash, gifts or other benefits in exchange for providing company to an older man or woman (called a sugar mommy). 
Contrary to popular belief, sex isn't always included in these exchanges. As you'll find out through our interview with a real-life sugar baby below.
Before that, let's dive into sugaring (sugar babying?) in Malaysia for just a bit.
Sugar Babies In Malaysia
A bunch of billboards that were put up in Bangsar and Mont Kiara caused a heated reaction from Malaysians in late December 2019. Guess what they were advertising?
A mobile phone app named Sugarbook which basically helps connect potential sugar babies with their potential sugar daddies (take a shot every time you read the word sugar in this article. Please don't, you're definitely gonna die from alcohol poisoning).
Suffice to say, the billboard only lasted two weeks before it was taken down by DBKL. Also at the time of writing, this app isn't available in the Apple App Store anymore but it's still available for download in the Android App Store.
Many of the Twitter users who complained about the billboard all had the same argument that it was advertising prostitution. Again with the stigma.
However the 'Sugarbook' app was already available to users for a few years before that. Luckily for us, we managed to sit down with a former real life Malaysian sugar baby who used the app and told us all about her experiences as a sugar baby.
An Interview With A Former Sugar Baby In Malaysia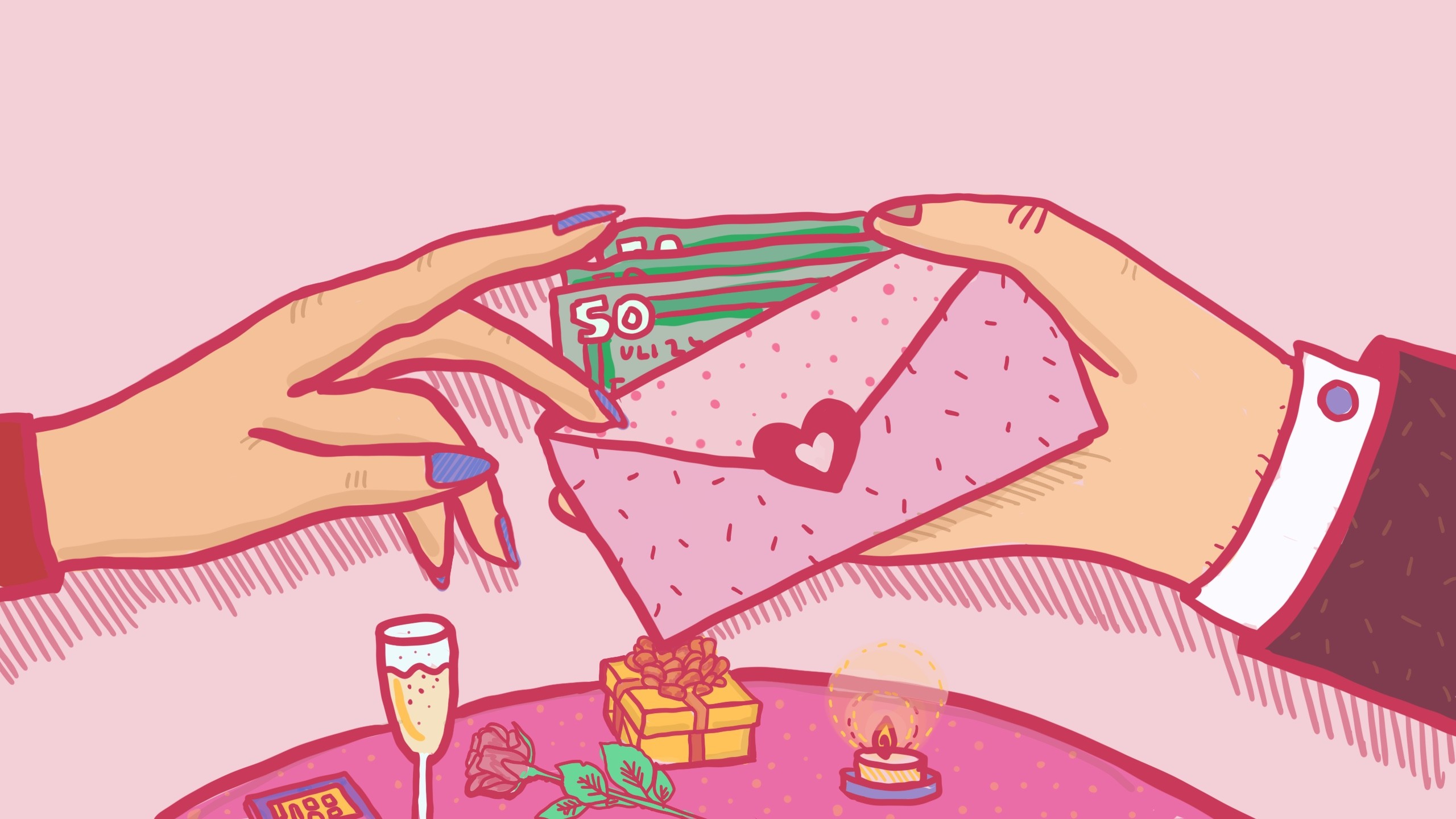 1. Tell us about yourself.
I'm a university student and an ex-sugarbaby on Sugarbook.
2. What was your introduction to becoming a sugar baby?
Me and my housemate at the time were looking for ways to make money as our rent was expensive and our schedule was barely flexible as she has a daytime job and I have classes. I stumbled upon The Sugarbook website one day after I jokingly suggested that we should find a sugar daddy and I didn't expect her to be on board with the idea as I was unsure of it myself.
3. Why did you decide to become one?
I was just fooling around at first and didn't expect to become one as I listed my bio as a sugarbaby who only offers emotional support/company and not physical intimacy. Think a therapist/listener but now available with a face of their own choice & preference.
4. How was the first interaction/meeting with your sugar daddy?
It was very pleasant and went very well. He was very respectful and humble. It was his first time as well and he just wanted to try out the app and see what's up. We were having lunch over at La Bodega and I usually set my meeting time 2 hours max.
5. Any positive experiences?
I was flown down to Singapore twice and the first time was really nice. The Sugar daddy (Let's call him Ted) that I was meeting was going through a really tough time in his personal life and just wanted someone to listen. We went to a restaurant called Rider's Cafe that was situated in an Equestrian club. We went grocery shopping for my 2 days 1 night stay and we went food hopping at all the fancy places.
Ted also paid for my plane tickets and as well as booking me a 5-Star hotel and never once insisted that we slept together unless I consented to it as our agreement was that I am a companion-based Sugar Baby rather than one who provides sexual intimacy.
6. Any negative experiences?
My last experience on being a Sugar Baby was one of the main reason why I quit. I was flown down to Singapore again but this time by another sugar daddy (let's call him Rex) and like usual, I will always make sure that both our understandings are clear that I offer no intimacy and only companionship. If they don't agree, they always have the choices to find other sugar babies who can fulfill their needs.
He agreed to my terms and at first, it was going well and we had lunch at a fancy restaurant. After lunch, I asked where are we headed to and he brought me to his pregnant girlfriend's place without initially informing me.
At her place, I was sat in between them and was sexually harassed and molested by him even though I told him no and to back off many times. The girlfriend just chuckled at the side and allowed him to do it. He insisted on a threesome and I had to go through that for 2 days. Thank goodness I wasn't raped.
7. How would you compare it with regular online dating (Tinder, Bumble)?
It's different, people are more straight forward and it feels more of a transaction rather than "finding love" even though sugar daddies hates that word: transaction. In Tinder, you can choose to not waste your time on people because they don't have anything to offer.
In the Sugarbook app, you have to "advertise" yourself in a way that attracts sugar daddies, kind of like giving them reasons why they should spend money on you. And all know what they're typically looking for anyway which is sex & money mainly.
8. What stigma do you wish to end about sugar dating or owning a sugar parent?
It's not always about sex for sugar daddies or sugar mommies even though the case is almost 70% of the time. Some of them are just lonely and need companionship from time to time. Some have family problems and just want to let it out somewhere without expecting sexual favours. Some are just humans like we are.
I know some girls are called gold diggers for becoming a sugar baby but from what I hear from them, they just have a preference of having a liking towards older men and it's just a plus point that it comes with a stable income. Sure, there are definitely gold diggers on the app but it's not our place to judge if it's consented both-ways.
9. If someone wanted to become a sugar baby, what's your advice?
Be careful on who you allow someone to be your sugar daddy or sugar mommies . If you're not confident with 1-on-1 alone in a room yet, suggest to meet up over lunch/dinner for the first meeting to check their vibe. If they ask for sex eventually/then, it's best that they transfer the promised money or at least deposit some to you before it starts as there are many cases where someone people claim to be a legit sugar daddy or sugar mommy and the sugar baby will end up bearing the cost when the sugar parents don't end up paying. Always lay out the terms and agreement and make sure both parties are on the same page before proceeding with anything.
Conclusion
In our minds, we want sugar babies to be conniving immoral women who exchange their body for money. When clearly, it's further from the truth. As our interviewee said, not every sugar baby must provide sex nor do all sugar daddies or mommies expect that. Save for a few bad apples.
Perhaps if being sugar baby was less stigmatized and deemed as a profession, proper rules & regulations could be placed to prevent such things like rape or sexual assault from happening.
At the end of the day, we're talking about a consensual agreement between two adults. It might not be the typical route most take but then really, is anyone really getting hurt from this?
(Butthurts don't count)
This article is a part of The Cool Bear's Taboo Series where we dive deep into topics most Malaysians shy away from. If you like reading this, check out our other Taboo articles on beauty standards in Malaysia and age differences in relationships.