With the 2022 Malaysian elections set to be held on 19 November 2022, the time to decide which political party to vote is still looming over the heads of voters. Maybe you are now curious on how we get here, yet you do not want to get too much into the deets of the elections. You rather want to know about the ice cream and never about how this Wall's ice cream is different from Baskin Robbins. In the end, you just want to eat them regardless.
Background Summary
Between 2020 and 2022, there was a demand for an early nomination due to Malaysia's ongoing political crisis, which was exacerbated by the COVID 19 pandemic in 2020. The country has had three prime ministers in those two years, and when the first two resigned, their respective coalition governments fell off the face of the earth.
Furthermore, you also had political members switching alliances with different coalitions or parties, another factor that brought our own political situation to its crisis.
In January 12 2021, thanks to a national Emergency proclamation by the Yang-di Pertuan Agong as requested by then prime minister Muhyiddin Yassin, no elections were held and the Parliament was officially suspended. This was sought to last until August 1.
However on July 26, the Parliament reconvened for a special five day session. Unfortunately, like a table adorned with beautiful cupcakes, the sitting ended up flipping over its own head and flopped onto the concrete floor. Worse, a few lawmakers turned out to be infected with COVID, so the session had to be cut short.
Fast forward to 10 October 2022, in order to make way for the GE15 elections, the Malaysian Parliament was dissolved and within 60 days, Malaysia will go to the polls. According to Prime Minister Ismail Sabri Yaakob, the dissolution was done to "return the mandate to the people" for the sake of political stability and a firm and respected government after the GE15 elections.
So Am I Eligible To Vote For GE15?
Before answering your question, be aware that the exact date of GE15 will be held on 19 November, while in your case, Nomination Day will be held on 5 November. You will also be able to vote as early as 15 November. While state elections for Perlis, Perak and Pahang will run concurrently with GE15, other states including Melaka, Johor, Sabah and Sarawak will not proceed with state polls since they already finished theirs recently.
Moving on, who are eligible to vote? Well, if you want to vote in this year's GE15, you must first be over 18 years old to register. You must also be a Malaysian citizen and a resident in any electoral division and an address registered with the National Registration Department.
Lastly, you must not be disqualified based on Article 119 (3) of the Federal Constitution. What does it mean, you ask? It means you are either arrested on the day you are eligible as a voter or you are sentenced to death or imprisonment before the qualifying date and you are still serving your sentence on said date.
There are two categories of voters: the ordinary and absentees. You are considered an absentee votee if you are a military personnel, police, international civil servants or students, or spouses of any of the mentioned professions.
How To Register For GE15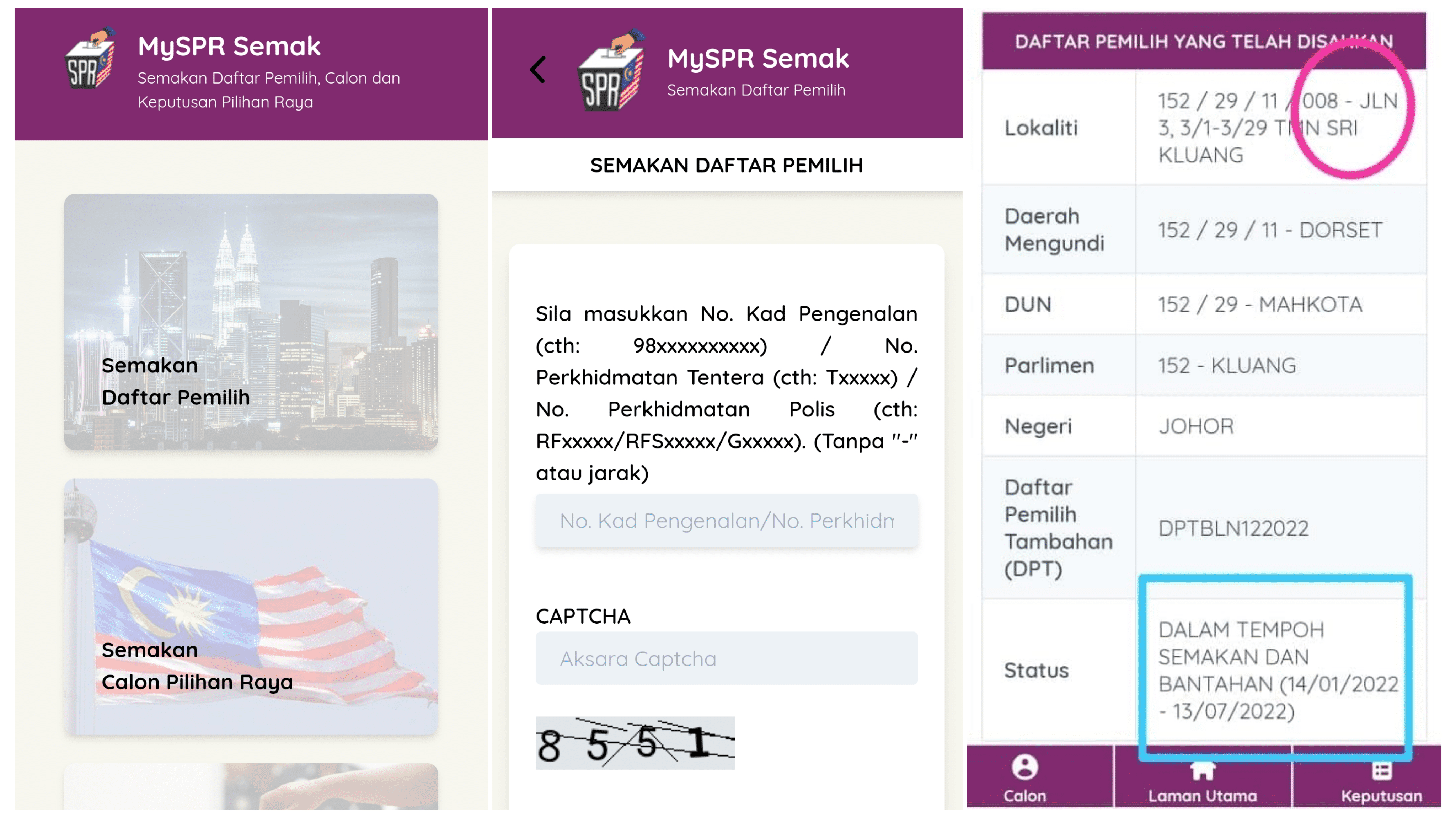 Now comes the next question. How to register for General Elections 15 – step by step? Simple. The first thing you will realize today is that registration is now automated. Wonderful, eh?
There are a few ways to check your status with the Election Commission (EC). The first is to go to https://www.spr.gov.my or https://mysprsemak.spr.gov.my, both located in EC's official portal. The main option for you would be checking for the status of a voter or pemilih. You just have to enter your IC number and verify that you are not a bot.
That number, your name, address, state and federal constituency are listed after this. Your MyKad determines your voting constituency so if you need anything changed, you must apply via the National Registration Department.
This is all easier if you are using a laptop or computer. If you are using a mobile phone, it is better if you use the EC's official mobile application called MySPR Semak, which you can download and follow instructions from there. If you want, you can also contact the SPR hotline at 03-8892 7018. 
The official portal of the State Election Offices can also be accessed at http://ppn.spr.gov.my/ to check your status.
Finally, if your name isn't in the electoral roll, you can fill out Form C that is available in the SEO official portal or in the respective state office. Online, you can download it, select your registered state flag and submit the filled form to your state office.
Since the Parliament's dissolution, EC says that you will have to check your assigned polling station and its location. When you get there on the day you are voting, if the polling number station is known, you can go straight ahead to the voting station without filling a form.
Registering As A Malaysian Voter From Overseas
Say you are a Malaysian living overseas, maybe in London, Tokyo or even Singapore just living the dream like a proper bloke. Malaysia is still in your head rent free, and after reading about GE15, you decide to vote too. How Malaysians living overseas want to vote?
Previously, you couldn't. Only military personnel, government staff and full time students had the right to vote overseas. Thanks to Undi18, you, as a Malaysian, are already automatically registered into the system, assuming you are over 18 years old. Now you just need to apply for postal voting.
Go to the MySPR online portal and register a new account if you don't have one yet. Upon your account's approval, under the "Undi Pos" option, select "Permohonan," and then "Pengundi Luar Negara". Enter your passport number and other details, then the mailing address where you want your ballot paper to end up.
You may later receive a notification and email that will tell you that your application is in progress. After it is approved, you will receive your ballot paper when the general election is up. Mark the ballot, fill a form, put them in an envelope and at your own cost, mail it via courier service or a regular postal service.
Be sure to mark as soon as you receive your ballot paper. The earlier the better.