Kota Kinabalu is renowned for its beauty and breathtaking views. No wonder this gorgeous city serves as one of the most popular tourist destinations in Malaysia. Kota Kinabalu is the capital of Malaysia's Sabah state, located in northern Borneo. It is a seaside city that is partly surrounded by jungle and is sometimes referred to as KK by the locals of Malaysia. Planning on taking a trip to this beautiful mountainous town? Here's a list of things to do in Kota Kinabalu.
---
Signal Hill Observatory Platform
One of the most popular things to do in Kota Kinabalu at night is visiting the Signal Hill Observatory Platform, especially if you are on the lookout for some city views. Make your way to the Signal Hill Observatory Platform, KK's highest point to take some truly gorgeous photos or just to enjoy the stunning sight of Sabah. The Signal Hill Observatory's spacious platform is accessible through a short 20 to 30 minute uphill walk or short drive and offers stunning views at any time of day. As mentioned, for a more relaxed atmosphere and an equally beautiful view, try visiting the observatory in the evening or at night.
Tanjung Aru Beach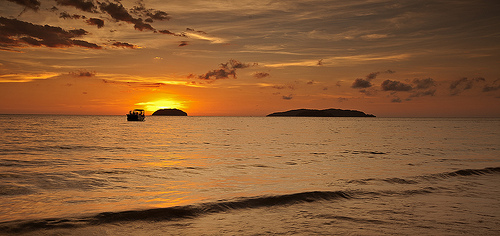 Tanjung Aru Beach in Kota Kinabalu is a lovely sun-kissed beach that is known for having one of the best sunsets in the world, making it one of the best place to visit in Kota Kinabalu. You can do all the usual things one does at the beach: relax, sunbathe, participate in water sports and stroll along the sandy paths at your leisure. These are some of the greatest things to do in Kota Kinabalu city if you want to make the most of your Kota Kinabalu holiday. Tanjung Aru Beach, which is lined with food vendors serving freshly caught seafood, is one of the most lively places to visit in Kota Kinabalu. Apart from watching the gorgeous sunset, you can even try kayaking here.
Lok Kawi Wildlife Park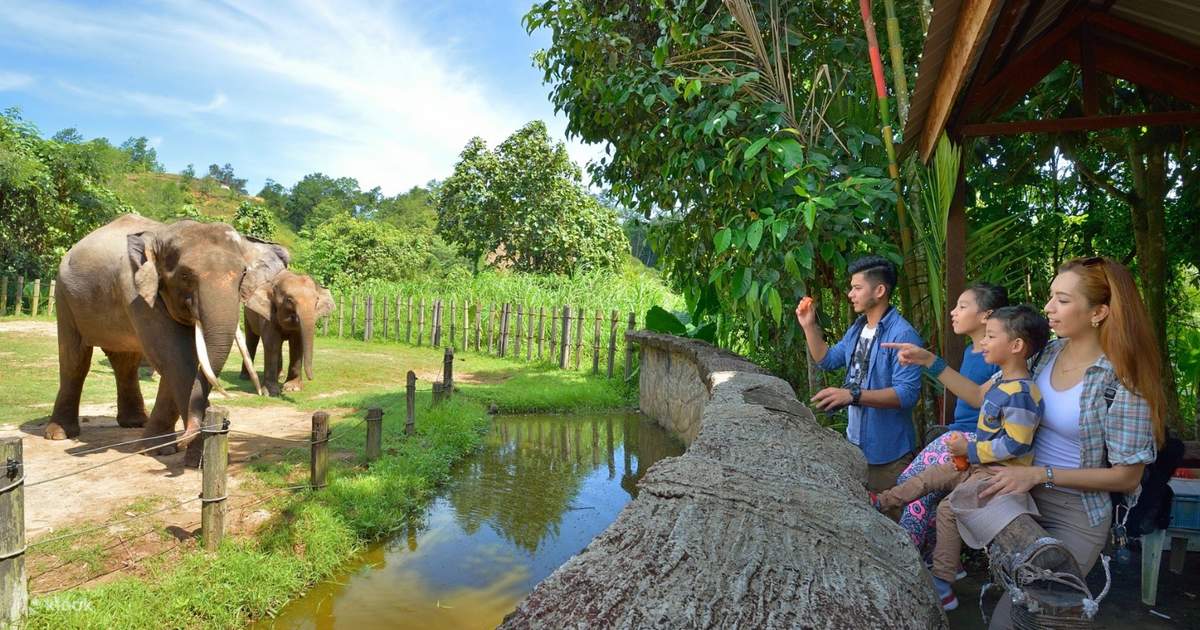 Are you an elephant lover? Then Lok Kawi Wildlife Park is certainly a must visit amongst the Kota Kinabalu attractions! It is home to a variety of animal species including elephants, tigers, deer, monkeys, gibbons, orangutans and numerous types of reptiles. Despite its tiny size, this is an excellent choice for people who do not have the opportunity to explore the major wildlife parks while in Kota Kinabalu. Providing guests with an up and personal interaction with animals and birds, this is one of the greatest things to do in Kota Kinabalu with your family or if you have any children in tow.
Tunku Abdul Rahman Marine Park
Tunku Abdul Rahman Marine Park, despite its name, is not just any ordinary park. It contains 5 different islands named Pulau Manukan, Pulau Gaya, Pulau Sapi, Pulau Mamutik and Pulau Sulug. What better place to spend time island hopping? At Tunku Abdul Rahman Marine Park, you can also spend hours doing activities in Kota Kinabalu such as snorkeling, hiking, paragliding, sea walking or simply sunbathing. The best part? You can easily access this island hopping paradise in 20 minutes from the city! Furthermore, the marine biodiversity park provides PADI certified diving training for both beginners and experienced divers, making it one of the top things to do in Kota Kinabalu.
Kota Kinabalu Handicraft Market
The famed Kota Kinabalu Handicraft Market is one of the top Kota Kinabalu tourist attractions for all shopping enthusiasts. Shopping is an essential component of any holiday, and Kota Kinabalu has much to offer. This market is also sometimes referred to as Pasar Filipino or the Filipino Market. Gorgeous items such as souvenirs, local art, pearls, artisan items, fabrics and wood carvings may all be purchased here, all at affordable prices. Definitely one of the best cheap things to do in Kota Kinabalu to remember your holiday by.
Kota Kinabalu Waterfront
Amongst the interesting places in Kota Kinabalu, KK Waterfront is located right beside the Kota Kinabalu Handicraft Market. The Kota Kinabalu Waterfront is one of the city's most vibrant places, drawing both residents and visitors after dusk. This Waterfront, which is lined with clubs, restaurants and retail malls, is one of the most popular spots to enjoy the evening in Kota Kinabalu. Live music, tasty cuisine and a lively audience will make the evening in Kota Kinabalu unforgettable and heartwarming.
Mount Kinabalu
It's impossible to list down what to do in Kota Kinabalu without mentioning the larger than life Mount Kinabalu. This final tourist spot is for people who enjoy trekking and have the goal of conquering Mount Kinabalu on their bucket list. Climbing Mount Kinabalu is no simple task but it is unquestionably worthwhile. For a safe and pleasant experience, most climbers embark on a 2 or 3 day expedition with the assistance of a trained mountain guide. Are you the adventurous type who never backs down from a challenge? Then conquering Mount Kinabalu is definitely a must for you!
---
How did Kota Kinabalu get its name?
The word 'kota' means 'city' in the Malay language whereas the name Kinabalu comes from the nearby Mount Kinabalu, one of Sabah's most famous tourist attractions. There are several legends that contributed to the primary beliefs about the mountain's name. The first is drawn from the abbreviated form for the Kadazan-Dusun term 'Aki Nabalu' meaning "the hallowed location of the dead". Meanwhile, it is thought that the term "Kinabalu" is derived from the Dusun word "tina balu," which means "a widow mother," as the spirit of the mount. Another opinion is that Kinabalu is constructed by two words of Dusun "ki" (have/has) and "nabalu" (mountain), "have mountain". It is common for Dusun people to name places after what the area contains. For example, there is a site named "kiwaig" that literally means "have water" so this explanation is most likely.
What is Kota Kinabalu famous for?
Kota Kinabalu is famous for being a popular tourist attraction and a gateway to Sabah and Borneo for visitors and tourists. Aside from the sheer beauty surrounding the magnificent city, mountains and islands, Kota Kinabalu is an excellent place to learn about Sabah's legacy through cultural villages. The state of Sabah in Malaysia is a cultural hub that consists of people of differing races such as the Kadazan-Dusun, Bajau and Murut. With so many different people practicing different cultures, it's no wonder that the city of Kota Kinabalu is a prime location to experience a multicultural atmosphere that is difficult to find anywhere else, making Kota Kinabalu one of the most famous cities in Malaysia.
What are the things to buy in Kota Kinabalu?
Kota Kinabalu is full of gorgeous souvenirs and various local products you would be missing out on not purchasing during your visit there. Malaysia is known worldwide for our delicious food and Kota Kinabalu is no different! When visiting, be sure to stock up on food and drinks such as Sabah tea, Tenom coffee, Lihing wine, Amplang, madu kelulut, dried or salted seafood and so much more. These delicacies not only taste great but you would be hard pressed to find them anywhere else in the world but in good old Kota Kinabalu!
Apart from all the things you can buy to satisfy your appetite, don't forget to purchase some of the lovely handmade souvenirs to remember your trip. Handicrafts from Sabah's indigenous people are the most special and distinctive gifts. They are mostly composed of bamboo, rattan, palm, coconut, pandan leaves and other natural materials. Some individuals are inventive enough to weave them into everyday products like baskets, tissue boxes, wallets and handbags. Gorgeous and functional, don't miss out on buying them!
What is Mount Kinabalu?
Mount Kinabalu is the name of the highest mountain in Borneo and Malaysia. It has an elevation of 4,095 m, making Mount Kinabalu the third highest island peak on the planet and the world's 20th most prominent mountain in terms of topographic prominence. The mountain is located in the Ranau area of Sabah's West Coast Division, Malaysia. Kinabalu Park, a World Heritage Site, serves to protect the mountain against any parties who would try to steal its resources. Mount Kinabalu's summit is known as Low's Peak, with a height of 4095 m above sea level. It is safe to climb without any climbing gear although the hike must be accompanied by experienced guides.
Mount Kinabalu, as well as other upland sections of the Crocker Mountains, are recognised around the world for their biodiversity which includes flora of Himalayan, Australasian and Indo-Malayan provenance. A recent botanical study of the mountain estimated 5,000 to 6,000 plant species which is more than all of Europe and North America combined. As a result, it is one of the most significant biological locations on the planet, home to priceless wonders such as the giant Rafflesia plants and orangutans. Its vast height may have afforded sanctuary to cold-adapted species throughout interglacials which explains its tremendous variety and endemism.
Is Kota Kinabalu worth visiting?
Kota Kinabalu is definitely worth visiting as there are all sorts of activities and locations to do and see that would suit everyone. When visiting this city, no one will be left out. If you're an adventurous and sporty type of person, you can go hiking, scuba diving, snorkelling, kayaking or island hopping. If you're more of a laid back type of person who enjoys taking things slow, you can hangout at one of the many restaurants and bars at KK Waterfront while enjoying the sunset, lovely ocean waves and a drink or two. If you're into photography and are always on the lookout for amazing places to conduct photoshoots, you can visit one of the hundred beautiful tourist spots in Kota Kinabalu such as the Signal Hill Observatory Platform to take as many pictures as you like. If you have children and a large family, simply go to the wildlife park or visit the handicraft market. Kota Kinabalu caters to everyone which makes it the perfect place worth visiting.
---
Frequently Asked Questions (FAQs)
Where is Kota Kinabalu located?
Kota Kinabalu is a city located in the state of Sabah, which is part of the country called Malaysia. The city of Kota Kinabalu is located on Borneo's northwest coast, overlooking the South China Sea.
Why is Kota Kinabalu so popular?
Kota Kinabalu is so popular due to being Sabah's capital city. Kota Kinabalu serves as a center and gateway for anybody looking to immerse themselves in the natural splendors of Malaysian Borneo. Kota Kinabalu offers something for everyone with over 32 distinct ethnicities and rich historical cultures, amazing vegetation and fauna, picturesque islands and the location of Mt Kinabalu, Southeast Asia's tallest summit.
How do I get to Kota Kinabalu?
Traveling by plane is by far the most convenient method to get to Kota Kinabalu. Many airlines operate flights from various areas of the globe to Kota Kinabalu's only airport, Kota Kinabalu International Airport.
How do I navigate around Kota Kinabalu?
Kota Kinabalu is easily navigable by car. You can rent your own car or book an e-hailing service to get around Kota Kinabalu. Moreover, since the city is quite a small one, you can even navigate Kota Kinabalu by more environmentally friendly means such as by foot.
What activities can I do in Kota Kinabalu?
You can do all sorts of fun activities in Kota Kinabalu. Some examples include snorkeling, scuba diving, swimming, sunbathing, sunset watching, sightseeing, island hopping, shopping, tasting a variety of cuisine, kayaking, hiking and so much more. In Kota Kinabalu, the world is your oyster!
What is island hopping?
Island hopping is an activity where people travel from one island to the next. Much like cafe hopping, these islands are usually close in proximity to each other. Most people who go island hopping will choose to do a different activity on each island they hop to, just to keep things interesting and fun!
Can I climb Mount Kinabalu?
Yes, you can climb Mount Kinabalu. It is safe for tourists to hike the mountain even without climbing equipment. Reaching the summit usually takes around 2 to 3 days so if you're hoping to reach the top, it will take more than just a one day climb. Additionally, due to the possibility of getting altitude sickness, an experienced guide must accompany hikers throughout the climb.
What is the weather like on Mount Kinabalu?
Usually, the weather on Mount Kinabalu does not match the Asian tropical climate, and it is frequently chilly and rainy. It rains almost everyday on the mountain and the temperature ranges from cold to freezing. Of course, this depends on many factors such as the time of the year.
How many days should I spend in Kota Kinabalu?
You should spend as many days in Kota Kinabalu that it takes for you to see all the sights the city has to offer. When going on vacation to a city as beautiful as Kota Kinabalu, you won't want to miss a thing. Be sure that you won't leave before going to every single tourist attraction in the city!
When is the best time to visit Kota Kinabalu?
It is best to visit Sabah at any time of the year since there is always something to see at different times of the year. Throughout the year, a tropical rainforest region like Borneo endures heavy humidity and rain.
Is it safe to go to Kota Kinabalu alone?
Yes, it is safe to go to Kota Kinabalu alone. Kota Kinabalu is a peaceful and harmonious city, much like the rest of Malaysia. You don't have to worry about your safety while visiting this city. With that being said, it is always safer to travel with companions in tow.
Is Kota Kinabalu a good place to live?
Yes, Kota Kinabalu is a good place to live. Kota Kinabalu is a beautiful city which is also equipped with all the necessities and luxuries that exist in urban living. The perception of Sabah and Sarawak being underdeveloped states within Malaysia is false as Kota Kinabalu is a great place for people to live.
How far is Kota Kinabalu from Kuala Lumpur?
Kota Kinabalu is around 1625 kilometers away from Kuala Lumpur. The flight duration between the two cities is approximately 2 hours and 40 minutes.
What are the famous food sold in Kota Kinabalu?
There are plenty of famous food sold in Kota Kinabalu. Some of them include Mee Tuaran, Sang Nyuk Mian, Roti Cobra, Laksa, Pan Mee, Bak Kut Teh, Ngau Chap and of course various seafood dishes thanks to the city's proximity to the ocean.
What are the races of people who live in Kota Kinabalu?
There are 32 different ethnicities that can be found within the people who live in Kota Kinabalu. Since Malaysia is a multicultural country, this city located in Sabah is no different. Some of the major ethnicities that can be found in Kota Kinabalu include Chinese, Bajau, Kadazan-Dusun, Murut and Indian.