In this post, we are going to look at the Tiktok Trends on Baju Raya 2022! The fashion in this post is including men and women's fashion!
Eid al-Fitri (Hari Raya Aidilfitri) is meaningful to Muslims.  Baju Raya is one of the important aspects when celebrating Hari Raya. What's the latest fashion? In this post, there are Tiktok Trends on Baju Raya 2022 for women and men. 
Women
What do Malay women wear on Eid? Usually, Malay women would go for baju kurung or jubah. There are lots of baju styles that are very fashionable for women. In 2022, even before the Fasting period, some baju kurung has been trending on Tiktok. 
Baju kurung is a traditional dress for Malay women. It is the official dress for Malaysia and Brunei, also available in Indonesia, Singapore and Thailand. Suitable for use by all sections of society regardless of age. Baju Kurung is also used to attend weddings, religious ceremonies, and official functions. In Malaysia, in general, all Malay women wear baju kurung as this traditional dress, including the formal dress of primary and secondary school students.
Historically, baju kurung is said to be related to the 'djallabiyah' dress which originated in Egypt where it is defined as a loose shirt. Now it has become a heritage to the Malay where it remains timeless.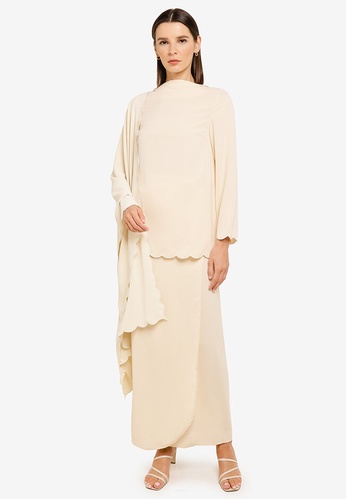 Seems simple but elegant right? This baju kurung style makes you look so ayu! It comes with matching selendang therefore you could match from top to toes. Moreover, you could pair this style with Turban style tudung too. Famous Hot Mummy from Tiktok known as Nani is seen with this baju kurung.
Known as #NaniLookBook, she defo rocks the baju kurung with the Turban and earrings.
Soft Pattern Baju Kurung
Let's get the Baju Kurung theme going. If you love to wear a plain tudung shawl or bawal then you will definitely choose patterned baju kurung to match the #OOTD right? It is predicted that Tiktok Trends on Baju Raya 2022 is that soft pattern is trending.
Baju Kebaya
There are two types of kebaya that will be trending for Raya 2022. One is the fitted baju kebaya while one is flowy baju kebaya.
This style actually originated from Indonesia. It became viral on Tiktok. More Malaysians are loving this style. Young adults and teenagers are loving this style. There are lots of colours and styles to choose from. Hop on to Instagram Shop, Lazada and Shopee to buy them. Even local Instagram shops have lots of options for you to choose from.
Kaftan
Kaftan is so fashionably flowy and comfortable. During Hari Raya, we spend our time to eat Ketupat, Rendang, Ayam Masak Merah and the mouth-watering kuih Raya. Do that with Kaftan. You will feel more comfortable stuffing down the food while socializing. In addition, you could even wear it throughout the years as it is more of to dress material making it more wearable.
Men
Usually, women in the family like our Mak, Mama or Ibu would decide what colour to wear for Eid. Other family members would just follow the colour selected. As for men, most of them just opt for baju Melayu. However, we must remember that it has become a responsibility for Muslims to be grateful and happy on this glorious day.
Apart from the Eid prayers, forgiving each other, relatives and friends, we can be stylish like wearing something new. It is supererogatory. Dressing nicely and appropriately can be a way for us to enliven Syawal and express our gratitude to God too.
Relaxed Fit Kurta
First style on Tiktok Trends on Baju Raya 2022 is Relaxed Fit Kurta. What differentiates this from a normal Kurta? Normal Kurta is usually more form-fitting while this is flowier.
You can use this Kurta even for casual use. My recommendations? Wear this with sneakers or leather shoes to spice it up. If you are daring, rock this Kurta with buzz cut hairstyles if it suits you. See the image down below?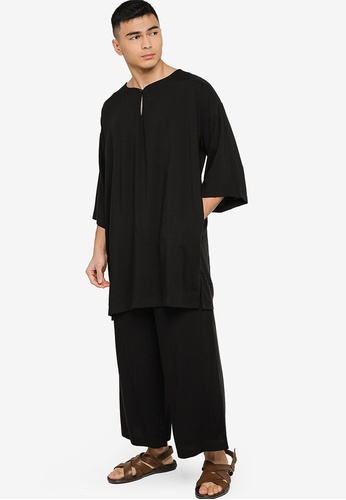 There are printed, plain or fancy Kurta to choose from. Do you prefer long or short sleeves?
Baju Melayu
Seems like a basic choice right? However, choose the right samping to match with it. Lots of colourful baju Melayu will look better with the right samping.
Half-Printed and Half-Plain Baju
Wanna seem different on the first day on Hari Raya? Look at this style of baju.
Urban Batik
This Syawal, the "Urban Eid" means that it is infused with the essence of Batik, is a distinctively inspired selection of comfy fabrics created into modern designs, beautiful ruffles, and fanciful prints. During this wonderful season, Truna's Urban collection comes out with some beautiful baju for you!
Sincerely,
I hope this article helps you in finding the perfect baju Raya for the Eid al-Fitri 2022 celebrations! Happy fasting to all the Muslims!