Ramadhan is coming, which means that this year's Hari Raya Aidilfitri is almost around the corner, and while you'll still have to follow the rules of this endemic festival, you can still enjoy it with loved ones at home. If you're looking to save time and keep yourself and your loved ones secure, this is it! The best raya cookies to take a look at.
It's traditional to serve these delicious treats to guests on the Muslim holiday of Eid al-Fitr, but we'd probably eat the majority of them ourselves, right? Food does, without a doubt, bring people together, and this is especially true during festivities. Taking time to share festive treats and pastries with your loved ones, no matter where you are is a fantastic way to strengthen the bonds. 
These 10 best raya biscuits or kuih raya serve as a reminder of what to get before the feasting begins, in case you've forgotten. Some of these traditional bites have been enjoyed for centuries, while others may be new to you. Just browse through this list of online cookies to find the kuih hari raya that most appeals to you.
10 Hari Raya Cookies Online To Have This 2022 Eid Festive
1. Cookies by Yusa
Cookies by Yusa is the place to go for delicious Raya cookies and snacks. Such vibrant containers of miniature delights, which include everything from savory appetizers to sweet biscuits, can be seen in numerous malls in the Klang Valley.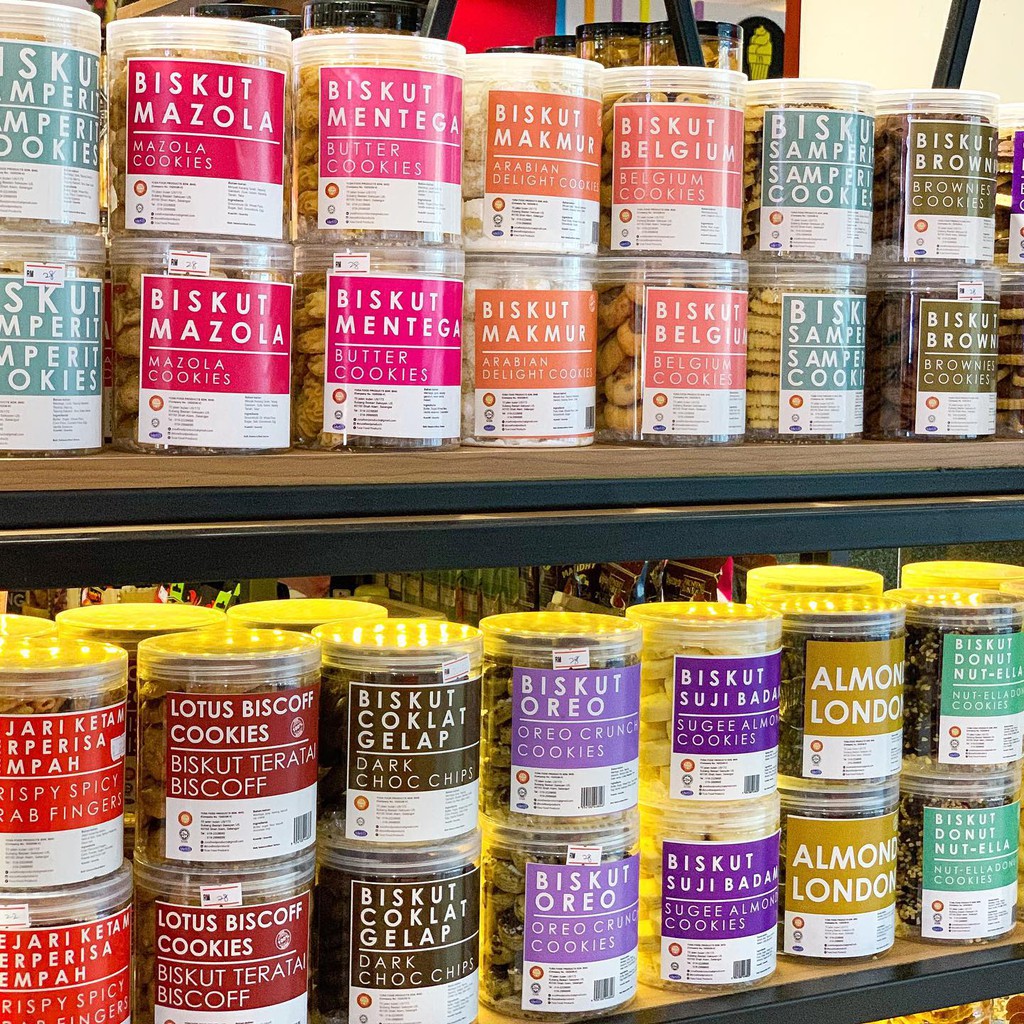 Biskut semperit or salted egg cornflakes are just a few of the unusual hari raya cookies you can find in these bakeries. A collaboration with Souly and Bakhache Hampers has made it possible for you to get your hands on some of the brand's cookies as well as many other Raya-themed items in stunning gift sets and festive hampers.
Website: https://www.yusafood.com/
Instagram: https://www.instagram.com/cookiesbyyusa/
Facebook: https://www.facebook.com/yusafoodproducts/
2. Splatter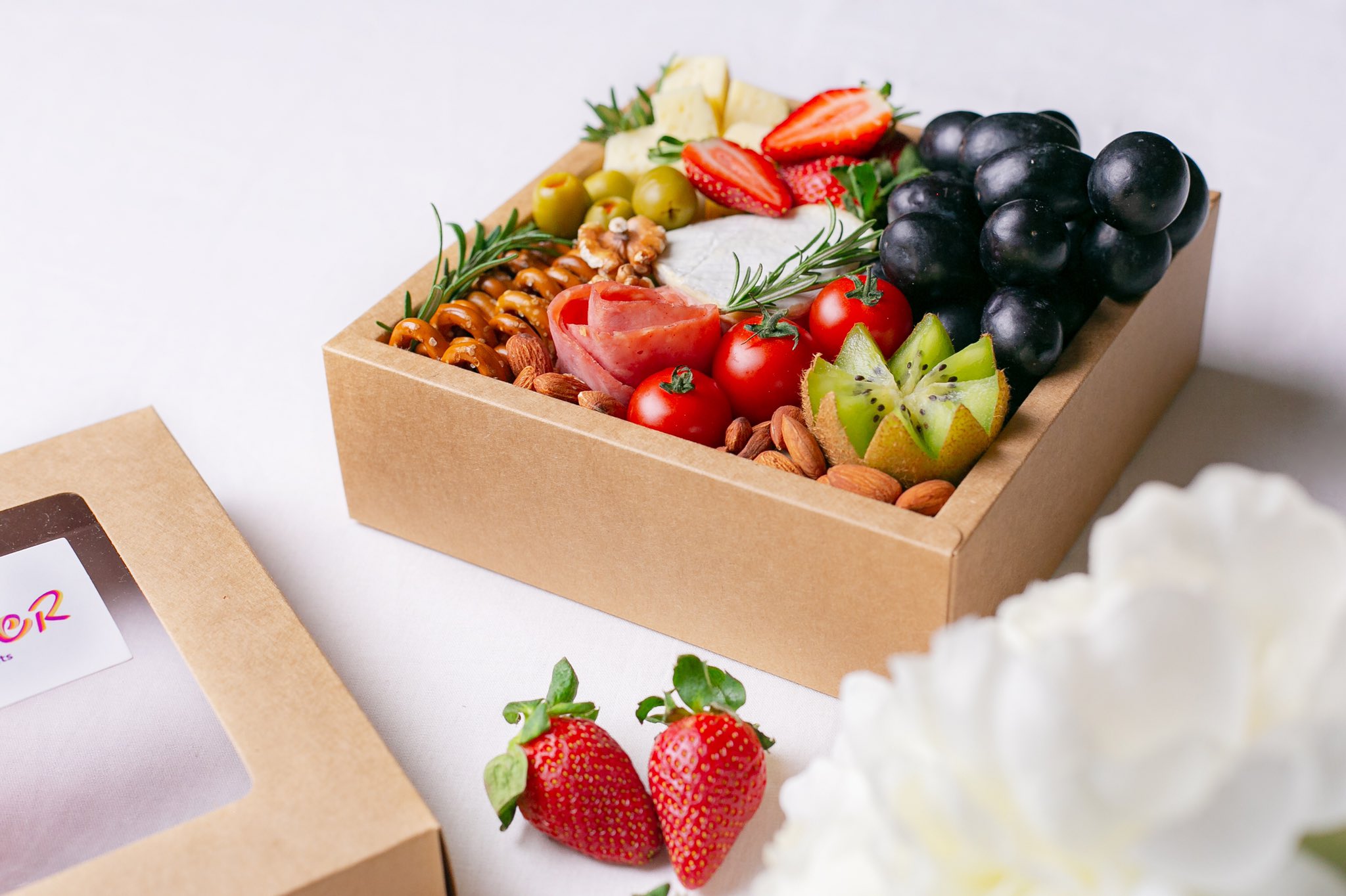 This holiday season, Splatter is bringing Sekotak Riang Raya. "A scrumptious package of the most tempting treats handmade with plenty of love in individual jars," as the company describes its Cookie DreamBox. They include Onde-Onde Mini Macarons as well as Tahini Cookies and Triple Dark Chocolate Cookies.
Those who enjoy kuih and cookies will enjoy this platter, which is called Raya Kuih: Manis Memories "favorite kuih-muih in a spectrum of colors, freshly-steamed by halal-certified kuih producers" are included in this traditional plate. Among the choices are Kuih Puteri Ayu, Kuih Ketayap, Kuih Onde-onde, Biskut Semperit Dahlia, Gourmet Dark Chocolate Dates, Gourmet Pistachio Chocolate Dates, and many more!
Website: https://splatter.co/blogs/news/raya-kuih-dessert-jumbo-platter
Instagram: https://www.instagram.com/splatterme/
Facebook: https://www.facebook.com/splatterme/
3. ImanRose Kitchen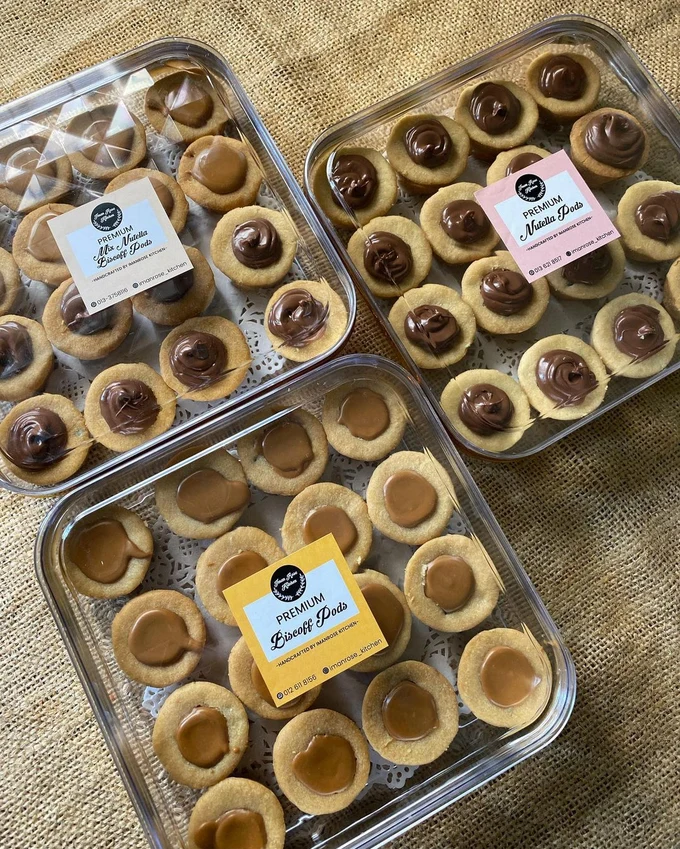 The baked items at ImanRose Kitchen are noted for their low sugar content. With their distinctive cheesecakes and luscious pods, you can anticipate high-quality delicacies from them, particularly with their use of premium ingredients for homemade cookies in Malaysia.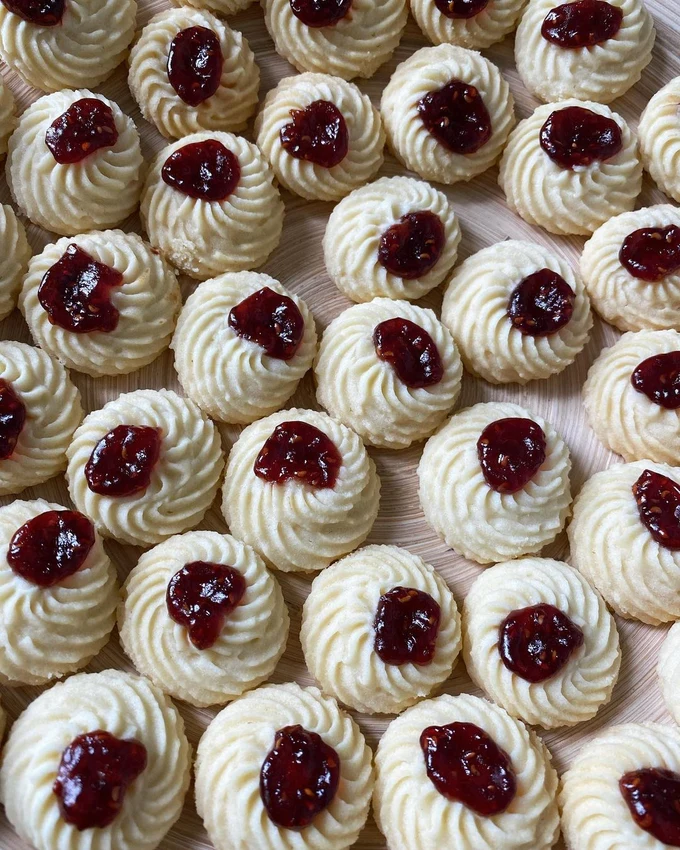 Consider ordering some of their delectable Raya pods, which come in flavours such as Hershey S'more, and Cadbury, to celebrate this Ramadan. Raya also sells a variety of cookies online in Malaysia, including salted Belgian chocolate chip, Starbucks espresso, and raspberry jammers. 
Instagram: https://www.instagram.com/imanrose_kitchen/
4. The Flour Whisperer
In the privacy of your own home, you can make your own bread. The Flour Whisperer is your go-to person for all things cake and dessert related. They're known for their baked goods such as pandan bonbons, cream puffs, and pavlova, among other things.
Many of us have fond memories of eating these treats as children, so the bakery has curated a collection of them for you. Try their homemade pineapple jam tart nenas or a box of Almond Londons sprinkled with fine chocolate if you're in the mood for something sweet.
Instagram: https://www.instagram.com/theflourwhisperer/
Facebook: https://www.facebook.com/theflourwhisperer/
5. Baked KL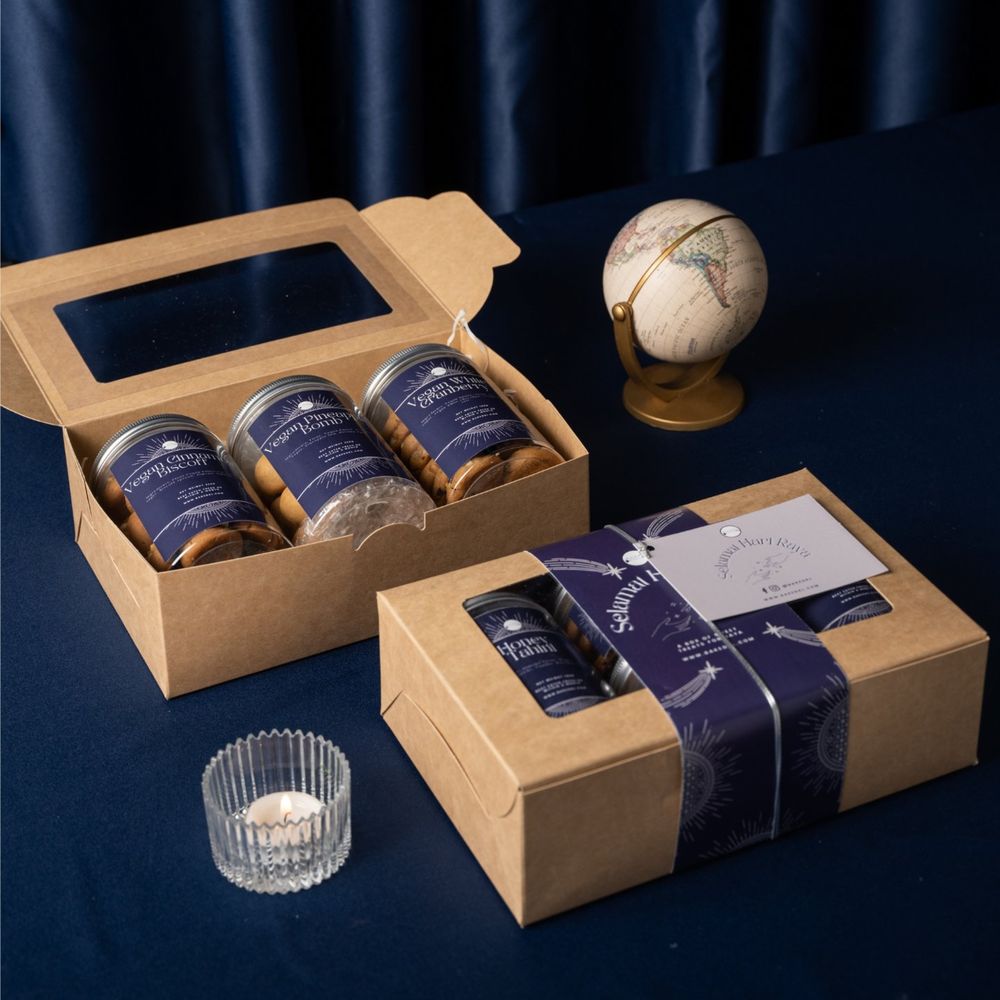 Baked KL offers 3 gift packs for Raya. The tiny box set includes 3 cookie jars that are available in small to large sizes. Both jars included in the large box set are full-sized, and they range in weight from 332 grams to 448 grams. In the end, the weight difference comes down to your preference for one of two cookie varieties. Eggless strawberry shortbread, Eggless pineapple bomb, Eggless honey tahini, Vegan pineapple bomb, Vegan white cranberry & Vegan cinnamon biscoff are just a handful of the options available. 
Website: https://order.bakedkl.com/en_MY/
Instagram: https://www.instagram.com/BakedKL/
Facebook: https://www.facebook.com/BakedKL
6. Junandus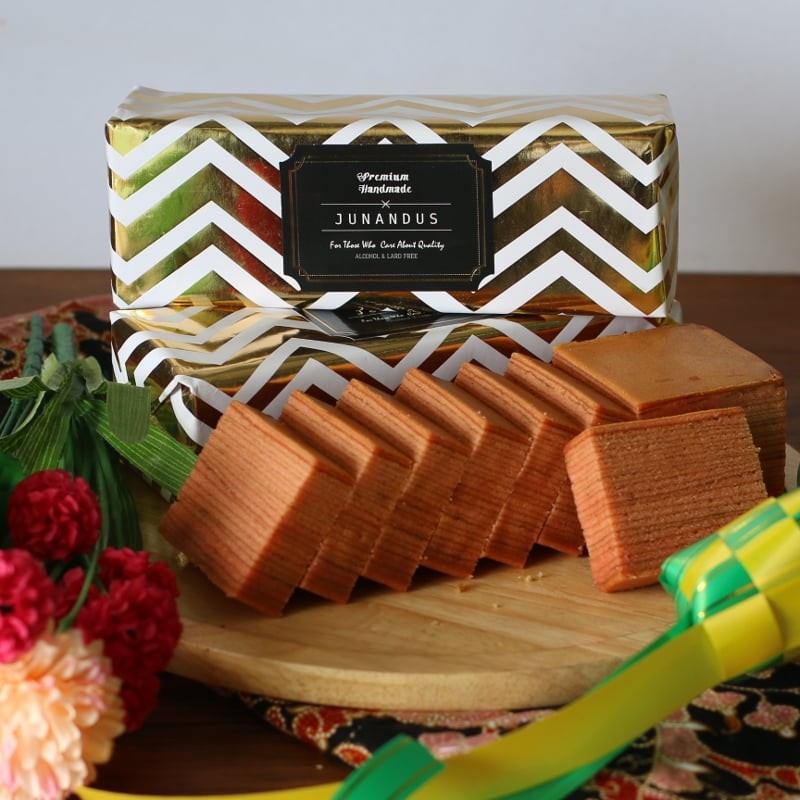 Junandus' Raya cookies are available in a rainbow of colours and flavours. For example, there are green Pandan Delight and Makmur Pandan Cookies, as well as strawberry and raspberry tarts with pink and purple hues, as well as jewel-toned Rainbow Lidah Kucing and rainbow, sprinkle topped Donut Coffee Cookies. Same-day delivery is available for more than a dozen varieties.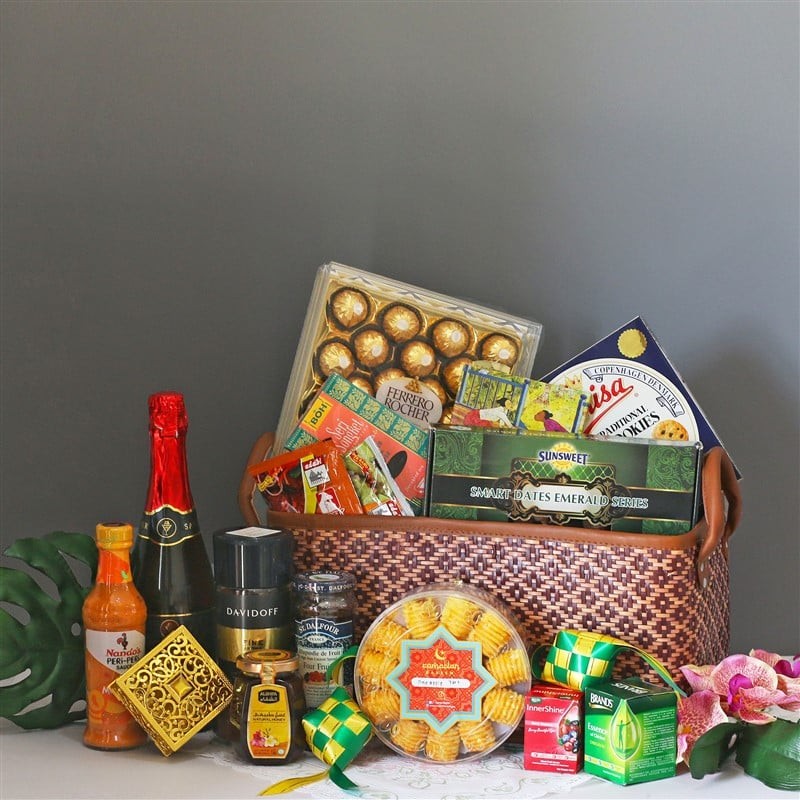 Website: https://www.jugelik.com/
Instagram: https://www.instagram.com/jugelik.artisanal/
Facebook: https://www.facebook.com/jugelik.artisanal
7. Sugar And I
Sugar And I have been making delectable cakes and pastries for the Klang Valley community since 2017. For years, the brother-and-sister team behind the company had been making bombolonis and cream puffs as a family hobby, but now they've turned it into a full-fledged business. 
White Chocolate Almond is a new cookie flavour that the Belgian Chocolate Chip cookies are known for. The Raya Cookies edition, which includes two containers of cookies and a greeting card in a Raya-themed gift box, now offers both flavours. 
Website: https://sugarandi.beepit.com/ordering/
Instagram: https://www.instagram.com/sugarandi/
Facebook: https://www.facebook.com/thesugarandi/
8. Kintry
This year's kuih Raya is the answer if you're looking for anything different. This Malaysian snack company was founded by a mother who liked baking delicacies for her daughter. They are healthful, vegetarian-friendly, prepared with love, and certified Halal by JAKIM. Your choice of delightful light snacks is Salted Egg Yolk Potato Crisps, Oat Cookies with Choc Chips, Pandan Gula Melaka Granola, or Macadamia Cookies with White Chocolate Chips – available in a variety of sizes. There's also a bag of gold Mariyami Kurma and gold-stamped duit raya packages. 
Website: https://kintry.co/
Instagram: https://www.instagram.com/kintryco/
Facebook: https://www.facebook.com/KintryCo/
9. The Skinny Bakers
The popular biskut raya, The Skinny Baker's Eid Bundle comes with a surprising surprise within. An assortment of cookies like Pandan Gula Melaka Cookies, Sea Salt Double Choc Chip Cookies and more are included in the box. along with a jar of Crispy Prawn Rolls!
Therefore, if your giftee suffers from a seafood allergy or a prawn intolerance, the Ramadhan Bundle is a good alternative. This package contains one jar of Oat Chocolate Chip Cookies and one jar of Safawi Dates.
Website: https://www.theskinnybakers.com/
Instagram: https://www.instagram.com/theskinnybakers/
Facebook: https://www.facebook.com/theskinnybakers/
10. KEK & Co.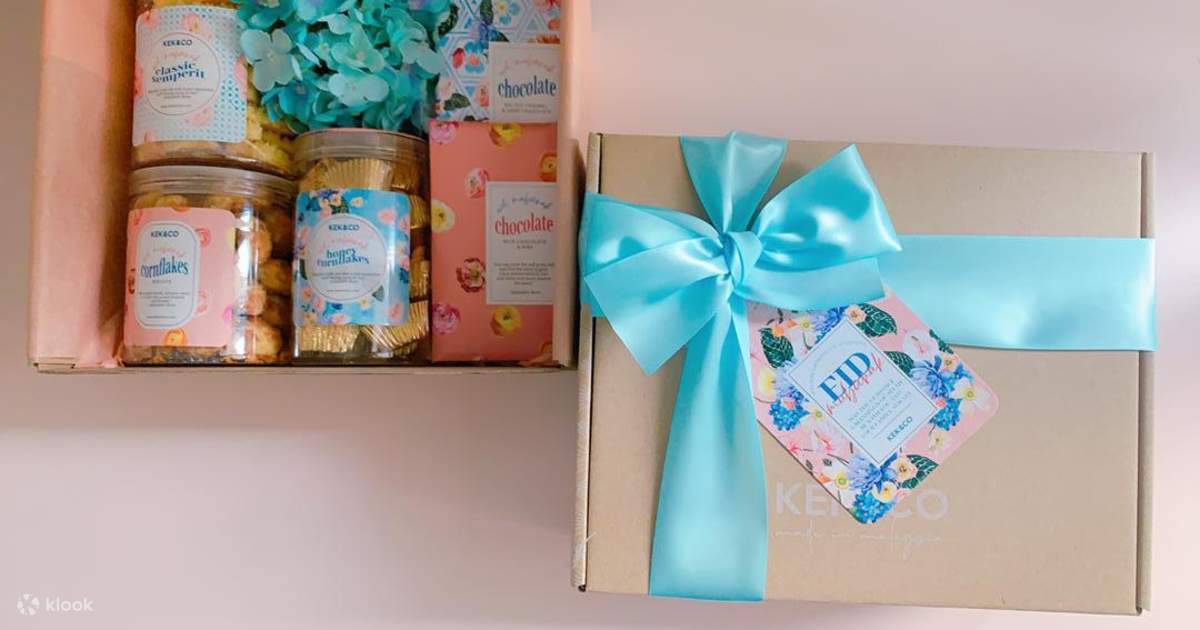 Kek & Co is one of Malaysia's pioneering online cake brands, a favourite of many Klang Valley residents who need to satisfy their sweet tooth cravings. Baked goods from the brand are not only delicious but also Instagrammable and can be used for any festive occasion thanks to their unique and beautiful designs! 
Their vibrant top cookies Malaysia creations are also excellent complements to have this Raya, especially with their package specially prepared for the month of celebration. It includes not only traditional Raya kuih such as biskut semperit and cornflake biscuits but also two bars of gourmet chocolate.
Website: https://kekandco.com/
Instagram: https://www.instagram.com/kekandco/
Facebook: https://www.facebook.com/kekandco/