Did you know that we need at least 8 hours of sleep per night to ensure our body is fully rested? If you are getting enough hours, then give yourself a pat on the back for doing a great job! However, if you have experiences of waking up during the night, snoring and waking up feeling unrested, then you're probably having a night of poor-quality sleep.
Improving your quality of sleep will not only recharge your energy, but it will support your growth and development for children and teenagers and lessen your risk for chronic (long-term) diseases such as high blood pressure, heart problems, diabetes and many more.
So, what are the ways to improve your sleep quality? For instance, create a dark and comfortable surrounding for your bedroom, avoid eating heavy meals, drinking coffee or alcohol before bedtime and also get some exercise before bed. However, the easiest way to sleep better at night is to get good quality Malaysia bed sheets for your bed! 
You might think that bedsheets only serve aesthetic purposes for your bedroom, but no. A bedsheet can provide you with the greatest comfort, insulation and warmth if you choose the right one. So, this article will help you to find the best bed sheet in Malaysia!
---
Kapas Living Signature Cotton Bedsheet
Do you ever get annoyed with loose bedsheets? No matter how much you try to make it stay, it will still get loose and sooner or later, removed from your bedsheet. If you do, you should get this bedsheet brand for your bedroom! Kapas Living's Signature Cotton Bedsheet has a lot of practical features that other brands don't have. For instance, it has ties for each of the bedsheet corners for you to use to keep your bedsheet still on your mattress – no more baggy bedsheets! Also, the bedsheet has its own clever bedsheet to help you set it correctly.
Their bedsheet comes in many sizes; Single, Super-Single, Queen, King And Super King and two different colours; Snow White and Whisper Grey. You may also buy their bedsheet on its own or get their Move In Bundle Set or Fitted Sheet Set.
For more details about Kapas Living:
Website | Instagram | Facebook
Sonno Eucalyptus Bedsheet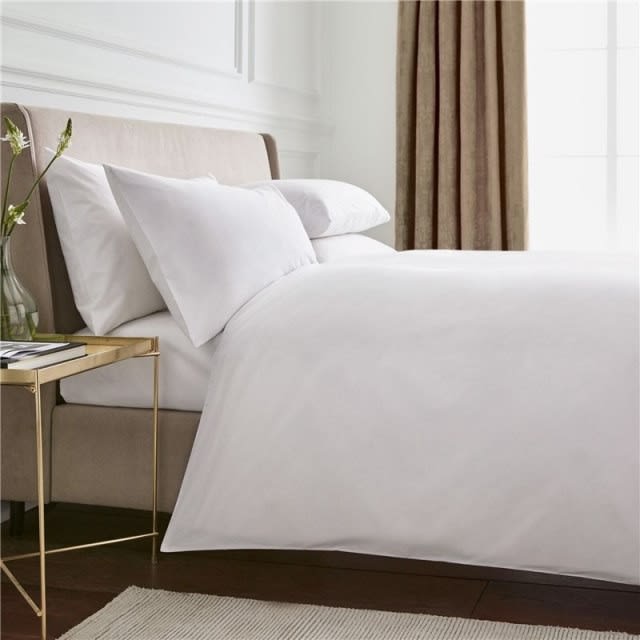 Sonno is one of the bedsheet brand in Malaysia that is famously known for their Eucalyptus – yes, you read that correctly, their bed sheets are made out of eucalyptus leaves! Despite it being mostly known for being koala's primary food source, the eucalyptus plant is actually the world's softest textile and it can create the softest and smoothest bed sheets you ever tried before in your life. Furthermore, it's eco-friendly and long-lasting!
If you're someone who sweats a lot, then Sonno is the best bedsheet brand for you. It is made out of ultra-breathable sweat with a silky material that will help you to sweat less during sleep. Also, the bedsheet gets softer in every wash due to its being made of out 100% TENCEL™ Lycocell fibres that get even softer the more you wash them.
For more details about Sonno:
Website | Instagram | Facebook
AKEMI Cotton Select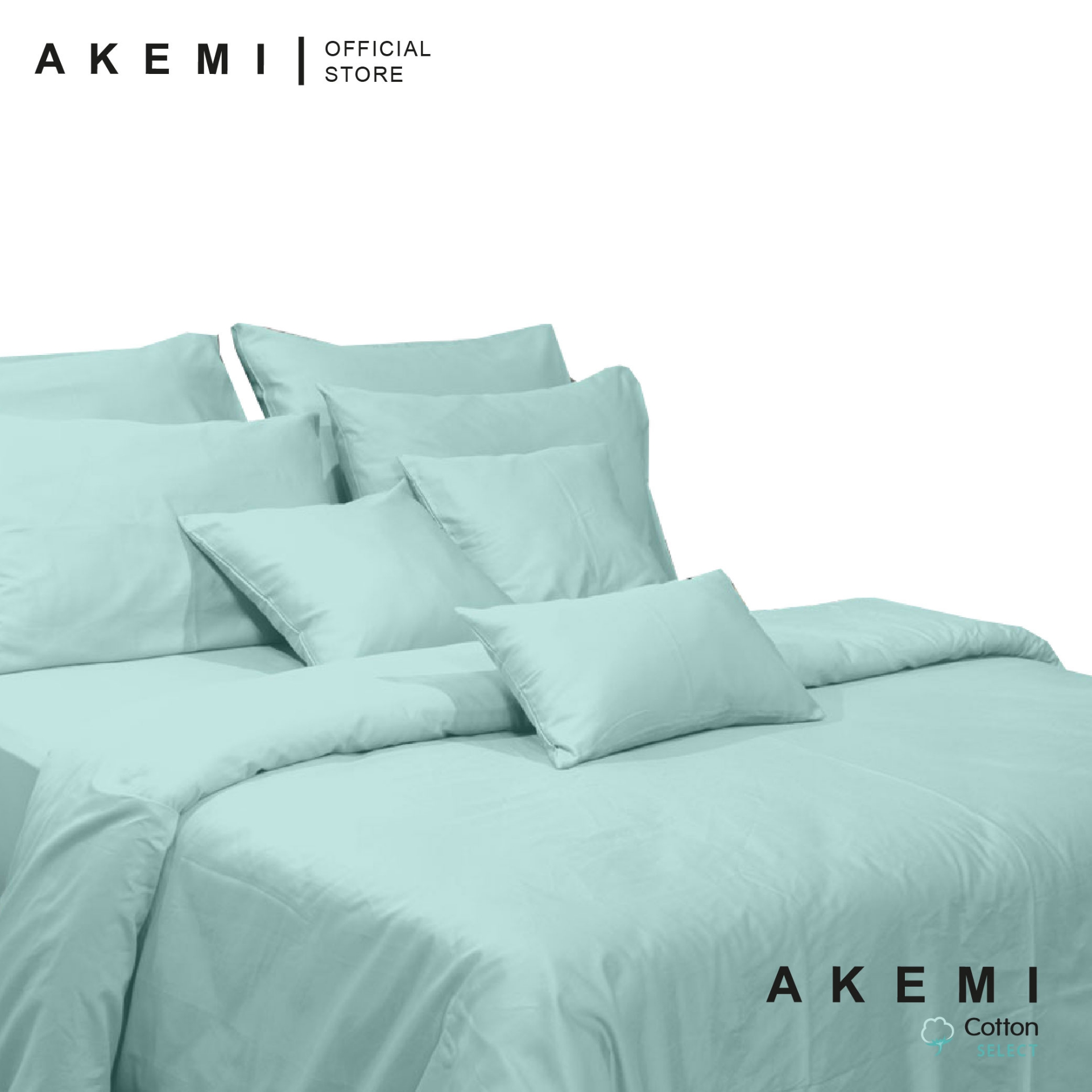 Who doesn't know Akemi? It's one of the famous branded bed sheets here in Malaysia and you can almost find them in every department store that you visit. Akemi is popular for its affordable price and top-tier quality bedroom essentials products!
If you're a fan of the cotton material, you should get a bedsheet set from this brand as it has its own collection of cotton bedsheets called Akemi Cotton Select. The cotton material will provide you with the comfort you need for a good quality of sleep. Also, the set comes with matching sheets, pillowcases and bolster cases to give your bedroom a fresh look! 
The best part of this bedsheet collection is it comes in 15 different colours so you will have a wide range of options to choose from! That's why they are considered the best bed sheet Malaysia.
For more details about Akemi:
Website | Instagram | Facebook
Weavve Lyocell Bed Sheets Deluxe Set
Sometimes, it's okay to reward yourself with a luxury bed sheet – you deserve it after all the hard work at the office five days a week! So, get yourself this branded bedsheet called Weavve's Lycocell Bedsheets Deluxe set! 
Why? Well, because the bedsheet is made out of material softer than silk and lighter than linen, it is amazingly smooth and gentle on your skin when you sleep on it. Furthermore, as it is made out of Lyocell fibres, it has temperature-regulating features which will help you get the best sleeping experience, especially in Malaysia's hot and humid weather. Furthermore, it also has anti-bacterial and anti-odour properties so your room won't smell musty and it will cause no harm to your skin so you can sleep peacefully!
The Weavve Lyocell Bed Sheets Deluxe Set comes in 5 colours – Midnight, Cloud White, Mist Grey, Blush Pink and Sky Blue and each set contain 1 fitted sheet, 1 duvet cover, 4 pillowcases and 2 bolster cases – that's a lot! So, that's why this best bed sheet in Malaysia is worth every ringgit.
For more details about Weavve:
Website | Instagram | Facebook
ZOE Fitted Bedsheet Plain White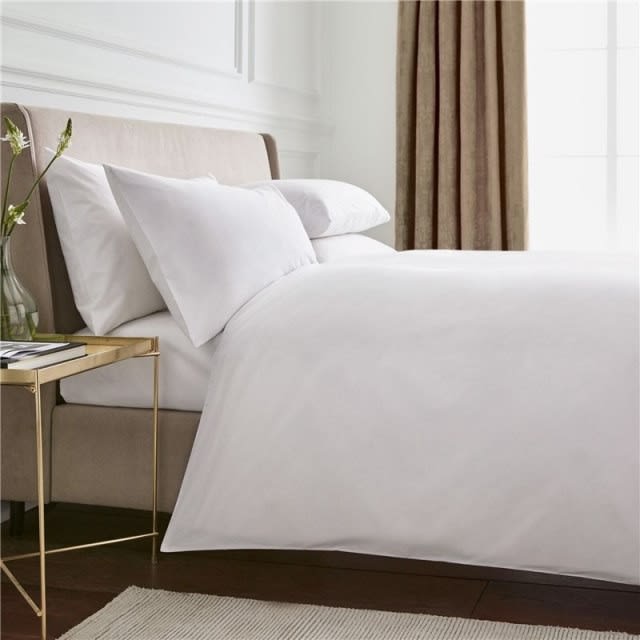 Do you miss staying at the hotel but don't have the time or money to book a stay? Fret not – get yourself a ZOE Fitted Bedsheet Plain White to set your bedroom vibe like a hotel room! This brand has been the largest supplier to hotels and AirBnBs since 2013 – it's almost 10 years! Hence why it should be considered as one of the best bedsheet brand in Malaysia.
This bedsheet is made of 50% premium polyester and 50% premium cotton with a thread count of 200. It comes in three sizes – Super Single, Queen and King Size. So you can get one depending on your bed size at your home. Also, this bed sheet can fit mattresses up to 14 inches!
For more details about Weavve:
Website
Jean Perry 5-in-1 Bedsheet Set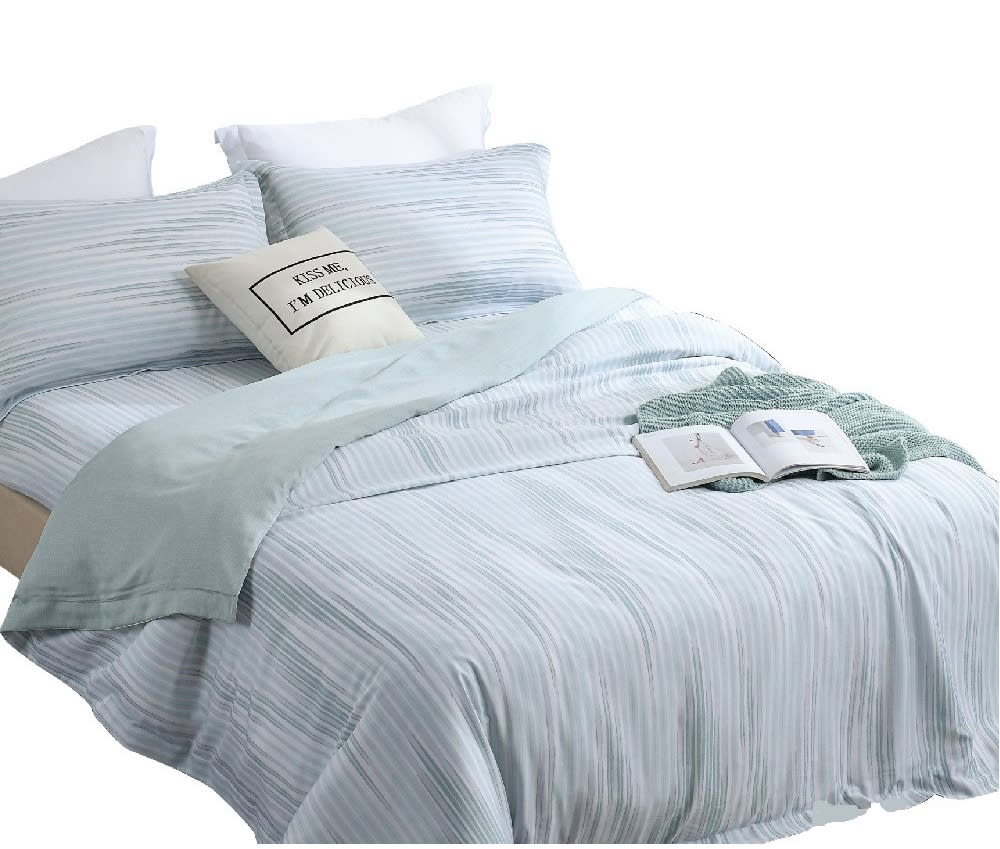 If you tend to get sweaty while you sleep, this bedsheet Malaysia will help you to stay cool and comfortable at night with its amazing material. The Jean Perry Garni 5-in-1 Bedsheet Set is made out of 100% natural fibre that is super absorbent, so you won't have to be worried about feeling musty while you sleep. But, that's not the only best thing about this bedsheet, it is also anti-dustmite so no more uncomfortable rashes and scratches at night!
Unfortunately, it is only available in king size and the set comes with 2 pillowcases, a bolter case and a super king quilt cover. However, it is still considered the best bed sheet in Malaysia for its top-tier quality.
For more details about Jean Perry:
Website | Instagram | Facebook
---
Who invented the bedsheet?
The first inventor of the bedsheet is Rashid Sab-Anah in the year 1000 in Cairo City. However, it did not succeed due to its thick yarn canvas that took too much time to dry after being washed. Also, the material got wrinkles easily and this annoyed the women as they had to wait for the sheet to dry for hours and then iron the sheets using the old-style iron pan filled with burning coal.
Then, the Europeans brought linen to the New World and it was well-received in the northeast and middle colonies that lasted for more than 200 years. Between the 17th and 19th centuries, most American women worked hard to make linen bed sheets, pillowcases, towels and table napkins.
What is a thread count?
In order to get the best bed sheet Malaysia, you need to learn about thread count first. Thread count refers to the quantity of threads per square inch of cloth. You can determine this by counting the quantity of horizontal and vertical threads in the fabric's weave or just check the thread count label on the bedsheet packaging. However, the quality, material, and type of the threads should be prioritised over thread count when buying a new bedsheet.
What are the types of bedsheets?
There are two types of bed sheets – flat and fitted. Both flat and fitted sheets are rectangle-shaped fabric. The difference between the two is that the fitted sheet has elastic in the corners while the flat sheet is just fabric on its own. The reason why it's called fitted sheets is that it is meant to be set up tightly on your bed to prevent the sheet from slipping off the mattress when you are using the bed.
What is the pocket depth for bedsheet?
Pocket depth is the length of the corner seam on a fitted sheet and you need to know that just because the size of the bedsheet is the same as your mattress size, it doesn't guarantee that your sheets will fit precisely.
So, when you are out to buy a new bed sheet, you need to ensure that the bedsheet is suitable for the height or thickness of your mattress. For instance, if your mattress is 35cm thick, the bedsheet should have a pocket depth of around 45cm.
How to choose the best bedsheet fabric for you?
There are a lot of factors that needed to be considered before picking the best bedsheet fabric for you. For instance, the durability, your body's resistance to temperature and most importantly – your budget.
As we live in a country with hot and humid weather, it is highly recommended that we get cotton bedsheets. Cotton is not only a cooling material, but it is also a natural fibre which makes it hypoallergenic and suitable for people with sensitive skin. The price for cotton bedsheets is also affordable! However, the downside of the cotton bedsheet is they get wrinkled easily so you might get annoyed seeing wrinkle bedsheet in your bedroom.
If you have an extra budget, you can go for Tencel bedsheets. Just like cotton, Tencel is a natural fibre made out of the wood pulp, usually eucalyptus. It has a better cooling effect compared to cotton, so if you sweat a lot during sleeping, you should definitely get it for your bedroom. Also, Tencel bedsheets have a smooth and silky texture, which means they will not get wrinkled easily. However, Tencel bedsheets require gentler washing care. You have to wash it with cold water and set your washing machine to gentle mode, and it is recommended to use a mild detergent to avoid affecting the bedsheet quality. Furthermore, Tencel bedsheet costs higher than other bedsheet materials.
If you are getting more confused about choosing the best bedsheet fabric for you, you can go to your nearest bedding store and feel the fabric yourself. After all, the best way to shop is to use all your senses (well, not taste, please don't bedsheets in your mouth) and then choose the one that wins your heart!
---
Frequently Asked Questions (FAQs)
What are the other names for bedsheet?
Other names for bed sheets include duvet cover, bedding, bed linen, dust ruffle, quilt and bedspread. However, it is better to call it a bedsheet to avoid confusion when buying it.
What are the materials used in bedsheet?
Some common materials used in bed sheets are blended fabrics made up of cotton/polyester, cotton/bamboo, cotton/rayon as well as nylon/polyester. For Malaysia's hot and humid weather, it is recommended to choose bedding brands malaysia made from Lycocell fibres material as it will keep your body cool and comfortable when you sleep.
What is anti-dustmite material?
Anti-dustmite materials are materials that are used to battle dust mite allergies and it includes organic cotton, wool and microfibre. These are the most common materials used to create an effective hypoallergenic bed sheet, but it still depends on your skin type.
What is the difference between a bedsheet and a duvet?
A bedsheet is the exterior layer of your mattress used for decorative and hygiene purposes. Meanwhile, a duvet's purpose is to act as a thick and warm layer that can be filled with synthetic filling/wool/cotton to provide volume and warmth to your bed.
Where can I buy the best bedsheet in Malaysia?
You can find good quality bed sheets in Malaysia at any local shopping mall complexes or department stores like Parkson, Isetan, and AEON. Also, you can visit hypermarkets like Giant and Lotus' to find an affordable bed sheet brand.
Which online stores sell bedsheets?
There are numerous online stores that sell bedsheet such as Lazada, Shopee, Zalora, and Spotlight. If you are looking for a specific brand, brands like Ikea, Isetan, and Akemihome have their own online shopping website for you to shop for new bedsheets.
When should I change my bedsheet?
It is advisable for you to change your bedsheets once a week or every two weeks at most. This is to avoid being exposed to the bacteria, and fungi that are found on your sweat, skin cells and other bodily secretions.
How do I get rid of stains on my bedsheet?
There are some tips and tricks on how to get stains out of bedsheets, however, you should start by using Vanish on the stain to get it out. Only when that doesn't work can you go on to making a paste by mixing baking soda and water and applying it to the stain. You can also try pouring distilled vinegar directly on the stain and proceed to soak it for an hour.

How do I get rid of dust mites on my bedsheet?
In order to get rid of dust mites on your bedsheet, you must wash your bedding on a regular basis. You can also opt to throw your bedsheet into the dryer at a high temperature for 10 minutes. For a quicker solution, you can use Febreze Antimicrobial or Febreze Professional Sanitizing Fabric Refresher by spraying it all over your bedsheet and letting it sit for a couple of minutes.
How do I keep my bedsheet smelling fresh?
You can use fabric refreshers to get rid of the odour on your bedsheet, such as Febreze. Other than that, you should open your bedroom window now and then for better air ventilation.
What is the importance of a bedsheet?
The bedsheet can improve your sleep quality as it can help to regulate your body temperature and provide you comfort when you are sleeping. Also, bed sheets can give your bedroom a stylish look as they are a wide range of bedsheets design and colours out there. Furthermore, we tend to move around when we sleep, and this can wear away the mattress fibres. So, a bedsheet will absorb dust and debris that came out of your mattress to keep it looking new.
Why does my bedsheet still smell after washing?
Typically, this problem occurs when you don't properly dry your bedsheet as it tends to get mouldy when it's damp and create an uncomfortable odour in your bedroom. So, make sure to dry your bedsheet during sunny weather so your bedsheet will smell fresh and clean.
Can I wash my bedsheet together with my clothes?
You can, but it is recommended to wash bed sheets separately from towels and clothes. This allows more water circulation and properly cleaning them. Washing bedsheets alone prevents zipper and fastener damage from your clothes.
How to keep my bedsheet tight and not loose on my bed?
The easiest and cheapest way is to use safety pins on each corner of your bedsheet and set them on your mattress. This will ensure that your bedsheet won't move around when you are sleeping.