As we grow older or enter college, our eyesight deteriorates, and we may lose our ability to see clearly. This will very certainly have an impact on our quality of life, particularly when we are working. Various methods, including wearing contact lenses or wearing spectacles, can be used to address this problem. Because contact lenses can be uncomfortable for some individuals, glasses may be the best alternative.
Consumers have a lot of options with such a diverse selection of spectacle shops. Furthermore, these stores are becoming increasingly digital, with more employing websites and social media platforms. As a result, we'll tell you about the best optical shop in Malaysia.
---
1. Malaya Optical Optometrist
Malaya Optical has been renowned as a dependable and trustworthy professional optometrist centre in Malaysia since 1957. Their highly qualified practising optometrists will certainly provide you with high-quality vision care using cutting-edge technology.
Their expertise enables them to assist their patients in a variety of methods, including myopia control in children, digital eye strain, progressive lens fitting, ortho k treatment, anti-virus lens technology, optimum contact lens fitting, and optometrist binocular eye examination, and vision screening.
| | |
| --- | --- |
| Address | 71, SS21/37 Damansara Utama, 47400 Petaling Jaya, Selangor DE, Malaysia |
| Contact Details | 012-622 1101 |
| Operating hours | 10:30 AM to 8:00 PM (Monday-Friday) 10:30 AM to 7:00 PM (Saturday) 10:30 AM to 5:00 PM (Sunday) |
For more information: Malaya Optical | FB: @malayaoptometrist | IG: @malayaoptical
2. Pott Glasses
Pott Glasses strives to provide clients with a meticulous experience while creating high-quality eyewear. You will undoubtedly acquire appropriate advise regarding your suited glasses if you combine efficiency, excellence, and elegance. The brand considers your face shape as well as other factors that go into making a high-quality spectacle.
You won't have to worry about quality because they collaborate with well-known manufacturers. They believe in creating spectacles with a distinct personality. As a result, if you're looking for a new pair of glasses, don't hesitate to contact them!
| | |
| --- | --- |
| Address | No. 64, Jalan SS 15/4, Ss 15, 47500 Subang Jaya, Selangor, Malaysia |
| Contact Details | 03-5886 0299 |
| Operating Hours | 11:00 AM to 9:00 PM (Monday to Sunday) Closed on Thursday |
For more information: Pott Glasses | FB: @pottglasses |IG: @pottglasses
3. A-Look
A-LOOK has been in business since 2003, and they've opened numerous locations and earned awards for their efforts. Customers that are loyal will like the fact that they have a reward programme. With over 100 locations, they accomplished a major milestone in 2016. In any of their various stores, you will be able to acquire a variety of sunglasses, frames, and lenses.
| | |
| --- | --- |
| Address | F-11, 1st Floor, Aeon Mall Bandar Dato' Onn, No 3, Jalan Dato Onn Johor Bahru, Johor Darul Ta'zim, 81100 |
| Contact Details | 012-223 7345 |
| Operating Hours | 10:00 AM to 10:00 PM (Daily) |
For more information: A-LOOK | FB: @alookeyewear | IG: @alook_eyewear
4. Focus Point Vision Care Group
Focus Point has grown from humble beginnings in 1989 to become a "leader in the eye care sector" that aspires to be more than just an eye care supplier. Focus Point is Malaysia's largest optical retail chain, as well as the first and only one recognised by Bursa Malaysia. With over 180 sites across the United States and over 230 ophthalmologists on staff, we're ready to help. At concept stores such as Focus Point, Focus Point Signature, Focus Point Concept Store, and Focus Point Outlet, customers can choose from a wide range of trendy spectacles.
| | |
| --- | --- |
| Address | Address: Lot G125, AEON Mall Tebrau City, No 1, Jln Desa Tebrau, Taman Desa Tebrau, 81100, Johor |
| Contact Details | Phone: 07-364 3145 |
| Operating Hours | 10:00 AM to 10:00 PM (Daily) |
For more information: Focus Point | FB: @FocusPointFP | IG: @focuspoint_my
5. Whoosh Eyewear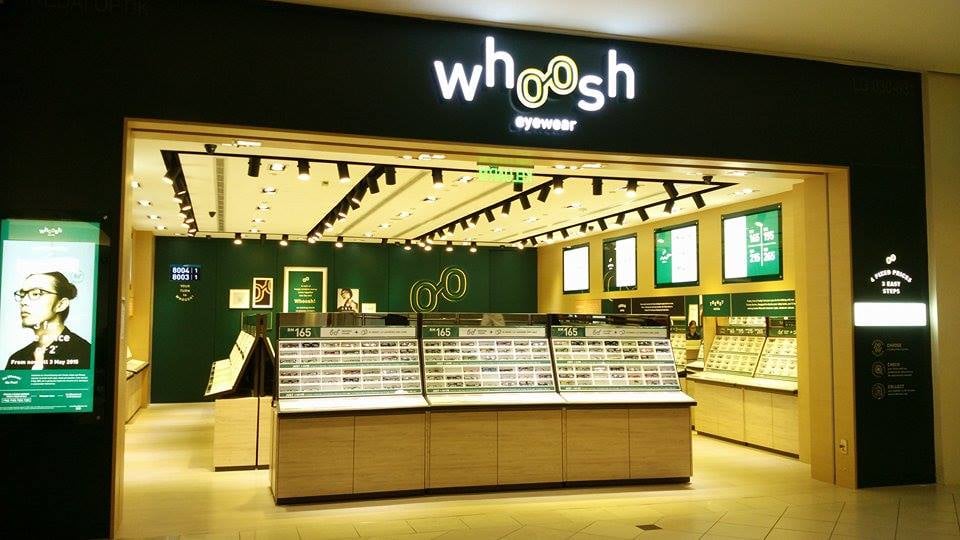 Whoosh! Eyewear will be able to satisfy trendsetters who appreciate style and quality in their glasses and spectacles with their fashionable and unique designs. They provide a large selection of patterns in three various styles that are all priced reasonably. Their trendy frames from Korea are divided into four main types. They are stylish, urban, vintage, and couture, to name a few. The procedure might be quite simple and convenient. Simply pick your favourite frames, have your eyes checked, and pick up your glasses in as little as 30 minutes! As a result, go check out their fantastic designed spectacles.
| | |
| --- | --- |
| Address | Address: LG2.70, Lower Ground 2, Sunway Pyramid, No. 3, Jalan PJS 11/15, Bandar Sunway, 47500 Petaling Jaya, Selangor |
| Contact Details | 012-210 2683 |
| Operating Hours | 10:00 AM to 10:00 PM (Daily) |
For more information: Whoosh Eyewear | FB: @WhooshEyewear | IG: @whoosheyewear.official
6. HELLO Eyewear
In 2017, HELLO eyewear was founded and established. They enjoy eyewear, but it is more of an extension of their passion for design and fashion. The quality of the products will be their primary concern. Customers will receive the highest quality from them, and they will be treated as VIPs.They will not serve consumers with a "because this is my job" attitude. Customers will be made to feel at ease during their purchasing experience. They'll give them the greatest help possible, whether on the website or in person.
| | |
| --- | --- |
| Address | 12 Jalan Trus, Bandar Johor Bahru, 80000 Johor |
| Contact Details | 07-220 0991 |
| Operating Hours | 10:00 AM to 6:00 Pm (Daily) |
For more information: HELLO Eyewear | FB: @eyewearhello | IG: @helloeyewear
7. MARQ Optic Gallery
Since 2010, MARQ Optic Galley has been a Japanese optical shop in the heart of KL. Masato Nakane and his team of skilled and experienced Malaysian optometrists aim to meet all of your optical needs while maintaining a good reputation for eye examinations for clients of all ages. Expertise is prioritised at MARQ Optic Gallery, with professional advise on the best spectacle solutions for one's lifestyle.
Aside from that, they specialise in using comprehensive eye screening methods to exactly assess their customers' optical requirements. Using cutting-edge equipment ensures that all of their measures are as precise as possible. Furthermore, their one-of-a-kind selection of spectacles and sunglasses is made entirely of high-quality Japanese materials. Its goal is to provide excellent service to its consumers even after they have made purchases.
| | |
| --- | --- |
| Address | F-238, 1st Floor, The Gardens Mall, Mid Valley City, Lingkaran Syed Putra, 59200 Kuala Lumpur, Malaysia |
| Contact Details | 03-2283 6889 |
| Operating Details | 10:00 AM to 9:30 PM (Daily) |
For more information: MARQ Optic | FB: @marq.optic | IG: @marq_optic_gallery
8. Zeiss Vision Center
The ZEISS Vision Centre takes a balanced approach to all aspects of optometry (frames, lenses, and eye exams), providing a one-stop-shop and increasing value perceptions. The combined clinical/optometric skills of eye care professionals and ZEISS' proficiency in goods, technology, and procedures result in the best vision care experience possible. They have over 100 locations across five continents in 19 countries. The ZEISS Vision Center is a modern, comfortable setting in which you will immediately feel at ease.
| | |
| --- | --- |
| Address | F-24, First Floor, No.1, Persiaran Southkey, 81500 Johor Bahru, Johor |
| Contact Details | 012-708 2982 |
| Operating Hours | 10:00 AM to 10:00 PM (Daily) |
For more information: Zeiss Vision Centre | FB: @zvcmalaysia | IG: @zeissvisioncare_malaysia