Hooray!
On March 8 2022, Malaysia Prime Minister Ismail Sabri Yaakob said that Malaysia will begin the transition to the endemic phase of Covid-19 on the 1st of April. That means Malaysia will finally open its borders after more than a year.
Too much of the delight of people who love travelling, travellers will be able to travel overseas again without the need to quarantine for vaccinated travellers. However, travellers will need to take a Real time-Polymerase Chain Reaction 2 days before departure, and a professional Rapid Test Kit-Antigen test within 24 hours after arriving in Malaysia.
Can't think of anywhere to go due to not being able to travel for a long time? Here is why Sabah should be your next destination to travel to!
Why Sabah?
Travel locally is really underrated as many opt to travel overseas as their preferred choice. Notably, travelling to East Malaysia is not as common as travelling around West Malaysia.
Because of that, let us give East Malaysia the love they deserve by recommending the best tourist destination when you visit Sabah.
Where to visit in Sabah?
Kundasang Desa Dairy Farm
Ever dream of visiting New Zealand? If you want to visit the beautiful countryside filled with sheep – Kundasang Desa Dairy Farm offers just that. Instead of getting sheep, you will be getting cows alongside the beautiful green scenery. Besides the green scenery that Desa Dairy Farm can offer, there are huge mountains in the background for good viewing.
It is highly recommended to visit Desa Dairy Farm during your trip to Sabah if you are getting bored of urban life as this Dairy Farm can be a good rural gateway.
Mount Kinabalu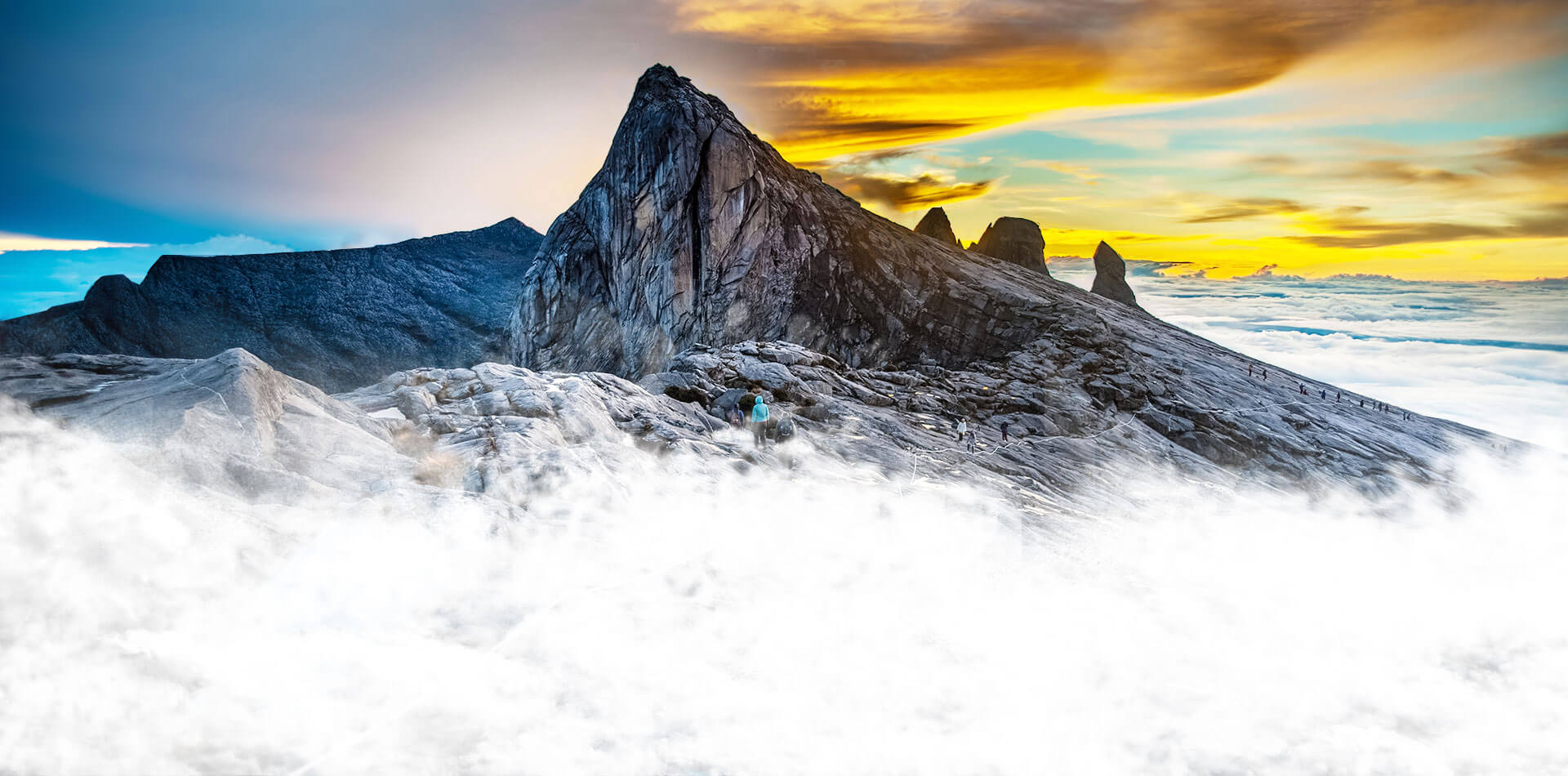 Sabah's Mount Kinabalu is Borneo's and Malaysia's tallest peak. Hike on Mount Kinabalu should be on your list of the places to go in Sabah as you won't get any experience like this in hiking on the tallest mountain in Malaysia and one of the tallest in the world.
There are different types of packages if you want to climb Mount Kinabalu and prices vary from package to package. If you want to know more about the packages – visit their website here.
https://www.mountkinabalu.com/packages
Puu Ji Shih Temple
Although Chinese Temples are everywhere across Malaysia – it is hard to stand out against one another. However, Puu Ji Shih deserves to be on the list of the places to visit in Sabah not only for the beautiful Chinese architecture and the statues of the Gods but also for the aerial view of Sandakan Town with beaches from close proximity from Pu Ji Shih Temple.
When you visit Puu Ji Shih Temple, be respectful of the Religion's custom when you are at the Temple.
Sim Sim Water Village
Sim Sim water village, as the name speaks for itself, is a water village on the coast of Sandakan that is reachable by plank walkways. What is so special about Sim Sim Water village is that it depicts the lives of local fisherman families in neat wooden houses and their day-to-day activities.
Besides just a place that is special for the wooden houses and fishermen. This place holds deep history as this place is also a site of the original town of Sandakan which began in 1879.
There is also a restaurant within the water village for visitors to try their delicious seafood. Even though you may walk past people's homes, do not fear. To the locals, it is just part of daily life as the locals know that people are going to the restaurant to eat.
Bornean Sun Bear Conservation Centre
Are you a fan of bears but you have never seen a bear in real life before? Look no further, Bornean Sun Bear Conservation Centre is the place for you. This conservation centre
As the status of the Malayan sun bear is almost endangered, this wildlife conservation and research centre aims to provide animal welfare and rehabilitation of the Malayan sun bear. Besides just providing welfare and rehabilitation, this conservation centre also wants to raise public awareness of the situation the Malayan sun bear is facing, and also to raise conservation awareness about this species.
The price to visit the conservation centre is reasonable too! The price and opening hours are listed below.
| | | |
| --- | --- | --- |
| Nationality / Age | 2-17 | Adult 18+ |
| Malaysian | RM5 | RM10 |
| Non-Malaysian | RM25 | RM50 |
Operating hours
9:00am-3:30pm (daily including public holiday)
Sabah City Mosque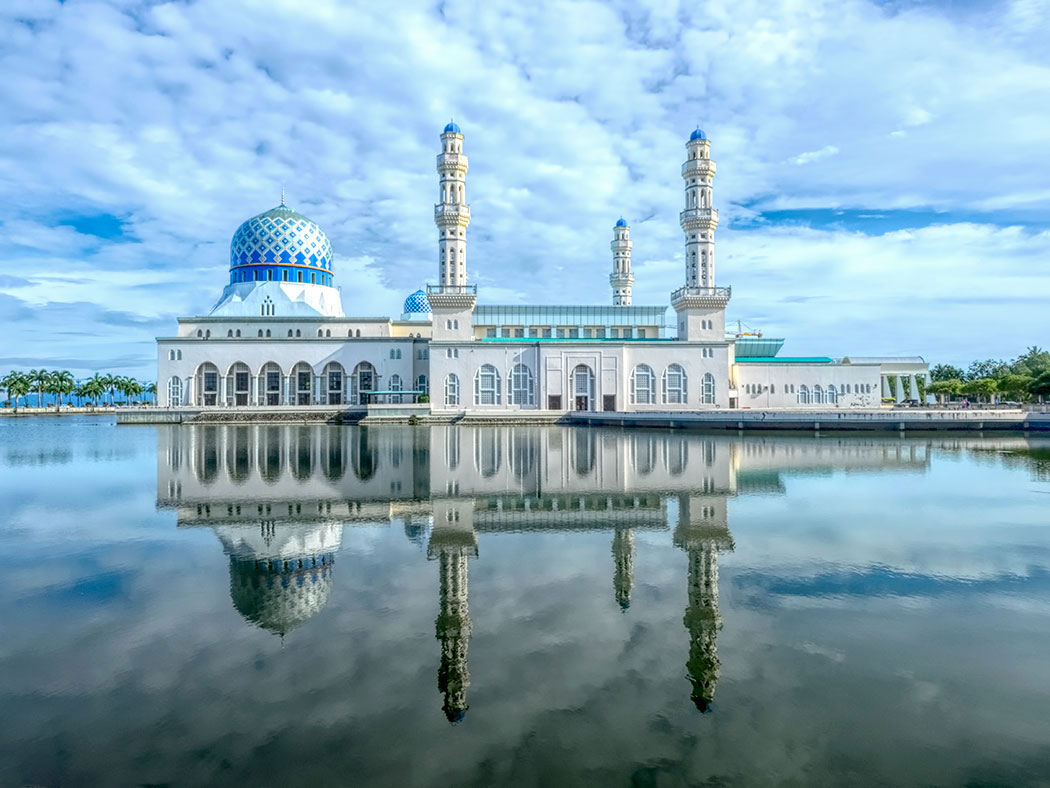 Situated near the sea, it is the largest mosque in Kota Kinabalu. If you think the mosque looks beautiful during the daytime, you should visit it during night time where the man-made lagoon will give the serenely gorgeous and dramatic look on a full moon night.
The mosque is open for the public to visit, but visitors are required to register with the Kota Kinabalu City Mosque Tourism Management to visit the mosque.
When visiting the mosque, there are rules that need to be followed.
Dress appropriately. Be it if you are outside or entering the mosque, all visitors are required to dress modestly and cover-up. Prior to entering the mosque, visitors are required to wear coveralls which can be rented for RM5 – RM10.
Show respect and act politely
Must abide by the rule set by the City Mosque
No food and drinks are allowed inside
No appropriate posing when taking photos or videos
No imitating other religions' acts of prayer
Get ready for your trip now!
Besides the places that are listed in this article, there are many more nice places to visit in Sabah. As for first-timers, these are the places that are recommended to visit once you are there. What are you waiting for? Book your plane ticket and request for work-leave right now!