Big shiny eyes, little stubby paws and a furry coat.
Yep, we're talking about pets. Those cute little cuddly creatures that we love so much and can't live without. Getting one seems like a daunting idea with all the responsibilities a pet comes with.
But if you've made up your mind in getting one, then the initial idea would be to head over to your nearest pet store and decide from there.
However this practice of shopping for pets should be stopped. You might be asking "Why? Everyone I know bought their dogs and they turned out fine."
But this is what The Cool Bear's Taboo Series is here for:
To open up the dangers of shopping (not adopting) for a pet.
Why Shopping for a Pet is a Bad Idea
Have you ever watched a documentary or a video exposing farms? Then you've seen the dire state of how those farms are. Animals crammed in small cages or pens together, being mistreated, some of them some even becoming depressed.
I'm here to be the bearer of bad news: the majority of pets you see at pet stores have suffered the same fate.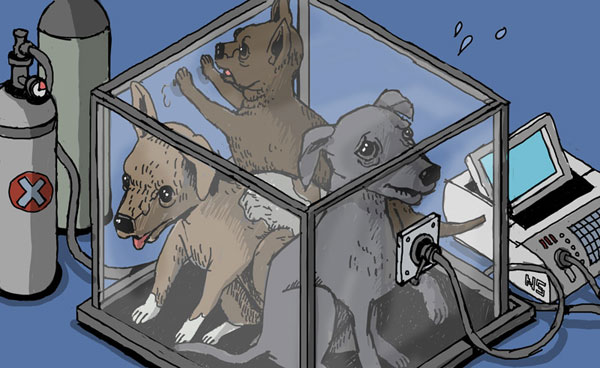 Puppy mills are horrible places for a dog to be brought up in but the truth is they exist and pet shops obtain their selection from these breeding grounds.
Just like those overpopulated farms, these puppy mills mean dogs are denied basic freedom or needs like social interaction, physical space and proper care. Worse, female dogs are forced to breed every time they're in heat. A female dog in a puppy mill could have given birth to a litter more than 10 times! Imagine a human female being forced to do the same thing. That'd be abuse.
And the saddest thing is once a female can no longer reproduce, she'll be abandoned or killed.
You might now wonder "So isn't shopping for these pets a better idea rather than leaving them in these stores?" Well, you got us there but supporting these stores only further prolongs the cycle of breeding. Buying a pet = supporting these mills.
Hopefully we at Woke have convinced you enough to seriously contemplate adoption. If not, here are reasons why you should adopt, not shop.
Reasons to Adopt not Shop
1. You'll save a life
The sad truth is most shelters face overpopulation of pets. This results in the older, sicker & weaker ones being put down. Now as a shelter, you might be furious on why they would do that. But another sad truth is, shelters are mainly non-profit organizations and do not have the funds to maintain a large amount of animals. That's why by adopting, you'll be saving a pet's life and also contributing to the sustainability of the shelter! Best thing is more space freed up for another animal in need.
2. Cheaper
If you're a student like me, budget issues might be hindering you from getting the canine/feline companion of your dreams but fret not! Instead of spending thousands of ringgit on a purebred, spend only RM240 for adopting a cat or RM350 for adopting a dog. This is actually a bargain because vaccinations, deworming, neutering are all included in these fees too).
3. More variety is the spice of life
Unlike purebreds that are carefully selected and bred to the nines. Meaning no imperfection, no flaws escaped the breeder's eye and of course these dogs were trained to perfection. So with shelter dogs, there's more variety in terms of how your fur buddy will look and act like. Just like humans, animals have a variety of personalities too. With a shelter there's a higher chance you'll find a pet that'll complete your missing puzzle piece.
4. Not all shelter dogs are bad dogs
Okay now that we've convinced you to not even glance at the direction of a pet store, what are your alternatives?
Places to Get a Pet in Malaysia (that is NOT at a pet store)
1. Pet Shelters
The most obvious choice would be a pet shelter. Unlike adopting a stray on the side of the road (which is also another option), dogs taken in by these shelters are vaccinated and given proper treatment before they are allowed to be taken to a forever home. Or at least the shelters will provide these services upon adopting them.
 By adopting from a pet shelter means supporting these good people who actually take the time out of their day to rescue animals from abusive homes/side of the roads or from owners who do not want them or cannot keep them any longer.
Two main shelters in KL you can adopt from:
i) SPCA Shelter
Address: Jalan Kerja Ayer Lama, Ukay Heights, 68000 Ampang, Selangor
Opening hours: Monday closed, Tuesday – Sunday: 10am – 4pm
Phone: 03-4253 5179
ii) PAWS Animal Welfare Society
Address: Pilmoor Estate, Subang Airport Road, 47200 Subang, Selangor
Opening hours: Wednesday closed, Monday – Sunday: 9am – 4pm
Phone: 03-7846 1087
2. Facebook
Whatever your view on Facebook or Zuckerberg is, Facebook has become the spot for Malaysian locals to group together. So yes adopting a pet on Facebook isn't such a farfetched idea. And usually the members in these groups are SERIOUS about pets so you'll definitely be in good hands especially if you're new to the having a pet thing and need some tips.
3. Strays
A really sweet idea would be adopting pets off the side of the road. It's sweet because most of these strays end up being compounded by the government and killed senselessly. Here's an article on Vice about killing of strays by an anti-rabies operation involving the Department of Veterinary Services in Malaysia. Warning: It's rather graphic!
However there are risks involved that might outweigh the pros. There's a high risk of diseases since these dogs have been living without proper care & hygiene. Also as they were typically abandoned, some of them might be highly aggressive so just taking one home won't be easy. But if you're dedicated to the cause, it's worth it as the connection you'll make with them will be inseparable. 

Animals require a lot of love and care and by not buying into the cycle of irresponsible pet breeding, we can nurture a world that is safer and loving for our pets.

Enjoy this article? Read more like this from our Taboo series like where to seek mental health help or interviews with LGBT Malaysians.