Every day with a baby is easier and more accessible when you are using a suitable stroller. This is especially true when you're out for a walk or shopping. Here's a comprehensive look at the various types of baby stroller Malaysia available so you can make an informed decision about your family's needs.  
No matter where you're going with your kid, a stroller is a necessity, whether it's to the park for a lovely walk or to Europe to see all of the attractions. While a stroller provides a comfortable area for the baby to sit or sleep, it also allows you to store all of the necessities like wipes, diapers, a change of clothes, and additional pacifiers in one convenient location.
But choosing the perfect strollers isn't as simple as it seems. There are a diversity of models and pricing points available. So, prior to starting your search, take into account your financial capabilities and constraints. Once you've determined how you intend to use your stroller, you can start eliminating choices from the list you've created.
Types of Stroller
Yes, there are more than just a single or twin stroller, made for different purposes.
It might be tough for first-time parents to choose a stroller from among so many different manufacturers. On top of taking care of the baby's fundamental requirements. But what you truly need is a lightweight stroller that is both safe and comfortable to use on a daily basis. It's for you to use, and it's also for your child to sit in. As you'll see in this list of the finest baby strollers, there are many options.
Full-Sized Stroller
Planning to have more than one child on the horizon? Investing in a full-sized stroller baby may be worth it. These multi-purpose strollers are tougher, more adaptable, and will last for years after your children have outgrown them. These types of strollers typically have additional storage space and other conveniences. However, this increases both the weight and the cost.
Lightweight Stroller
In the case of portability, there is little doubt that a lightweight baby stroller (or umbrella stroller or travel stroller) is the best option. They can normally be folded and stored in a small space. Perfect for those long road trips with the family. The only cons are, your child will outgrow them pretty fast. 
Jogging Stroller
Don't limit yourself to just running on the treadmill! You can comfortably transport your child while jogging with the help of a jogging stroller. Even on rocky or uneven ground. While taking a walk or jogging in the park in the fresh air. The use of a baby carrier is another option. Downside? This isn't the most space-efficient alternative.
Car Seat Stroller
Without having to unbuckle your child, you can get them out of the car and out. With the help of an adaptor, car seat strollers can be converted from a baby car seat and used as a stroller base. What a convenient 2-in-1 baby seat right? Might as well, toddlers may be unable to use this sort of stroller due to its design.
Twin Stroller
When using a double stroller, the seats may be next to each other. Furthermore, they might be used in tandem. Without a doubt, the most significant advantage of a twin stroller is that it eliminates the need for a second stroller. You will, however, have to make concessions only in terms of mobility.
What Should Be Consider Before Buying a Stroller?
A stroller that is secure, dependable, and simple to operate is an absolute must-have. However, because strollers can range in price from hundreds to upwards of thousands of Ringgit, you'll want to make certain that you're receiving the most value for your money.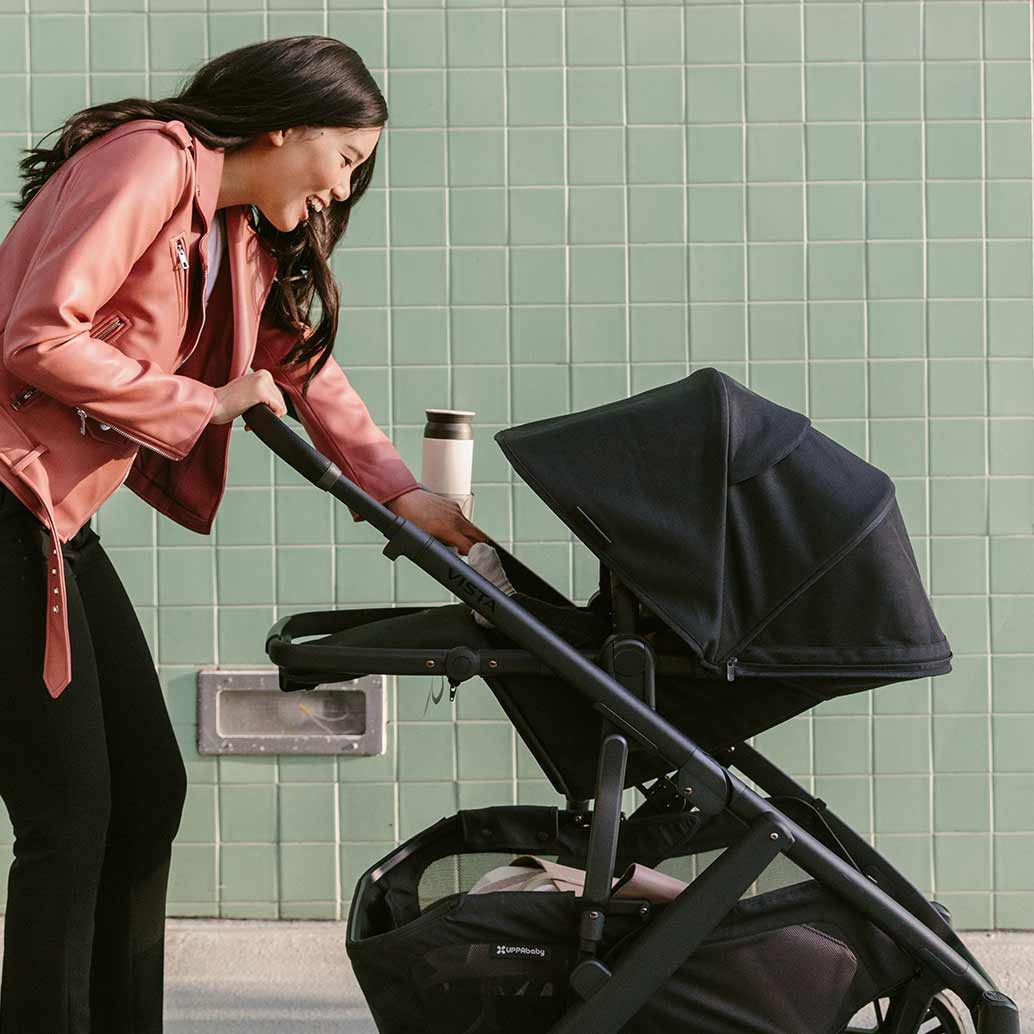 These fundamental questions can be of assistance. You will, however, have to make concessions in terms of mobility.
Where will you use it? – Many mid-range models are large and unwieldy, making them unsuitable for use in congested urban areas. For those who need to carry their diaper bag, purse, and other things in the stroller basket, a smaller umbrella stroller may not be the best option. With a stroller, knowing where you're going is half the battle.
Is it safe for a baby? – Double-check the fine print. Some strollers offer a deep recline or bassinet mode, so you can use them right away if you have a kid. Various types may be better appropriate for babies who have some neck control or can practically sit up independently by month 6. Some models require a car seat or optional bassinet to be infant-ready, so ask before you buy.
How heavy is it? – On the road, less is more. Keep in mind that some manufacturers label a 25-pound stroller lightweight, while others claim it is only 12 pounds. In acity, where you can carry it on while htting the stairs, or maybe when you have to move out from one places to another places. Weight plays an important role here for the baby trolley.
Without further ado, let's check out these best 10 baby strollers in Malaysia
10 Best Baby Stroller in Malaysia 2022
1. Quinny Zapp Xpress 3 Wheels Baby Stroller (Ideal For Urban Style)
If you're looking for the best stroller in Malaysia, the Quinny Zapp Xpress 3 Wheels Baby Stroller is your best bet. Aside from its quick 3D folding and three compact wheels, this stroller is also easy to manoeuvre through metropolitan streets. Because of the stroller's 50+ UV protection, you won't have to worry bout your baby getting tanned even if it's raining. The items you require are all conveniently stored in your shopping basket, allowing you to access them whenever the chance arises!
Features:
It's ideal for city dwellers
Wheels of three different sizes
The 3D compact fold is simple and fast
Incredibly large and water-repellent sunshade
The shopping cart may be easily accessed
Website: https://www.quinny.com.my/strollers/zapp-xpress
2. Baby Throne Advance Compact Stroller (Traveller's Top Pick)
The Baby Throne Advance Compact Travel Stroller from ETINbaby, which is available in a range of colours, is also reasonably lightweight while maintaining high levels of quality. Reviews have stated that it is simple to use and store! You'll get the hang of it with a little practice.
Hence, this 2019 model is the ability to recline to an incredible 180 degrees. Instead of an 18-centimetre baby seat, a 26-centimetre one will suffice for now. It is, on the other hand, more time-consuming. It is highly advised that this stroller be purchased by a couple who enjoys travelling. If you're seeking much of anything small enough to fit in the trunk of a Perodua Viva, this is it. The perfect choices for travellers.
Features:
An all-wheel-drive system
Sunshade included
Convenient for travel because of its modest pack size
Cost-effective
Website: https://www.etinbaby.com/collections/baby-throne-stroller
3. Sweet Heart Paris ST310 Strollers (Best For Joggers)
If you're looking for a stroller that can be used in every weather, go no further than the Sweet Heart Paris ST310. This stroller is equipped with a suspension mechanism and a sturdy frame that can withstand any terrain. Along with its smooth, swivelling wheels, it is simple to manoeuvre on any surface. While you're at the local supermarket, having a footbrake and a shopping basket can be really advantageous.
To avoid overheating, keep your child in the stroller for short periods of time. Even in hot weather, the mesh viewing window and the highly breathable material keep your baby cool and comfortable. Aside from that, the stroller's waterproofing and sun cover provide further protection for your child from the elements.
Features:
It is perfect for joggers
A suspension system and a robust frame are both included here
Viewing window for Footbrake Mesh
Sunshade that can be adjusted to block off the sun
Website: https://www.superbuy.my/shop/sweet-heart-paris
4. GRACO Modes Stroller (Most Versatile)
A stroller is as adaptable as the GRACO Modes 'Click Connect' Stroller is hard to come by in the market today. It's a three-in-one stroller that converts into an infant car seat carrier, an infant stroller, and a toddler stroller, all with ten different positions for your child to sit in.
The stroller's front-swivel wheels and reversible seat provide your kid with a new perspective while still ensuring that he or she is as safe and secure as possible. It's now easier than ever to take care of your baby's daily needs without having to worry about forgetting anything thanks to the huge storage basket and removable tray on this stroller baby murah.
Features:
The most adaptable
10 different styles of ride in 1 stroller
Removable tray and reversible seat
Extra-large container spaces
Websites: https://www.babydash.com.my/
5. Mamakiddies Reverso 2 In 1 Travel System Stroller (Elegant Stroller)
There are three colours to choose from with the Mamakiddies Reversible 2-in-1 Travel System Baby Strollers. Even if you only have one arm. The fact that it is heavy does not detract from the fact that it accomplishes several objectives. Cup holders and other storage options are available on this chair, in addition to removable canopies and mosquito nets.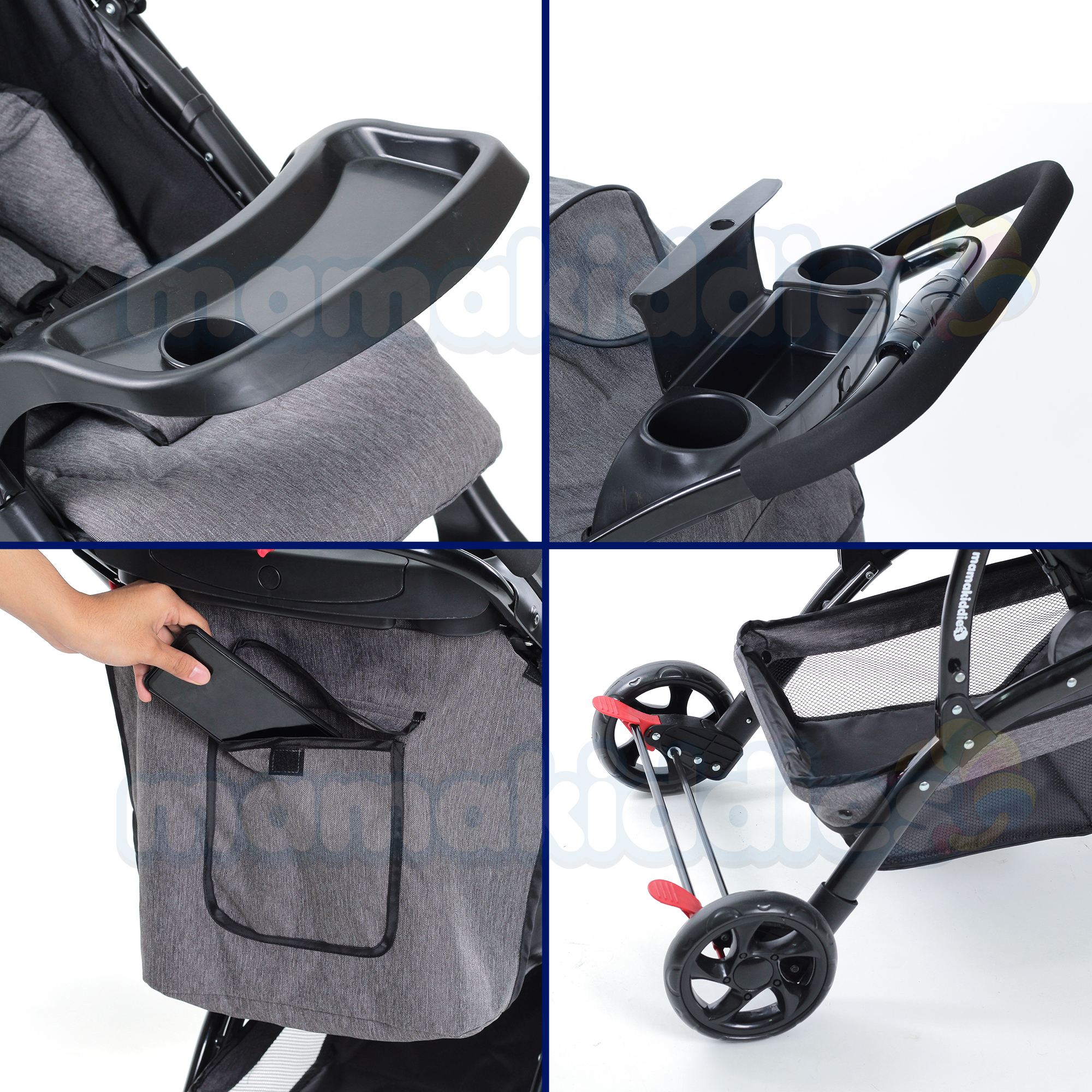 A car seat (which is not ISOFIX compliant) and a carrier are also included as extras (2.4kg). As an added bonus, the handle's rotational orientation may be reversed. One of the three possibilities is a flat posture for newborns. Anyway, it's less priced and, based on initial impressions, far more durable.
Features:
Thick padding cushion
Can go through the uneven pathway
Ease of assemble
Smooth pushing method
Website: https://www.mamakiddies.com.my/
6. Bugaboo Fox2 Stroller (Recommended Luxury Baby Stroller)
One of the best stroller Malaysia, come with the leather-look shoes, you may walk your child with class and elegance. The Bugaboo Fox2 stroller is the most luxurious stroller available in Malaysia. Its sun canopy and peekaboo window shield your child from the sun while yet allowing for increased circulation and engagement with the outside world. Your infant will have a pleasant ride and will be protected from any bumps thanks to the ergonomic U-shaped seat and joint suspension system of this stroller.
Travel with comfort thanks to the travel-friendly features of this newborn stroller, which include an anti-pressure bassinet, a two-baby board, a windproof footmuff, and a car seat. To get to your stuff, you may utilise the 38L large capacity basket or the storage pocket in the bassinet, both of which are included. The highchair mode allows you to feed your newborn without having to move from your current chair.
Features:
Ergonomic seat with a u-shaped adjustment mechanism
Suspension system with a joint
Easy ways to go about
Basket with a capacity of 38 litres
A mode for the high chair
Website: https://tcebaby.com.my/
7. Joie Aire Twin Stroller (Best Twin Baby Stroller)
You will love this Joie Aire Twin Stroller if you have twins or planning to have twins! When taking a stroll around the neighbourhood, you can now take both of your children with you in a single stroller instead of two separate ones. Despite its lightweight, it is built with a sturdy aluminium chassis and solid construction, which allows it to survive for an extraordinarily long time. Peek-a-boo windows and a number of various orientations allow the sofa cushion paddings to be used in a variety of different ways.
Features:
The lightest and most stable twin stroller on the market
Incredibly durable aluminium chassis
A variety of cosy positions
Seats with individual lumbar support
Website: https://www.joiebaby.com/product/aire-twin/
8. Little G 001 Foldable Baby Stroller (Large Size Stroller)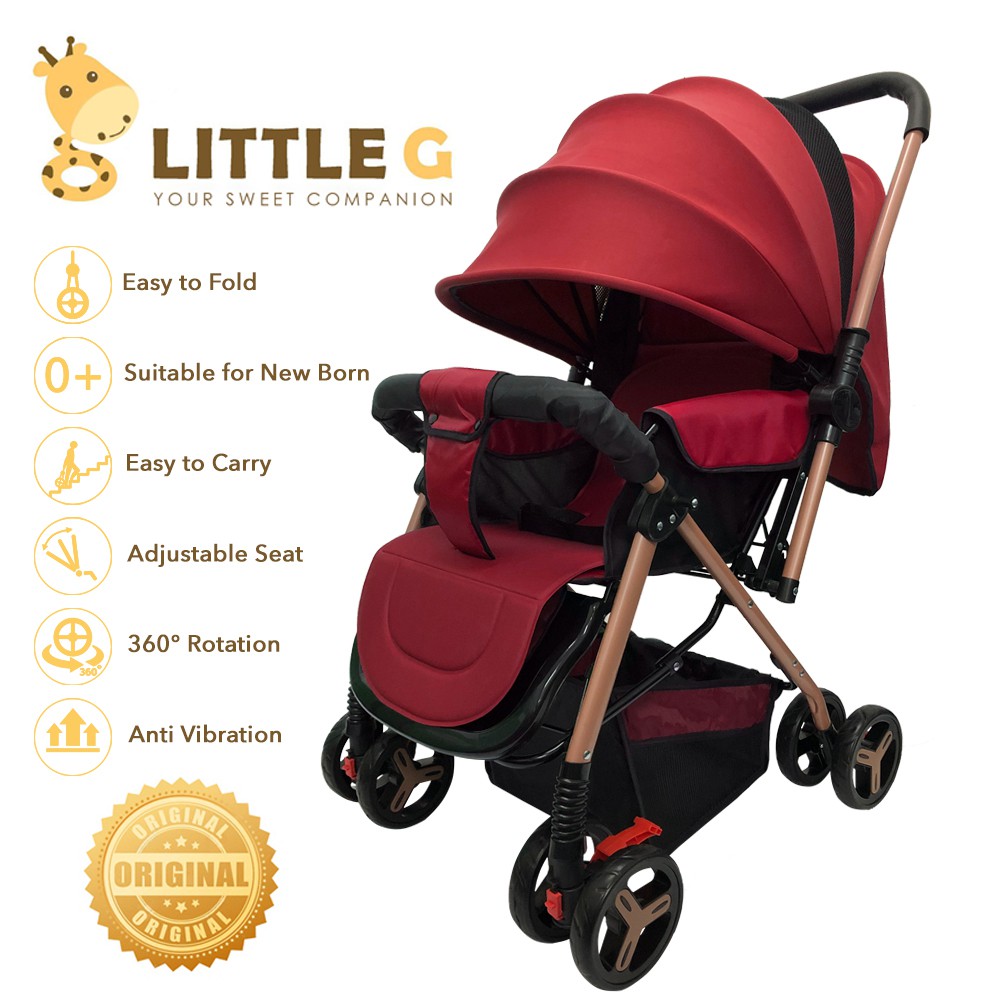 With a large canopy that protects your kid from any weather (sunny, windy, rainy, you name it), this Little G Baby Stroller allows your child to breathe while being protected from the elements. It offers a wide and comfy adjustable seat for your kid to sit in while you are driving. When not in use, you can effortlessly fold this sturdy stroller and place it in the bottle container that comes with it for convenient access.
Features:
Adjustable seat
Plenty of padding bottle holder
Solid construction
Simple mechanism for folding
Website: https://www.littlewhiz.com/
9. The Pockit Plus All Terrain Stroller (Dual Wheels Baby Stroller)
Pockit Plus All-Terrain Stroller by GB has had its suspension wheels replaced with twin wheels, which provides a more secure ride for the child and parent. Even the city streets on the way will not be a source of anxiety for you. Despite the fact that it folds up so little, you can pack this stroller into a bag that is the same size as hand luggage (in 2 stages). Both hands must be on the table at the same time in order to fold the card.
Features:
Steering with one hand
Rear-wheel swivels (all wheels can be locked)
The harness and backrest can be adjusted
Lots of options for mixing and matching hues
Website: https://www.mylovelybaby.com.my/
10. MK Baby Stroller U876 (Affordable Baby Stroller)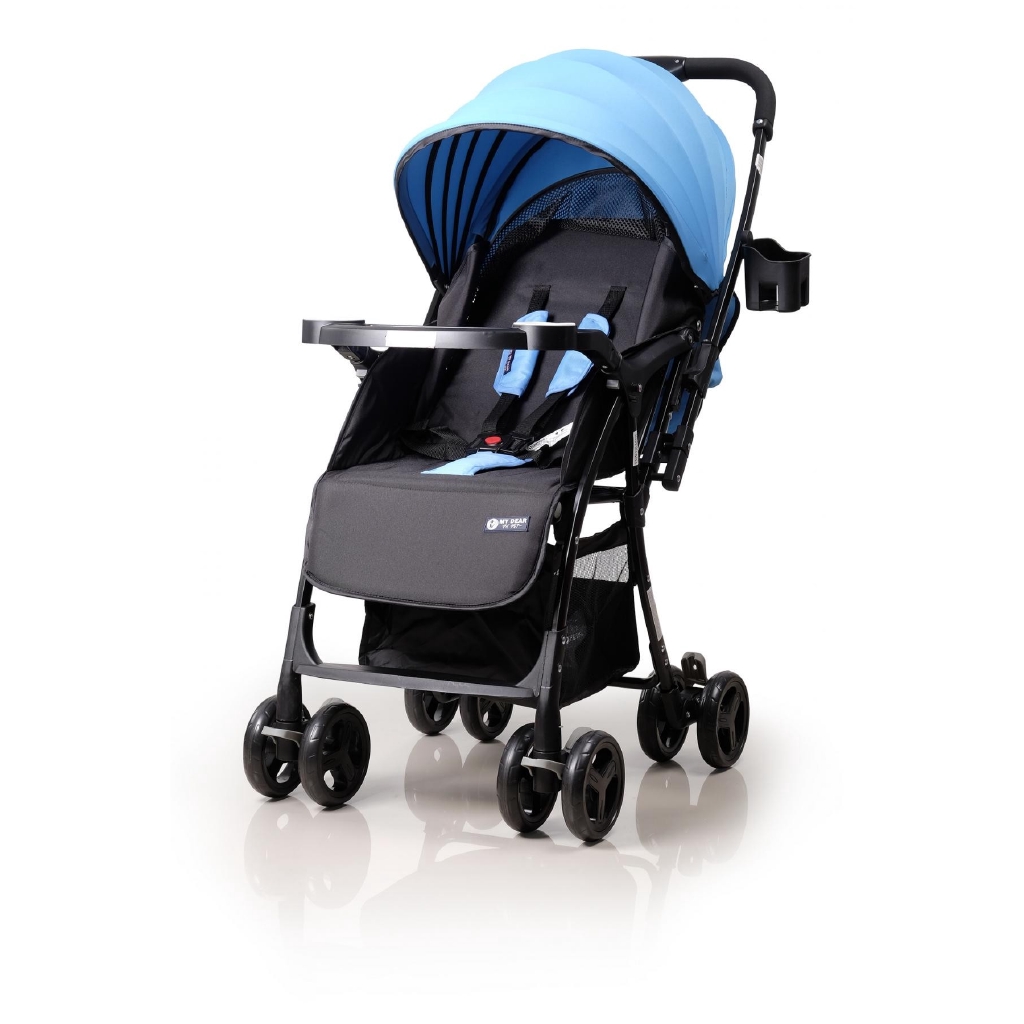 Listed as the most affordable stroller, the MK Baby Stroller U876 is sometimes referred to as an "umbrella stroller" due to its lightweight and portable design shape like an umbrella. It just has one position, but that doesn't mean it can't keep your baby comfortable while you stroll about the city in style. As a result of the 360-degree front tyre rotation, you will be able to lock the stroller in an extremely safe manner, and you will be able to enjoy the utmost manoeuvrability.
Features:
Designed to be lightweight and easy to transport
Stylist and fancy
The braking pedals for the front and rear tyres
Front tyre with a 360-degree rotation for manoeuvrability
Website: http://www.qqbabyshop.com/
CONCLUSION
Last but not least, when it comes to taking to the outdoors with a newborn, safety comes first and foremost. Almost all stroller models these days satisfy the most basic safety requirements, but there are just a few additional safety aspects to consider when searching for a stroller for your child. Always put in mind that;
You should use a stroller for your infant if you plan to use one, but make sure that the stroller reclines because babies are unable to sit upright or hold their heads up. Some strollers may be used with a bassinet attachment or an infant-only car seat, while others can be used completely reclined.
Unfortunately, the majority of jogging strollers are not built to recline. As a result, they are not suitable for newborns until they are around 6 months old.
Is a stroller safe for newborns? 
Which stroller is best for a baby? As a precaution, ensure sure the stroller reclines if you want to use it for your infant. Others can be utilised with bassinets or child-only car seats that can be fully reclined. 
At what age can a baby ride in the stroller? 
Once a baby is able to support his or her own head weight, usually about three months old, it is recommended that the stroller seat be switched to a reclined position. When your infant is able to sit up on their own, you may move to a completely upright stroller seat. 
Do strollers expire? 
Is there an expiration date for strollers? No, that's the short answer. No expiration date is set for strollers, so they can be passed down from generation to generation but, the stroller must be taken good care of before being used for the next children.