It's that wonderful time of year when we all gather together to celebrate Hari Raya. Hari Raya Aidilfitri, in particular, is one of Malaysia's most important festivals. Raya's visitations and gift-giving begin as life in 2022 returns to normalcy. The preparations made during the fasting month of Ramadan (Puasa), which is observed by Muslims, keep us on our toes in expectation. While many households prepare traditional Hari Raya meals like rendang and delicious pastries, it is also a time to share gifts with friends, family, and coworkers in a cheerful celebration.
Below are some recommended companies or stores that can purchase hamper raya 2022 or raya gift boxes! Come and check out!
---
Flower Chimp
If you're looking for Hari Raya hampers 2022, you've come to the right place. You've arrived at the right location! Raya hampers from Flower Chimp are ideal as gifts for visitors or to send to friends and family. Hari Raya hampers are available for purchase from the assortment below, with free next-day delivery available in Malaysia.
Flower Chimp has a unique selection of Hari Raya hampers, Raya gift boxes, and Hari Raya bundles for the people you care about. Traditional treats like Ajwa and Medjool dates, freshly-baked baklavas, and Turkish Delights, as well as modern treats like Raya biscuits and Beryl's chocolates, are available to make your home festive. This is the ideal time to send a nice gesture and build family ties, thanks to Flower Chimp's free countrywide delivery.
| | |
| --- | --- |
| Contact Details | 03 3099 2323 |
| Operating Hours | 9:00 AM to 6:00 PM (Daily) |
For More Information: Flower Chimp MY | FB: @FlowerChimpMY | IG: @flowerchimp
HN Gallery
With over 15 years of experience, HN Gallery has been supplying premium and gourmet hampers and gifts throughout Malaysia and Singapore. They also offer a variety of high-quality foods, ranging from organic to edible bird's nests, excellent for individual gifting. This is a good choice for hamper raya eksklusif!
| | |
| --- | --- |
| Contact Details | 011 2008 2006 |
| Operating Hours | 9:00 AM to 6:00 PM (Monday – Friday) 10:00 AM to 4:00 PM (Saturday) Closed on Sunday |
For more information: Healthy Nest Gallery | FB: @healthynestgallery
Mahnaz Food
Mahnaz Food is a retailer and wholesaler of high-quality dates, nuts, dried fruits, honey, oil, and a variety of other products. They're also sold in stores, online, wholesale, and in international and local grocery chains, as well as exported to other nations. They also provide hari raya hamper!
| | |
| --- | --- |
| Contact Details | 012 311 9124 |
| Operating Hours | 9:00 AM to 7:00 PM (Daily) |
For more information: Mahnaz Food Official | FB: @MahnazFoodOfficial | IG: @mahnazfood.official
Happy Bunch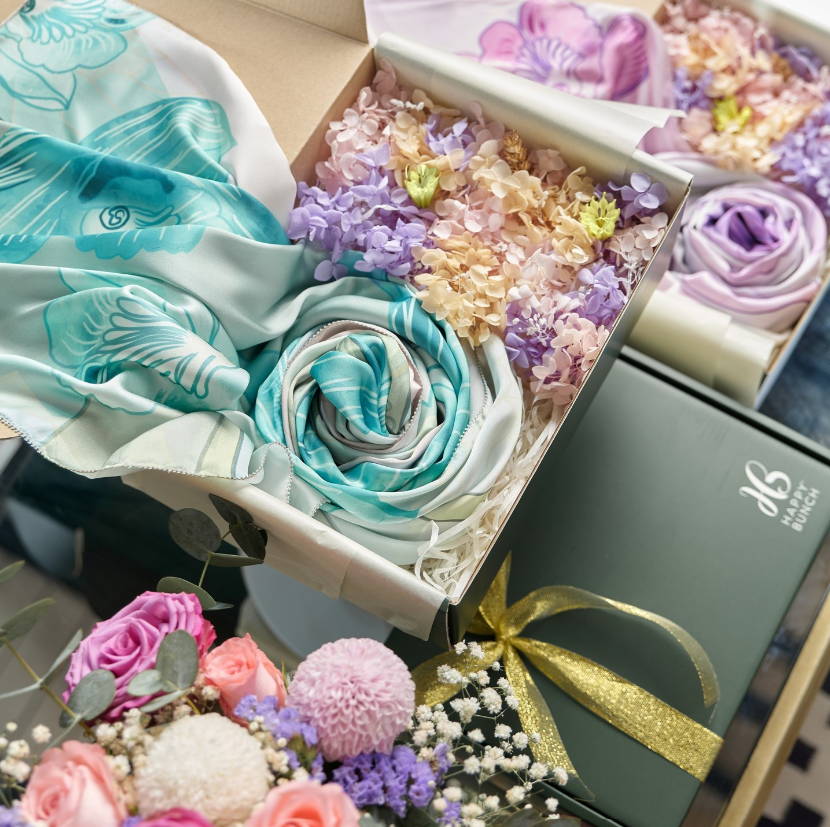 Happy Bunch is all about spreading joy for whatever reason or no reason at all. We make it simple for you to send fresh flowers or gift boxes to the people who matter most to you (or to yourself!) – for large or small occasions when words alone aren't enough.
Our no-fuss bouquets are created to highlight the natural beauty of flowers and greenery. There are no gaudy add-ons and they're wrapped in eco-friendly burlap. Our Gift Boxes have been redesigned as "brown paper packets linked together with strings." Featuring themed gift boxes filled with a cheerful assortment of items that have been thoughtfully picked. As an add-on to any bouquet or as a stand-alone gift.
| | |
| --- | --- |
| Contact Details | 03 7887 7008 |
| Operating Hours | 9:00 AM to 6:00 PM (Monday – Saturday) Closed on Sunday |
For more information: Happy Bunch MY | FB: @happybunchmy | IG: @happybunchmy
Giftr
Giftr is an online gift marketplace that allows people all over the world to sell and buy present-related items. We want to be the go-to place for gift-givers to find solutions to their gift-giving problems.
Giftr intends to help you better your relationship with your loved ones through gifting, and the process for the sender to choose and purchase a present should be simple and painless. We feel that giving a gift to commemorate every anniversary or life event, no matter how big or small is important.
| | |
| --- | --- |
| Contact Details | 019 359 6194 |
| Operating Hours | Open 24 Hours (Daily) |
For more information: Giftr MY | FB: @giftrmy | IG: @giftrmy
BloomThis
BloomThis is Malaysia's most elegant online floral and gift shop, founded in 2015. We handpick the most luxurious flowers, live plants, and one-of-a-kind gifts from across the world and deliver them to your home so you can focus on creating wonderful memories with the people you love.
One of the nicest Raya gifts presents you can give is a hamper (and get). Ramadan presents of scrumptious food and drinks will wow your family, friends, business partners, and clients. All of our Raya hampers come with free delivery in KL and are curated with high-quality items and presented in our trademark BloomThis design. Send your corporate gifts and hampers today!
| | |
| --- | --- |
| Contact Details | 016 299 2263 |
| Operating Hours | 9:00 AM to 5:00 PM (Daily) |
For more information: Bloom This | FB: @bloomthis | IG: @bloomthis
Empire Hamper
In 2016, Empire Hamper opened its doors in Kuala Lumpur, Malaysia. We began as a seasonal hamper company. We effectively changed ourselves into hamper experts in the year 2017. This is where we discovered our true calling, particularly in terms of meeting our consumers' gift-giving requirements. While we recognise that gift-giving is about expressing thanks and appreciation to one's family and loved ones, we are dedicated to offering our customers superior gift options and gift-giving experiences.
Order your Raya Hampers from us and receive Raya gift free delivery in Peninsular Malaysia. There were a variety of Raya gift options available, including hampers. It's never too late to locate the perfect Hari Raya Hampers!
| | |
| --- | --- |
| Contact Details | 012 949 9667 |
| Operating Hours | 9:00 AM to 6:00 PM (Daily) |
For more information: Empire Hamper | FB: @Empirehamper
Dini Gifts
DiniGifts provides "gifts" / souvenir/ hamper services for various occasions or even during certain seasons such as Ramadan, Hari Raya Aidilfitri, and also at other festivals in Malaysia. Dinigifts has been operating for 10 years under a company called SZA Niaga Sdn Bhd.
Apart from individuals, various corporate companies have also been customers and obtained services from us. Hopefully, we can continue to provide the best service for all no matter whether for individuals or companies in Malaysia.
| | |
| --- | --- |
| Contact Details | 012-671 4737 |
| Operating Hours | 9:00 AM to 5:00 PM (Monday – Friday) 11:00 AM to 3:00 PM (Saturday – Sunday) |
For more information: Dini Gifts | FB: @DiniGiftsCom | IG: @hamper_raya
For more articles like this, please click here.