Catering services Kuala Lumpur could help to ease up any events. Catering services make it easier for anyone that has occasions or events. Usually, catering is used for weddings, corporate events, social event gatherings, concession events and special occasions. In this list, let's look at 8 catering services in Kuala Lumpur and Selangor. 
---
1. Big Onion Food Caterer
The first food catering on this list is Big Onion Food Caterer. Big Onion is a professional halal food catering company that has experience in the food industry and services. They have attended numerous celebrities and major events. For instance, Siti Nurhaliza was one of their clients when she booked them for A Starry Starry Night with Dato Sri Siti Nurhaliza. 
The Big Onion Food Caterer serves foods that are visually appealing as well as flavorful. They aim to please your taste buds and your eyes. This Malaysian catering company, Big Onion, founded Klang Valley has expanded to become a full-service event management company in KL.  Big Onion has been in the industry for more than 15 years. Contact them for private events, event management, media and product launching. They also provide other services like photo booths and furniture rental for your event gathering. 
For more information: Big Onion Caterer | FB | IG
2. Crudites Events Catering
The second catering service Kuala Lumpur on this list is Crudites Events Catering. It is a unique event team as they bring culinary delicacies to a whole new level. Their food looks very premium and innovative. Their team is highly-skilled individuals and food lovers in general. Crudites Events Catering serves unconventional canapes and tapas. 
If you are someone who is looking to present an elegant spree of culinary indulgence and something out of the ordinary to their guests, Crudites is highly recommended. It is hard to find catering in KL like this. 
The beautiful presentation, delicious and flavoursome food coupled with great customer service is the sure recipe to create a lasting impression on your guests, even for the most adventurous food lovers. We are sure that you will agree their food looks lovely from the pictures above.
Crudites Events Catering services are suitable for any events you are going to celebrate like birthday parties, wedding reception, company product launching, baby showers and bachelor's parties.
For more information: Crudites Event | FB | IG
3. Aubergine Catering and Events
The Aubergine Catering and Events staff is well-known for its creative, yet simple approach to event planning. For all their projects, Aubergine Catering and Events team believes in elegance, simplicity and efficiency. Their food, as well as their beverage and even event décor, are proof of their commitment to excellent quality. Aubergine is a company that wants to work closely with its clients to plan events that can provide great memories. So, let's create memories with them.
If you want great wine, they serve it here. They even experiment with their wine and drinks like they are making chocolate wine. Halal status is non-Halal.
For more information: 23Aubergine | FB | IG
4. RunningMen Catering
The next catering services Kuala Lumpur is RunningMen Catering can assist you if you need catering for a huge event. They can accommodate gatherings of 10 individuals all the way up to 1,000 people.
Customers may choose from a wide variety of "Foodie boxes" and "Bento boxes," each of which has up to 1000 possibilities to select from. They always switch up their bento box to maximize customer satisfaction. Some of the choices are Japanese sushi, Korean fried chicken, Vietnamese Spring Rolls and Western Mini Burger. This is where you can get burger mini Malaysia.
For more information: RunningMen Catering | FB | IG
5. So Good Food Caterer
In Kuala Lumpur, the So Good Food Caterer firm prides itself on being the best food caterer with knowledge of local and international dishes as well as traditional Malaysian fare and a wide range of finger foods. Catering services employing halal foods, as well as event and food decoration services, are available from them.
Corporate lunches, congresses, picnics, product launches, and high-tea events are all things that they can cater to. For all of your company's catering needs, look no further than So Good Catering Caterer. Western food menu here is varied. If you need lunch boxes for corporate, contact us for delivery services around KL and Selangor. They have a lot of event catering expertise, including buffets. Starting from small bites and appetizers to a wedding catering buffet.
For more information: So Good Food Caterer | FB | IG
6. Orange Catering
Orange Catering provides one-stop catering services for its clients and customers. Therefore, we include Orange Catering in our list of catering services Kuala Lumpur. Food creation and catering services are provided by Orange Catering for some of the most renowned events in the Klang Valley area. We have established ourselves as one of Kuala Lumpur's top culinary specialists because of our enthusiasm for fine cuisine and devotion to excellent service.
A wide range of events can benefit from our one-stop catering services. Our staff will work directly with you to ensure that the occasion is handled with commitment and competence, whether it is a corporate event with an edge, a magnificent wedding, or a significant event.
See why Orange Catering is the best event catering company in the Klang Valley. Some of our clients are Air Asia, Belgium Embassy, Volkswagen and Digi. We can bring almost any concept to life with the help of original cuisine, inventive drinks, vintage furnishings, and other decorative accents. They are here to assist you to make it a success!
For more information: Orange Catering | FB | IG
7. Mix Mix Catering Services
Next catering services Kuala Lumpur was founded by Fanny Ting and has grown from being a home business to a commercial caterer that was trusted by many people. Based in Klang Valley, this company specialize in gatherings, wedding events, birthday parties and social gathering. It is JAKIM halal certified.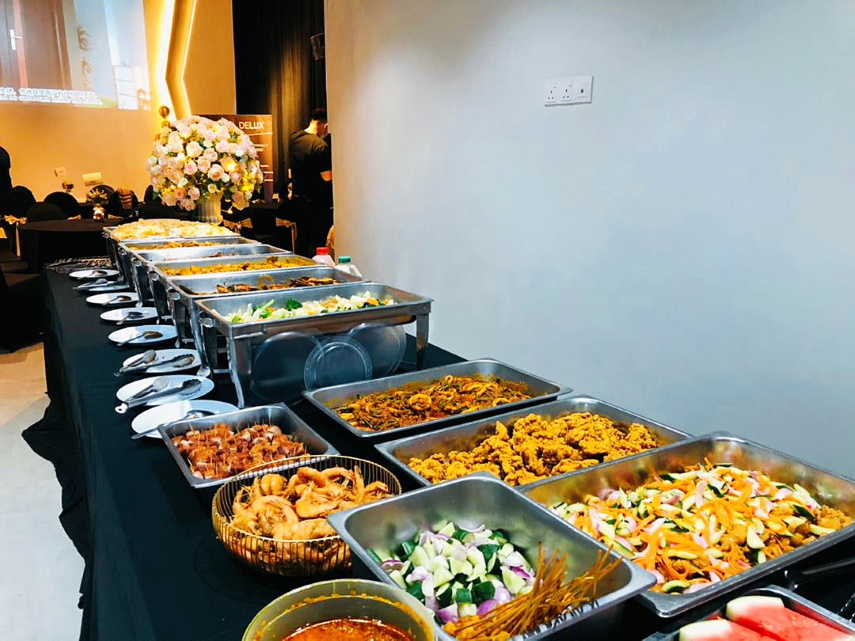 Since 1997, the company currently caters to more than 150 events a month with 30 permanent staff. They have more than 100+ items with varieties of dishes like BBQ Lamb, prawn noodles and golden fried chicken. They also provide amenities like tables, chairs and canopies. You can get all you need for your party and events here.
For more information: Mix Mix Catering Services | FB | IG
8. The Perfect Match Catering Services
Last but not least, the catering services Kuala Lumpur and Selangor are The Perfect Match Catering Services. If you are looking for a banquet, they have Western, Chinese and Dome banquet styles for you. Moreover, their catering amenities can cater to both styles; simple or grand.
Literally, their banquet is stunning! If you want hawker-style or BBQ, they also have that package for their client. Do visit them.
For more information: The Perfect Match Catering Services | FB | IG
End Note
I hope this article will help you in finding good food in KL and Selangor area. Don't leave yet! Read more on 7 Mouth-Watering Bakery Kuala Lumpur You Must Visit.