If you are following some of your favourite influencers or Instafamous, you would surely see their picture in a rooftop restaurant KL. There are multiple reasons why rooftop restaurants are trending! You are not only paying for the food and beverages but you also enjoy a 360-degree view of the city. See that Kuala Lumpur view?
As a result, you should seize the moment and give yourself the chance to have a fantastic experience. When you are sitting on a rooftop at night or on a bright sunny day, a city view is made cosy, and you may easily fall in love with it. In this post, I have compiled some restaurants in Kuala Lumpur.
THE 39 RESTAURANT, Kuala Lumpur
The first rooftop restaurant KL on this list is The 39 Restaurant. The 39th level of PNB Darby Park is a place to go if you want some Malay food. Freed not because the restaurant is halal-certified! The restaurant specializes in Malay food. You can also choose your level of spiciness here if you aren't familiar with Malay food spiciness levels. The food isn't as hot as what Malay taste buds are used to, thus it's appropriate for western clients as well.
Here, allow yourself to be enchanted by the soothing music while your coffee is refilled by kind staff. Their coffee has been getting good reviews from the customer so make sure to taste them if you are a coffee lover.
Well, since it is a rooftop restaurant, how about the view? The restaurant is split into two sections: an air-conditioned indoor eating space and an al fresco rooftop part. There are no alcoholic beverages available therefore customers must rely on other beverages. The meal served here combines well with local drinks like Kopi O and Teh Tarik. This place is highly recommended if you are planning to bring your parents along!
| | |
| --- | --- |
| Place: | PNB Perdana Hotel & Suites On The Park, 10 Jalan Binjai, 50450 KL |
| Contact Info: | 03-7490 3939 |
| Operation On: | 6.30am till 11.00pm, Everyday |
Roofino Skydining, Kuala Lumpur
When dining outdoors, you know what to expect: the view, the person you are with and the food. Roofino Skydining has wall-to-ceiling glass where you can get a glance of the outdoor scenery even if you're dining inside. So, if you are bringing your bae here, it is perfect! Make some pickup lines while you are on a date.
The food served here is pork-free. The Roofing Skydining, however, offers a bar area if you want some drinks. The view of the KLCC and KL Tower can be seen clearly. What makes this also even better is that the pricing is reasonable. With the food offered, the experiences and the services, this place is definitely recommended. 
| | |
| --- | --- |
| Place: | 338, Jalan Tun Razak, Kampung Datuk Keramat, 55000 Kuala Lumpur. |
| Contact Info: | 012-216 1634 |
| Operation On: | 11.00am- 3.00pm for Lunch (Monday to Friday)5.00pm- 12.00am for Dinner (Open Daily) |
WET Deck, W Kuala Lumpur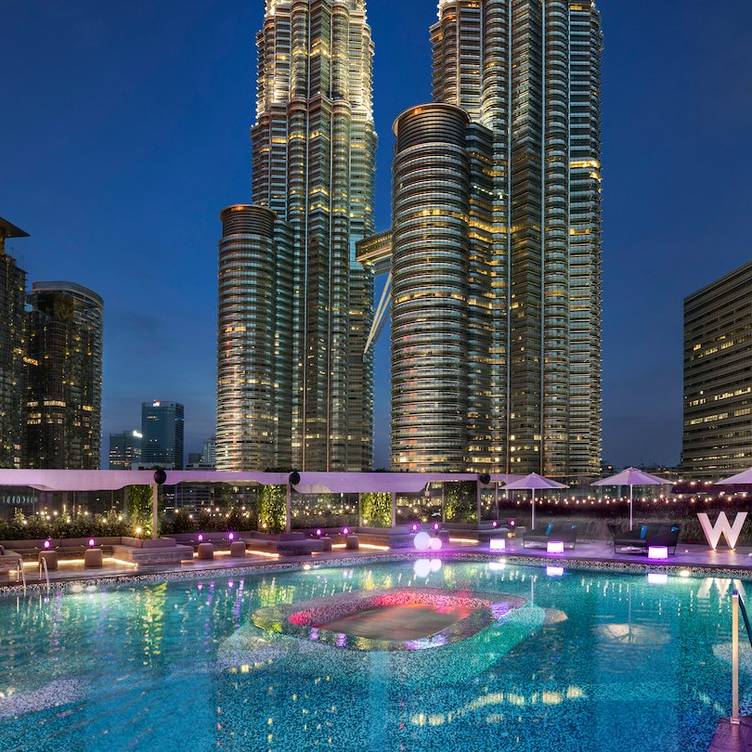 Seriously, this place is so pretty! The view at night is breathtaking. Talk about the city life! Post some selfies and #OOTD pictures with the KLCC view at the back would definitely make some people jealous of you. WET Deck serves some of the most amazing alcohol in KL. Most of the reviews from customers are praising their Mojitos. Apparently, they have the best mojitos in Kuala Lumpur. You should try and leave some reviews too.
This rooftop dining is top-tier for the wine experience. Also, their bar and lounges are the main attractions here. The ambience makes it perfect to hang out or date. 
| | |
| --- | --- |
| Place: | 338, Jalan Tun Razak, Kampung Datuk Keramat, 55000 Kuala Lumpur. |
| Contact Info: | 012-216 1634 |
| Operation On: | 11.00am- 3.00pm for Lunch (Monday to Friday)5.00pm- 12.00am for Dinner (Open Daily) |
Cielo Sky Dining & Lounge, Kuala Lumpur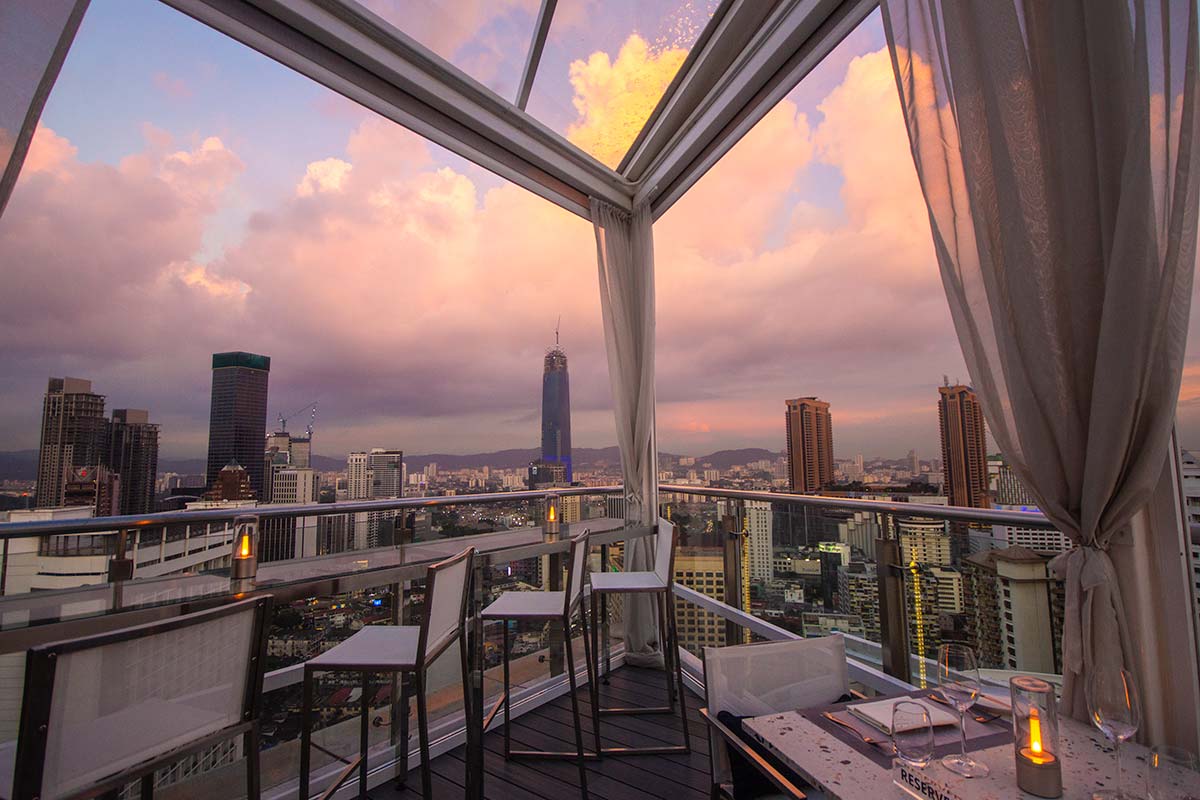 At this rooftop restaurant KL,  the sky dining in Kuala Lumpur provides a panoramic view of the cityscape, with Kuala Lumpur City Center (KLCC) visible. The meals are acceptable – basic yet classy – and provide a variety of seafood and steak options. As the lovely night wind touches your skin as you approach the restaurant, you can't help but experience a surge of pleasure. Also, ask the cheerful wait staff for ideas for non-alcoholic meals.
| | |
| --- | --- |
| Place: | 23-01, VIDA Bukit Ceylon, 1D, Jalan Ceylon, 50200 Kuala Lumpur |
| Contact Info: | 03-2022 1798 |
| Operation On: | 6.00 PM – 12.00 AM, Opens Daily |
Best Western i-City, Shah Alam
This is the only place that isn't exactly located in Kuala Lumpur for this list of rooftop restaurants. However, I decided to include this as it is a unique rooftop restaurant and it isn't too far from Kuala Lumpur.
The Best Western café in i-City is a sure option for an extra special celebration filled with delight and excitement that will last a lifetime. Sit on the brilliantly coloured tyre chairs and mingle freely on the wooden deck while capturing beautiful shots of your family. The limitless buffet midday will pique your interest. So, there's no need to rush; instead, take your time and make nice memories.
Indulge yourself in your comfort food at The View Café. There is an all-day dining restaurant serving you an array of Western and Asian dishes. Also, there is a combination of both from the a-la-carte menu. Start your day right with a rich and healthy breakfast; the buffet breakfast selection here promises a wide variety from local delights to western cuisine, 'Live Stalls' and many more.     
The special attraction here is the Hi-Tea with a balloon sculpting clown that happens every Sunday from 12.30 pm to 4 pm. Check them out as they rigidly give discounts for Children and Senior Citizens customers.
| | |
| --- | --- |
| Place: | A-GF-01 Golden Triangle, No. 6, Jalan Multimedia, i-City, 40000 Shah Alam, Selangor |
| Contact Info: | 03-5521 9000 |
| Operation On: | 8.00. AM – 8.00 PM, daily |